Friday started out as a normal workday for Juvenile Chairperson, Jeremy Rogers and his brother Simon. The plan was to take a run up the lough in the yacht, sailing out to Quoile for some scheduled marine maintenance then eventually steam back to Portaferry in the evening for a late tea.
Also onboard were Jeremy's son, Dara Rogers who plays in the Club's U14 and U16 panels and his cousin from Portaferry, Michael Rogers, similarly playing at underage for Portaferry. Dara and Michael were taking a break from home schooling and helping out on deck, carrying tools back and forth and as is the case for every trip on the lough, it was an opportunity to have an open-air nature class on the wealth of flora and fauna that blesses the shores of Strangford lough.
Who would have thought that the day would pan out very differently? Jeremy picks up the story from the journey back to Portaferry. "We were steaming back home like we would regularly do and then we heard a call on the marine radio to be cautious as there was a pod of Orcas also known as Killer Whales, moving up into the lough just past Portaferry. We know they are a protected species and it's up to us to navigate a line to avoid affecting their natural behaviour. Lucky for us that they were comfortable with the wide berth and weren't too far away to allow Dara and Michael to capture some footage." Have you ever seen anything as unusual or equally spectacular on the lough before? "This is the third time in 47 years on the lough that I've been lucky enough to see Killer Whales in this area. Over time, I've seen a humped back whale, leather back turtles, porpoises and increasingly seeing more and more dolphins."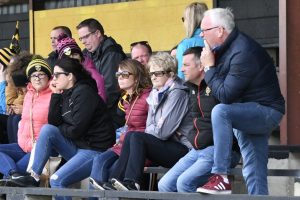 Jeremy second from the right spectating at the 2019 Féile
After 47 years of wayfaring up and down the lough, you'd expect Jeremy to be reasonably unphased by the sight of a few Orcas but the encounter had a deeper effect than expected. "Later that evening after I posted Dara's footage on Facebook, we sat back and watched how the post started to engage folks. It did take off to be honest but what I hadn't been expecting was a message from a woman that is very ill and the footage had brought so much enjoyment and comfort to her and she thanked me very much. That was really nice to hear."
"Other messages and enquiries started to filter through and I was asked by the likes of UTV, the BBC and others for permission to use the footage. Dara was sitting down and browsing on the phone whenever a call came through from a strange number. It turned out to be from a woman in New York. She was interested in getting permission to use the footage on behalf of National Geographic."
Although Jeremy was the instigator of posting up the footage, Dara and Michael can be credited with taking the actual footage. Dara is a familiar sight out at McKenna Park, practicing and generally helping out when he can but with the Park closed at the moment due to the Lockdown restrictions, Dara had this to say about his nature class experience. "I was getting a bit bored being around the house and decided to go with my Dad and give him a hand. On the way back, it was a truly exciting few minutes. I've been on the yacht before but this is my first time to see Orca's for real."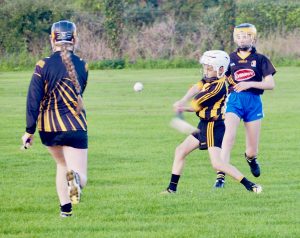 Dara out at the Park during a friendly match against the U16 Camogs
Getting back home, over a late tea, Dara was reflecting on the experience and there was no holding him back on researching more about Orca's, like aspects of conservation, ocean pollution and how to identify the male from the female. Dara added, "I discovered that the male has a different shaped fin to the female, so going back over the footage I can tell who is who."
Finally Dara, what had your sister Aobh to say about all of this commotion? "I think she was maybe a wee bit jealous".
Who would believe that only a short trot from McKenna Park lies a rich expansive world, able to provide exciting knowledge for our juveniles.
Thanks to Jeremy and Dara for sharing their lockdown experience with us.
For any of our juveniles wishing to research the topic further, you could start here…
https://en.wikipedia.org/wiki/Killer_whale
And just in case you missed the footage, here it is again, courtesy of Jeremy and Dara.
Finally, it's a great example of having a camera, like the one on your phone, handy for these unexpected events.  In case you missed it, here's our link to an article on this topic that you might find useful for the future.
[Facebook and site feature picture in the public domain – credit to Peter Pittman NOAA]