Capturing the media's attention with their recent launch into the world of Gaelic games, East Belfast GAA journeyed to McKenna Park for their next match in the Betsy Gray Shield.  It was an historic event for both Club's as it was the first encounter of the newly formed Club with Ballycran.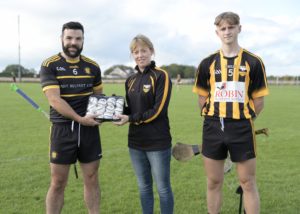 Ballycran's Vice Chairperson Emma Keith, welcomed East Belfast GAA to McKenna Park and wished them every success for the future
Despite being a newly formed unit, 'East' as the sideline's management referred to themselves, were a well organised team and happy to take advantage of any loose ball or weakness in Ballycran's operation.  With experience and a quiet determination, Ballycran eventually imposed an order of play that was to deny East Belfast an away win.  Final score Ballycran 5-15 East Belfast 1-10.
Here are a selection of pictures from the game to mark this evening's event in our Club's history.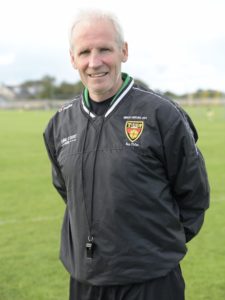 Lorenzo McMullan takes the honour of refereeing the historical encounter