Corrigan Park was the venue for this years final of the Lenister U17 hurling Peader Ó Liatháin Cup.  On a late summer's evening, nestled below a growing shadow cast by Black Mountain, a warm breeze capped the soaring amber weather warning to a warm 25 degrees. As Belfast City purred beneath our elevated position, Down stepped out to defend their title against Antrim.  Down's last encounter with Antrim yielded a six point gap out at St. Patrick's Park in Portaferry only a few weeks ago. The question hanging over the game was "would the Antrim hurling train work up that differential or would Down 'mind the gap' and maybe successfully defend the title"?
Donegal referee James Connors, Leon Reynolds (Armagh) and Stephen Mullan (Tyrone) were the match officials and after the match formalities of warm up routines, line up photos, coin toss and the National Anthem, James Connors started the match with a roll of the sliotar into a heaving and justling foursome in the middle of the field.
After only one minute of Play, Michael Dorrian chalked up the first point from play in the match. On receipt from a high a ball, Deaglan Mallon was fouled near the 45, which lured Pearse Smyth out to attempt to use the breeze to carry the sliotar northwards to the Antrim net. This was to be a significant free as it soared wide outside of the uprights, a tell tale flight for a bunch of frees from players of both sides that weren't able to calibrate their sights for the north end uprights.
Tiernan Connolly though seemed to have worked out the windage and elevation as his two scores had one free, taking Down into a slender one point lead as Antrim received a point from Niall McGarel. Down's puck out from a wide found the hand of Antrim's Daire McMullan who wasted no time in redelivering a high ball into the full forward line where the referee spotted a foul on an Antrim goal run. Down's sideline Peter McGrattan raised the confidence level of keeper Pearse Smyth by shouting "I back you, I back you" as Smyth went on to parry away the penalty from Niall McGarel.
A tidy sideline cut from Deaglan Mallon in the 16th minute failed to find a Down hand and Antrim's Aodhán McGarry received the sliotar from his mid field out to Down's full back line wide at the bank side, where Down committed bodies that went to ground. McGarry ran out of options and kicked the sliotar over to a waiting Niall McGarel for a simple but effective high tap into the open Down nets.    That goal took the game to the first water break, Antrim 1-02 Down 0-3.
Within 3 minutes, Connolly and Dorrian had levelled the score and Down took the opportunity to execute their first substitution with Oisin McGrattan swapped for Daniel Cunningham. Just as both teams levelled out on their work rate, Down's Rory Corcoran scooped up a runaway ball coming out from Antrim heading for the west sideline, losing his man in a classy move with a point that would have been point of the match – but read later.
Antrim's Niall McGarel would take Antrim up two more points from a free and play before being caught up in a thrown ball, which would quell an attack on the Down goal, whilst Down's Finn Turpin would bookend the half time break with two points one each side from frees. Scoring at the break Antrim 1-04 Down 0-07.
As the second half got under way, Antrim rolled in and out players to no doubt keep traction on the game as the heat took its toll on everyone.  Off came Joe McLaughlin for Jack McCloskey and likewise Cormac McKeown for Anthony McGarrigle.  Down were also active on the sideline, pulling off Connor Leneghan for last Wednesday's pressure point marksman, Callum O'Neill.
Down's Finn Turpin was having a great segment as he took Down to 0-08 after a free. It was all of 6 minutes before Antrim replied with an easy point before another spell of substitution, Antrims Declan Quinn off for Padraig McKillop and Down's Matthew Doran off for Adam Rogan.
At about 7 minutes into the second half, Down's Donal Magee went to ground from an Antrim tackle leading the sideline team to issue an instruction to keeper Smyth to send it over the bar.  It was a tall order as the breeze held the sliotar up and dropped short to be absorbed into the Antrim defence.
Callum O'Neill then started a scoring run from three frees, with the first taking Down into the lead for the first time in the game and the third coming from a foul on Adam Rogan. Antrim and Down went tit for tat with points from Connor Dickson and Down's Michael Dorrian.  Dorrian's point is worthy of comment as the number 10 took hand possession of the sliotar whilst challenged in turn by two Antrim players.  The Down half forward rebuffed the challenges as saffron skittles went flying and maintaining his composure, floated a scorching point over the bar.  This was the stuff of Croke park. Antrim 1-06 Down 0-10.
Antrim kept their composure after Dorrian's spellbinding wizardry and executed player to player passing, 20, 8, 15 rolled in a ball to 10 and passed to full forward Jack McCloskey that split Down's defence wide open and a resulting goal put them back in the driving seat. Keeper Smyth took a heavy tumble and after receiving at least several minutes of attention, this injury time would play out for more drama later.  Just ahead of the next sub rotation the scoreline was Antrim 2-7 Down 0-12. Down's point from Bryan Rice will be a regret as an intense run across the edge of the Antrim square with a partially open net resulted in a last minute reroute of the sliotar over the bar. Scores stood at Antrim 2-6 Down 0-13.
Down rotated off Fergal Gilmore for Jude Roddy and then Antrim widened the scoreline with McGarel enjoying a free and a point from play in rapid succession, Antrim 2-08 Down 0-13.
As the final minutes of the game ticked away into injury time, Antrim rotated off Darragh Paterson for James Bakewell and Down's Bryan Rice was replaced by Callum Fowler.  Antrim inched the scoreline up two points from play by Daire McMullan and Jack McCloskey. Down responded with a free from Callum O'Neill and then one last substitution as Odhrán Birt was replaced by Ryan Mort.
As Michael Dorrian took possession from a low running sliotar, his run was short lived as the referee spotted an Antrim hold.  Callum O'Neill stepped up to take the free with instructions to drill it over the bar to close the gap again with a lineman's call on time for approximately 1 minute and twenty seconds.  O'Neill took aim and fired and as the Down fans were hoping for a dream come back, the scoreboard took an adjustment suggesting O'Neills free was wide of the mark and with seconds on the clock, Antrims Niall McGarel secured the Cup with a 65. Antrim 2-11 Down 0-14.
Undoubtedly a disappointment for the Down lads and management and it seems perhaps that platitudes on their attitude, engagement and performance across the Leinster campaign will be hollow at this time, but this is a team that has learned so much in their respective journeys. Enriched players will be coming back to our Clubs. And enriched parents and supporters too.  This was a united team like possibly never before. Let's hope the County spirit has now taken a firm hold in our hurling and we can get out onto the sidelines to support the red and black in all of their future ventures.
Well done to Antrim, a great game to watch and  without that level of skill, the game wouldn't have been half as exciting as it was. Here's some photographs from the game that we hope you will enjoy and maybe capture some of the intensity of last night's match.  An Dún abú.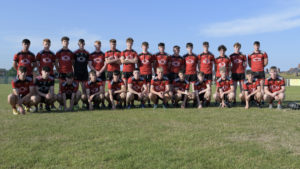 Down U17 panel (POL – 1)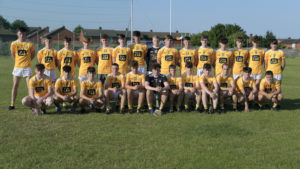 Antrim U17 panel (POL – 2)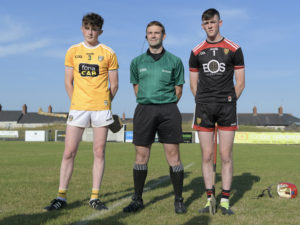 Antrim Captain Ruairi McCormick, Referee John Connors and Down Captain Pearse Smyth after establishing the toss (POL – 3)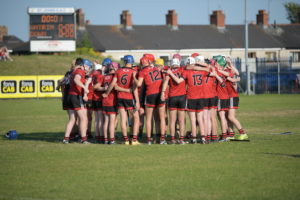 (POL – 4)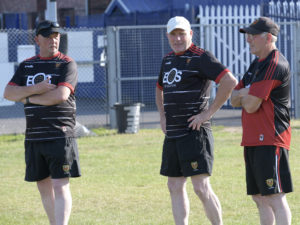 Francis Caldwell, Gerard Mallon, Alan Savage and out of shot Alanah Murray (POL – 5)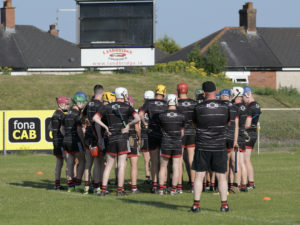 (POL – 6)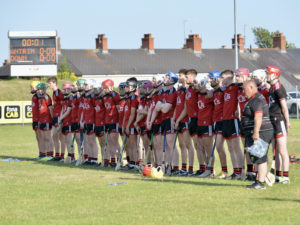 (POL – 7)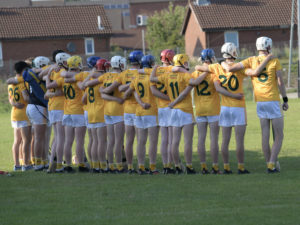 (POL – 8)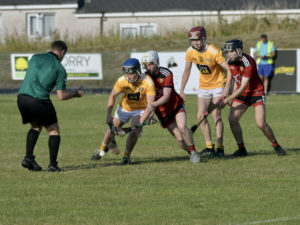 (POL – 9)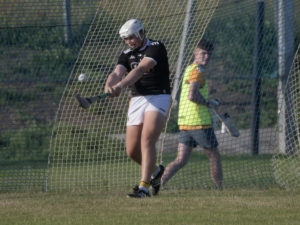 (POL – 10)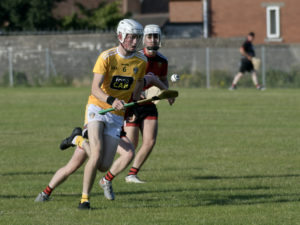 (POL – 11)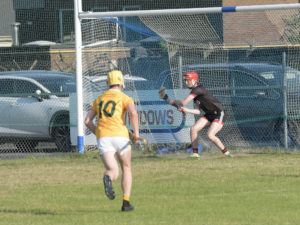 Antrim penalty on target (POL – 12)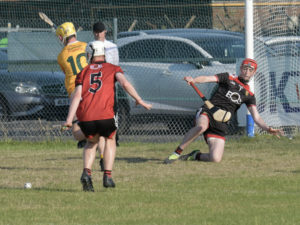 Saved and the rebound missed by Antrim (POL – 13)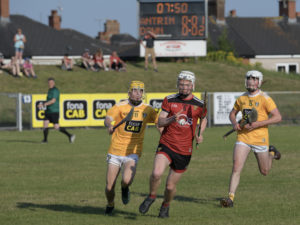 (POL – 14)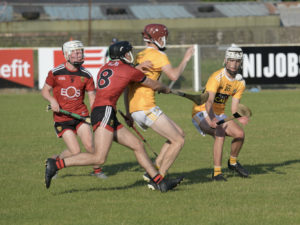 (POL – 15)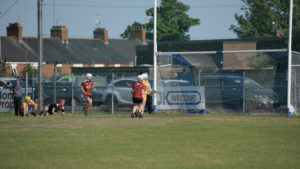 Tapped in for the first Antrim goal (POL – 16)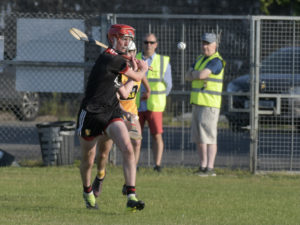 (POL – 17)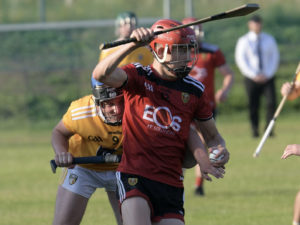 (POL – 18)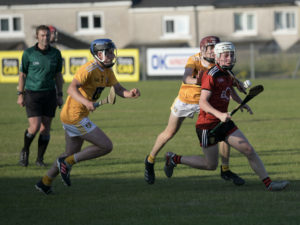 (POL – 19)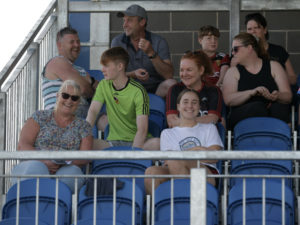 Supporters at half time (POL – 20)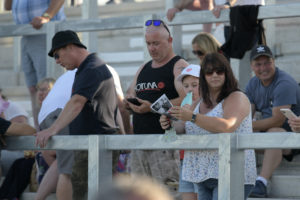 Supporters at half time (POL – 21)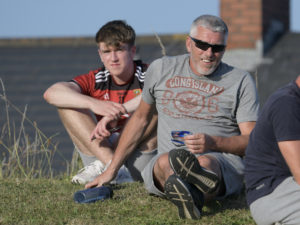 Supporters at half time (POL – 22)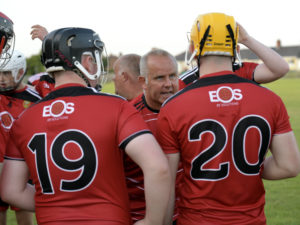 (POL – 23)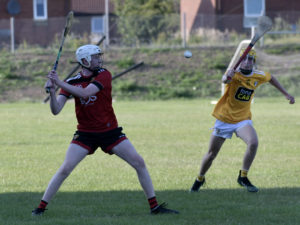 A classy point by Rory Corcoran (POL – 24)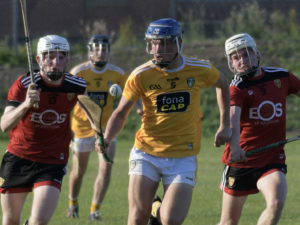 (POL – 25)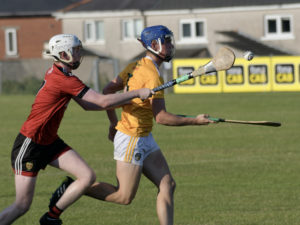 (POL – 26)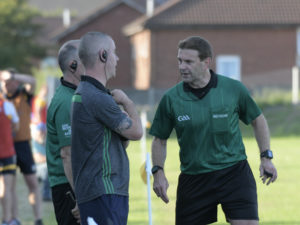 (POL – 27)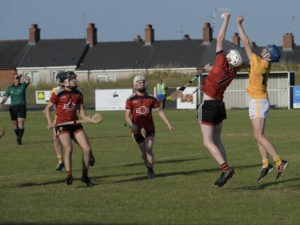 (POL – 28)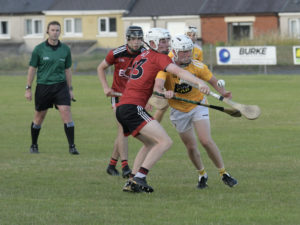 (POL – 29)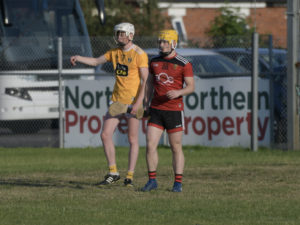 (POL – 30)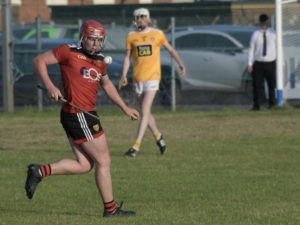 (POL – 31)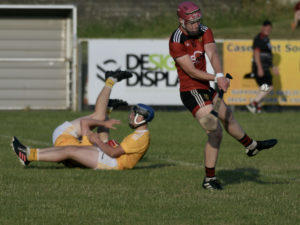 Point of the match by Michael Dorrian (POL – 32)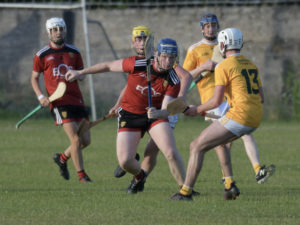 (POL – 33)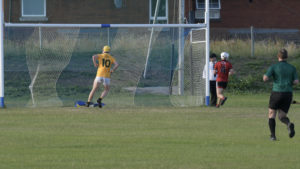 Antrim's second goal creases the back of the Down net (POL – 34)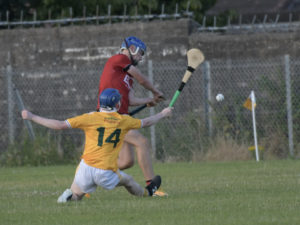 (POL – 35)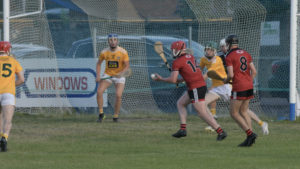 Down's goal chance ending in a point (POL – 36)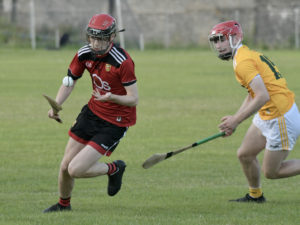 (POL – 37)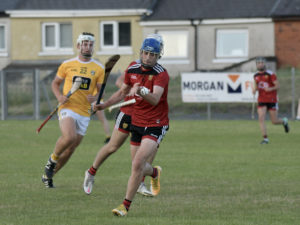 (POL – 38)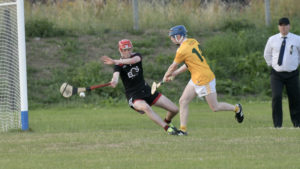 Pearse Smyth saves the shot but a rebound pull in goal was disallowed due to an infringement (POL – 39)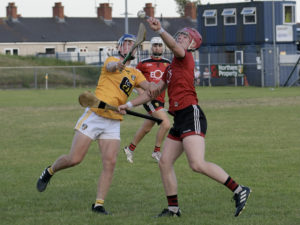 (POL – 40)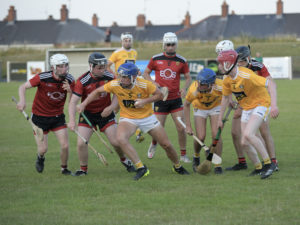 (POL – 41)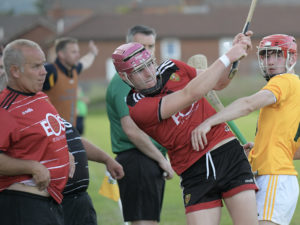 (POL – 42)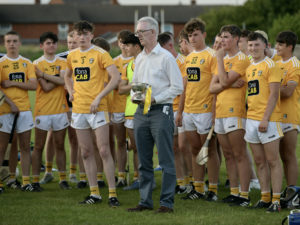 Leinster GAA Chairperson Pat Teehan presents the Peader Ó Liathán Cup to the Antrim Captain Ruiari McCormack (POL – 43)
Thanks to St. John's for their assistance on the night, Leinster, Down and Antrim GAA, the respective teams for their patience for photographs and the management and supporters that made the evening a great experience for everyone that attended.