It was meant to be our fifth year for the Club's bumper wellbeing event called Cransformation but the committee had concerns surrounding how to adopt the pandemic restrictions with over 200 participants and still offer a high level of fun through engagement, so ultimately took the difficult decision to cancel the event.
Once the cancellation announcement was made, it wasn't long before our many of our registrants displayed their charitable generosity and committed their registration monies to the events nominated charity and on this occasion it was the Kevin Bell Repatriation Trust.   We covered the appointment back in February and you can catch up on this post if you missed it the first time around by clicking here…
Operation Cransformation appoints the K.B.R.T as their charitable beneficiary
Yesterday, the Club took the opportunity  to hand over a wonderful cheque for £1225 to Colin Bell up in the stand and Colin had this to say.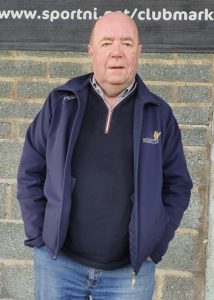 Colin Bell from KBRT
"It's great to meet you all today and many thanks to everyone from Ballycran and your generous Cransformers. Your fantastic donation will allow us to continue to help families who receive devastating news of the death of a loved one whilst abroad.
As with all charities at the moment, a lot of major fundraisers have had to be postponed but we are lucky that people like yourselves continue to support us through these unprecedented times. Initially a lot of airports were closed causing delays for families waiting for the return of their loved ones but presently things aren't so bad for now.
We could not operate without the generosity from people all over Ireland.  Community, as personified by GAA Clubs such as Ballycran is the backbone. As far as we know, we are the only repatriation charity in the world, which says so much about community in Ireland".
The Club would like to express our sincere gratitude to all the Cransformers and truly look forward to planning a rebound in 2021!