It was an easy sell to a sympathetic executive – we need a fresh web site.  We needed a platform that gave us control of our communication channel to the members and supporters.  Something that can future proof the Club from the shifting sands of social platforms.
Most of us know how we eventually got here, the story has been told before but for clarity and to refresh some minds, after a lengthy review of web site providers, we opted to go with a Club & County theme.  Not just the usual theme but with a firm set of requirements, persistence, modifications and provider patience, I think you'll agree that the end result is a pleasing 'clean and crisp' site with what we hope has engaging content.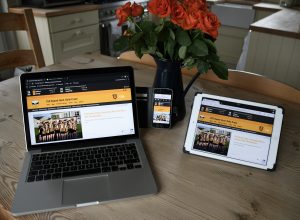 Ballycran's web site – multiplatform capable
But it still came as a surprise.  Tony Bell took the call from Croke Park.  "Hello is that Tony, Tony Bell, Ballycran's Club Secretary?", "It sure is, apologies for the bad line and I'm grabbing a bite to eat, which won't help, what can I do for you?"…and so it unfolded.  Ballycran had scooped the GAA MacNamee award for the best GAA website in 2019.  Shortly after Tony's Croke call, I picked up a ringing mobile that said CALL FROM Tony Bell.  "Hello Tony, how are you sticking it?", "Grand, here boy, I've got some good news for you".  His tone was one of calm and assurance.  "I just got a call from HQ, their Press team are announcing in about an hour that we have been awarded best GAA web site, well done boy!".  "Thanks, that's great news". Due to Covid-19 restrictions involving stay at home isolation, remote working and probably no way home for months due to cancelled flights, it was just the tonic! "Are you sure?" "For sure" was Tony's reply.
I got up from the sofa and looked out the window, gazing across the bay to Spain. It was a pleasant 17 degrees.  No time for sentiment.  As Brian Bell (Jnr) would say, time for a few Schooners!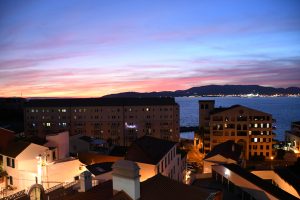 Sunset over the bay towards Spain, it's not all hard work!
Although I've played a part in establishing and running the site, it can in no way be a singular accolade. This one, as they say, is for everyone.  Without the support from the executive, members and stories to share from brave contributors, this wouldn't have happened.  Our games are full of stories and characters that need to be 'aired'.  It's surprising what you can pick up when you stand pitch side behind the lens.  Two summers ago whilst on a short break home I heard two spectators discussing the changes to the game.  "What about these new grips? What do you think?", "You mean the soft sticky ones?". "Aye, they feel good but they might not last as long as a turn or two of leather" He laughed at the meaning of his own joke.  His friend replied "Nah, not for me, I wouldn't be into that.  Nothing beat sucking on a hard boiled barley sweet.  A couple of spits into the hand and the stick was glued".  The other fella chuckled then he asked "Did you ever have trouble throwing it back into the boot of the motor?".
Ballycran proudly accepts this wonderful award on behalf of the executive, members, supporters and all of our GAA heroes that continue to share their wonderful rich history to the benefit of us all.  We look forward to the Awards night and posting plenty of pictures.
For reference, the GAA Press release can be found here:
https://www.gaa.ie/news/2019-macnamee-awards-announced/
By michaelcorcoran
Mon 30th Mar