It was always going to be a clash between two hurling aficionados, not only in terms of hurling skills but also in kit.  The black and amber from St. Enda's had the home side reaching for red tops that get an airing about twice a year according to our stats man, Seán Gilmore.
Ballycran hit the streets running for this All County hurling Division 1 match. Chris Egan was on top form and opened up Ballycran's goal scoring account playing down the pitch towards the Rubane road.  As the points accumulated from both sides, Stuart Martin seized on a breaking opportunity and fired the sliotar into St. Enda's net leaving the balance sheet Ballycran 2-10 to St. Enda's 0-08 at the half time whistle.
St. Enda's looked composed enough at the start of the second half but Ballycran looked like they reached for another gear as they passed the ball around in a very co-ordinated fashion, suggesting confidence in control.  It wasn't just control but composure around puck out delivery and having the edge on tidying up loose balls.  The scoreboard could have been two goals the better for St. Enda's if it wasn't for the goal line exploits of Declan Ennis, having saved two shots exemplifying that it takes a different set of skills to react and pin point a travelling sliotar to the net, all on display for the spectating crowd that gasped with delight.
Ballycran took the opportunity to bring on James Clarke and it wasn't long before his opening point from a tight angle from Coulters hill was followed by a goal and then a rebound off the cross bar. Young Clarke was hungry for more but another substitution in the form of Francis Caldwell, meant that the goal rush was going to be shared out. After receiving the ball on the edge of the box, young Caldwell slipped his marker and using his four steps, delivered a low rasping sliotar past the St. Enda's keeper.  Ballycran kept progressing their scoreline but despite this, St. Enda's to their credit never looked like they were easing up and it took the final whistle before both sides applied the brakes.  The final score was Ballycran 4-20 St. Enda's 0-13.
Scorers for Ballycran were as follows:
C. Egan 1-4 pts ( 2 from frees)
S. Martin 1-3 pts
S. Nicholson 5pts from frees
J. Clarke 1-1 pt
F. Caldwell 1-0
C. Dorrian 0-3
P. Savage 0-2
L. Savage 0-1
H. Flynn 0-1
Photos from the game at McKenna park follow.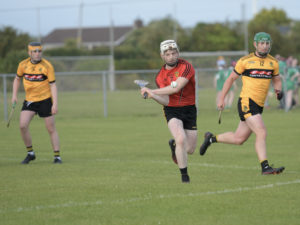 Gerard Hughes clearing the back line (BSE-1)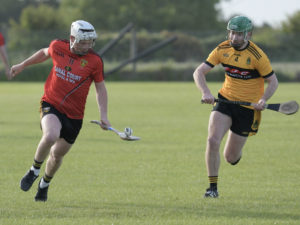 Phelim Savage on a solo run keeps his eye on the sliotar (BSE-2)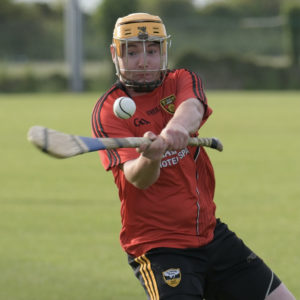 Huw Flynn takes his point on the run (BSE-3)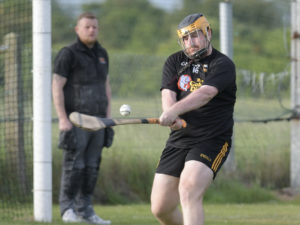 Declan Ennis launches the sliotar (BSE-4)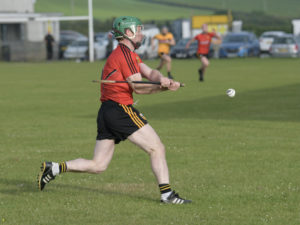 Michael Hughes sets up for a pass to Chris Egan running into space (BSE-5)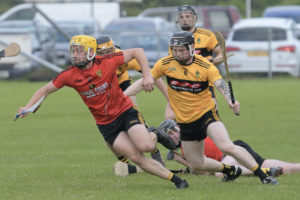 A classic Scott Nicholson tight turn to break away (BSE-6)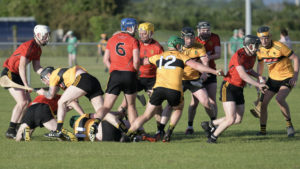 Sean Ennis picks up the loose ball from a scrummage near the half back line (BSE-7)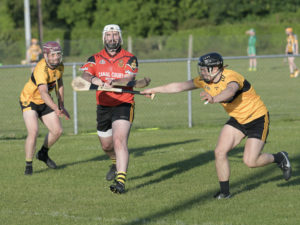 Into the second half, Connor Dorrian watches the sliotar soar over the bar into the sunset (BSE-8)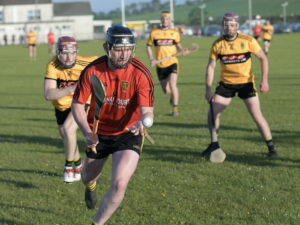 Chris Egan loaded for delivery but denied the goal by St. Enda's keeper (BSE-9)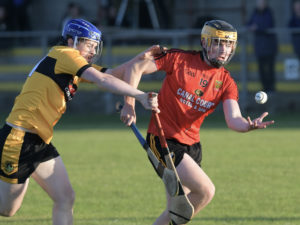 Goal scoring James Clarke, is about to have another shot (BSE-10)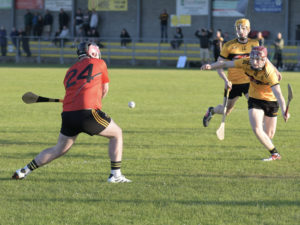 Francis Caldwell delivers a low awkward ball to the back of the net (BSE-11)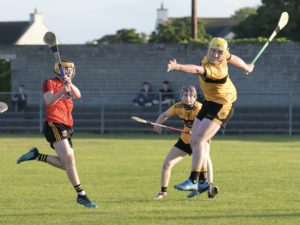 James Clarke gazes in astonishment as the sliotar rebounds off the St. Enda's cross bar (BSE-12)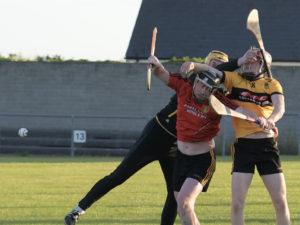 Chris Egan battling to the end but no one is getting to see where the sliotar lands (BSE-13)
Thanks to St. Enda's for travelling down the peninsula and to our match officials and volunteers.