Ballycran's U15 Down Hurling representation, for both the A and B squads, travelled to Abbottstown for the quarter finals in the Hibernian cup.
The B team were matched against a very strong Wicklow team and despite putting up a great challenge, came away with the score line Down 1-10 Wicklow 4-14. A special mention of Eoin Kelly, Jamie Young and Conor Corcoran.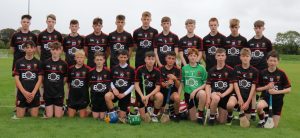 The A squad met Kerry and by all accounts it was a real score for score encounter, Down holding Kerry to a draw, but eventually a one point difference was maintained by Kerry until the final whistle closed the door on any opportunity for a comeback. Shield matches will follow later in the month. In the meantime, a special mention of Adam Rogan and Patrick McGrattan. A shout out to Ballycran's Rory Corcoran, who disappointingly, had to pull out of the trip on his way down due to a summer tummy bug. Pictures courtesy of Official Down GAA.