Australia's Central Coast GAA's 40th sports day anniversary is quite a poignant occasion, not just because it's a significant and successful organisational achievement but also because it's coming hot on the heels of St. Patrick's day, the day that resonates amongst the Irish throughout the world – a chime to bring us into sync and remember who we are and where we are.
But before we delve into the sports anniversary, let's take a short tour and discover who are Central Coast GAA.  Back in 1980, an invitation was sent out to a few Irish men living on the Central coast, New South Wales (NSW), asking them to come and play in a Gaelic football match in Queensland.  As it turned out, the day's events must have left such an impression that on the way home, they decided to form an Irish social club.  Their aim was to meet and form a committee that would organise Gaelic games, dancing, music and all with open arms to anyone that would care to join. Research suggests that the social club was formed in a very short time and initially held the title 'Central Coast Irish Athletic Club' but over time this appears to have changed to the 'Central Coast Irish Association' (CCIA).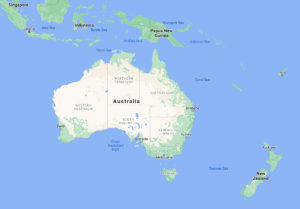 Setting some context as to where Sydney is on the Australian continent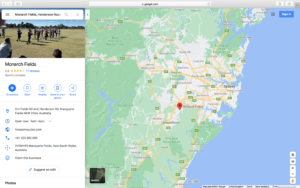 Monarch Oval, one of the many fine pitches available to Central Coast GAA
Of particular interest to Ballycran, largely because we have an emphasis on hurling and camogie, the first team to become affiliated to the CCIA was a hurling team.  In a few short years, the hurling team turned around a game on a cold and windy field to secure a colossal league win against Australian champions the Penrith Gaels.  With this victory and a fair wind in their sails, Central Coast GAA have continued to be successful with many a victory in all codes over almost forty years of their existence.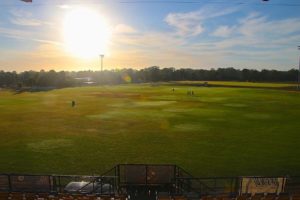 A sun kissed Monarch Oval, a fine venue for a game of hurling or camogie
Central Coast GAA, based in Sydney has grown from strength to strength as a Gaelic games Club.  They are a unit of the GAA's  Australasia Association and one of 9 Clubs in New South Wales. The current Secretary of the Club is Paula Mallon, partner of Ballycran's Michael McCullough and there we have our cue to the Ballycran six.
You might recall that our Club ran a series of diaspora web articles back in 2019 as part of our web site launch and we were fortunate enough to have a few volunteers offer up their views on life in 'Oz'.  Through those articles we learned that Ballycran has six of our hurlers staying in the Sydney area playing or managing for the Central Coast.  They are, in no particular order, Denis 'Dessie' Crawford, Conor 'Boot's McCarthy, Michael McCullough, Paul 'Merv' Keith, Seanny 'Mac" McManus and Brian 'Dinger' Bell.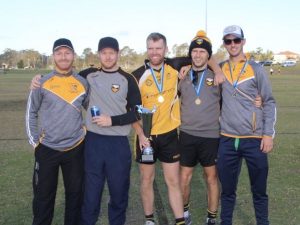 Ballycran five (Conor, Denis, Michael, Brian and Paul) and soon to be six with Seanny Mac joining the clan
Seanny Mac blends into the line up of familiar faces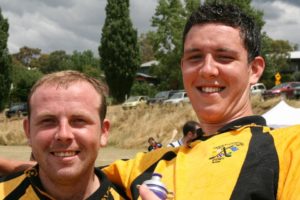 But did you know Ballycran's Mal Gilmore was one of the earlier residents on the Central Coast?
The coronavirus pandemic has changed our lives and with travel restrictions in force, Ireland and Australia have never felt so far apart.  But that will change in time and we look forward to welcoming our six out to the Park once again and hopefully meeting their better halves!  In the meantime, we can and do wish them and the Central Coast the very best for Sunday the 28th's 40th Central Coast Gosburn games and maybe some silverware to boot! This is a festival of Gaelic games where 34 matches of the various codes are played to conclusion over the entire day from early morning to late in the afternoon.  If you get knocked out, you fold back in to help with the smooth runnings of the day.
And now a message or two from a special panel…
At the time of writing this article, Sydney has been receiving unprecedented weather, with a forecast suggesting more to come this week.  We truly hope that this will not have an adverse effect on all of the planning and hard work that has gone into organising the sports day and wish everyone good luck and a safe week.