This is the first in a series of articles about our Club diaspora.  In a land of searing heat, great wealth, fast paced infrastructure progression and an improbable environment for GAA games, we managed to catch up with Aidan Clarke.
For the benefit of our readers Aidan, we will ask the same questions throughout the series to everyone, that way we will have a consistent structure to the interviews. 
Firstly, thank you for taking the time to sit down and ponder over your time with Ballycran, your life as it is now and ultimately, for sharing all of that with us.  We hope to give our readers a perspective that they may not have necessarily seen before and therefore haven't thought much about this aspect of club life. 
Every GAA Club more than likely shares the common theme of seeing members travel away for a multitude of reasons.  We therefore hope that this series is also relevant to other Clubs and maybe the reader can take a moment to reflect on their friends and family that have created a new life away from their Irish home.
So, let's wind the clock back to a time before you left Ballycran and tell us what your connection was with the Club?
I joined Ballycran around the age of 9 and played from Under 10's right up to Senior level as well as lending a hand with some of the underage teams over the years.  My biggest successes with the Club were winning the All-Ireland Féile Na Gael in 2003, then 2 Ulster Minor Club Championships in Ballinascreen (2006 & 2007) and 2 Down Senior Championships (2009 & 2011).
Can you share with us, your thoughts leading up to your decision to move and establish a life away from 'home'?
It was work circumstances that lead me to leave Ireland.  The economy was very much still in recovery in 2013 and there was very little opportunity for a Graduate Quantity Surveyor at home. I saw a job advertised for a place called Qatar and decided to apply for it.  All that I knew about Qatar before was that it was in the desert and that it was recently awarded the 2022 World Cup. With little on at home work-wise I decided to go for it and see how it would go.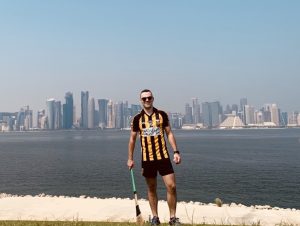 Aidan Clarke – knows where he belongs!
When did you move and what was it like getting settled in and established?
I moved to Qatar on 18th April 2013.  I won't forget the date as I still have a copy of the Irish News from that day.  I played an Antrim league match the night before in McKenna against Rossa and it was pretty surreal going from playing a hurling match at home to arriving in a completely different culture in the space of 24 hours.  It took a few months to properly settle in to the surroundings but it became much easier after joining the GAA club in Doha and meeting like-minded people.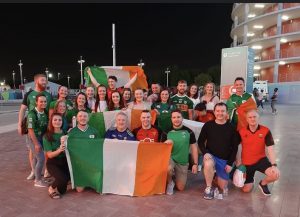 Support for Ciara Mageean's World Championship run in Doha
Can you briefly describe to us your life now, work and have you time to be involved in GAA activities?
I work for a company called KBR on the Qatar Expressway Programme which has been ongoing for the past 6/7 years and nearing completion. The main aim of the Expressway Programme was to improve Qatar's roads network as well providing links between the World Cup Stadiums.
I still have time to be involved in GAA, however it's more on a casual basis.  The hurlers train once a week and try to get to one or two tournaments a year across the Middle East.  There are probably 12-15 hurlers out training every week which is a lot considering when I first came out we didn't even have a team.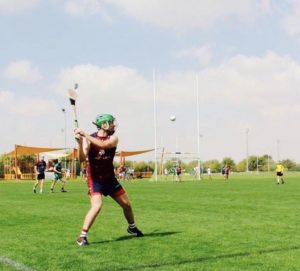 Training in Qatar
Looking back again at your time in Ballycran, what would be your prominent memory of being around McKenna Park?
As I didn't join Ballycran until I was in P6, I had a bit of catching up to do in terms of the skills, so I remember getting great satisfaction out of seeing my progress and improvements in the first few years.  I have great memories of heading to training, cramming into Noel Keith's van with half the Keith family, hoping Noel would stop off at Robert Hughes' garage for an ice-cream on the way back home.  A cassette tape would've been playing music as well, mainly S Club 7 or Westlife (Paul and Stephen were big fans, not as big as Decy Ennis though).
I also remember fondly the training sessions over the 4 winters in preparation for the Ulster Minor Club Championship in Ballinascreen.  There was something satisfying about training and playing hurling over the winter period even though it was torture at times.  Of course I have many fond memories of all the great characters about the club, too many to mention.
Here's a little reminder of Aidan's skills and determination that we have missed around the Park.  Click the browser's back arrow to come back to this article.
We'll assume you manage to get back 'home' for the odd family reunion, holiday etc, can we ask what do you look forward to the most?
I aim to get home twice a year – normally a week in the summer and a week at Christmas.  I look forward to seeing my family the most, especially the nieces and nephews that grow and change so quickly.  After seeing all the family I don't have much time for anything else, but I would try and see as many friends as possible and get a Ballycran match in if there is one on.
Living in Qatar you appreciate the simple things from home much more – fresh air, the outdoors, walking into a bar, Tayto, Cadbury's chocolate……and PORK!
Tell us a little bit more about your life away from Ballycran, for instance, what's your weekly routine, how do you attack the weekend, and what's a holiday from where you currently live?
The working week in Qatar is from Sunday-Thursday. During the summer months I like to get home from work on a Sunday and get GAAGO on straight away to see whatever Championship match is on.  In terms of what I do outside of work, since the hurlers only train once a week I am trying to throw myself at other sports – cycling, boxing, 5 aside and I am even learning to swim (I want to improve on the 5m badge I got in P7).  So far nothing comes close to the adrenaline rush you get from playing hurling.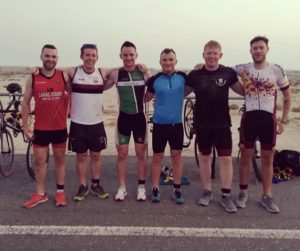 Duathalon in Qatar – myself, Ken Allen (Cork), John Mollen (Offaly), Barry Egan (Kildare), Colman Hands (Galway) and Peter Crowe (Galway)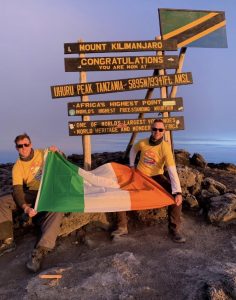 Climbing to the peak of Kilimanjaro with Peter Crowe
I also try and fit in travel when I can and see new places. The highlight for me this year was climbing Mount Kilimanjaro in Tanzania.
You're now settled in, doing well, but can we raise our hopes of seeing you return at a later point in time?
Although I am currently very happy here in Qatar, it's fair to say that things can change very quickly. If I decide to come back home (again) in the near future it will likely be over the wire as a supporter, unless the 3rds are very stuck for a player.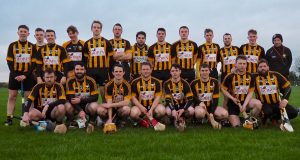 Lining out for the friendly against Touraneena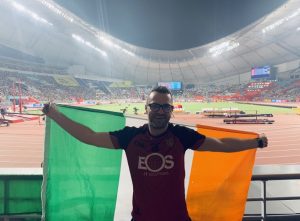 International sports with Ciara Mageean's PB one of the highlights
Finally, do you have a message to send home to Ballycran?
I'd like to give my two nephews representing Ballycran a shout out – Nathan and Ryan Clarke. This interview is ahead of the Ulster Club SHC, so I'd also like to wish the lads all the best for the Ulster Club Championship.  See you at Christmas! Up the Crans!