Neighbours, a mere 1,300 miles from our Cran community in Auckland NZ to Sydney Australia.  Putting that little hop into context, that's approximately the same distance from Belfast to Gibraltar.
From experience, you're not likely to nip out to share a Schooner or two with those mates all that conveniently.  But Brian still manages to keep in touch with everyone 'down under' and has been instrumental in helping to create nothing short of a hurling mecca.  Let's talk to the Central Coast GAA, Sydney 'hurler of the year'.
For the benefit of the wider readership, let's wind the clock back to a time before you left Ballycran and tell us what your connection was with the Club?
My family has always had a close connection with the club. My earliest memory is watching games at McKenna Park back when there were trees all around the main pitch. I grew up playing hurling and was lucky to have grown up with a great group of players who are still involved in the senior setup today. We were a very close group, and had great coaches whilst growing up, in particular Dermot O'Prey, Dermot Woods, Hugh Gilmore, Gerard McVeigh and even my Dad from U16 to Minors. We won a lot at under age and I was lucky to be involved in three teams that made it to the minor Ulster Club Championship final. In the years that followed, there were many from those teams that were able to breakthrough into the senior team, and I was able to get two Down SHC medals in my pocket before heading down under.
Can you share with us, your thoughts leading up to your decision to move and establish a life away from 'home'?
I graduated from Queens University in 2010 with an accountancy degree and knew that I still had a few more years of studying ahead of me. I wanted to do some travelling before settling down and knew that Brendan Ennis and Padraig Flynn had both done some travelling in Australia. At the time there were a few Ballycran lads based in Sydney, and I got in contact with Denis Crawford and Mal Gilmore and before I knew it, I had my flights booked. The plan was to stay for a year and come back and get a job at home, but its been nearly nine years at this point!
When did you move and what was it like getting settled in and established?
I arrived in Sydney in February 2011 and was very well looked after by Denis and Mal. They let me stay with them, and charged me no rent until I was on my feet and working. They also introduced me to Central Coast GAA, who incidentally also played in Black and Amber, going to my first training the night I arrived. I remember it being a heat wave and nearly collapsing after a couple of laps, but the craic was great and the standard of hurling high, so I made sure to keep training and soon got used to the heat. The club was a great way to settle into Sydney and make friends.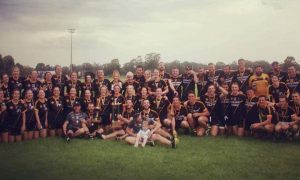 Central Coast squads enjoying successful times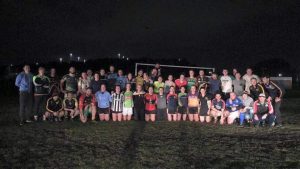 Taking advantage of the dry evenings for training sessions
I did a bit of travelling with Conor McCarthy for a few weeks up Australia's East Coast when I first arrived, before arriving back in Sydney to try and find a job. Denis and Mal helped me to get some work here and there to tied me over and then I was lucky enough to secure a job in the office with Mal's company. Once I got a permanent job, it took a lot of pressure off me financially and I was able to really settle into Sydney.
We lived in Bondi, and split our time between work, hurling, the beach and the infamous Cock N Bull Hotel. Shortly after Donal Ennis and Paul Keith arrived from Ballycran and the decision to stay on for another "couple of years" became a lot easier.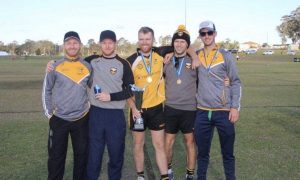 Crans are us, making life easy down under
Can you briefly describe to us your life now, work and have you time to be involved in GAA activities?
I work in Sydney CBD as an accountant, and it is only a 15-minute commute from our apartment, so pretty handy. I live with my fiancé Roisin who I met through the Central Coast club.
Brian, Roisin with Ballycran's Michael McCullough and Paula Mallon
I am still very involved with the Central Coast, playing with the hurlers and as an active member of the committee. Our seasons run from January to the end of August, and consist of several pre-season tournaments, NSW league and then the Championship. There are five hurling teams in Sydney, and the standard is pretty high and it is always very competitive, with very little between the teams. We train 2-3 times a week and train alongside our camogie and ladies football teams. We did have a junior football team for a couple of years, but much like Ballycran hurling has always been our focus. We won our first NSW championship in 17 years in 2018, and were able to back it up this year with another NSW title. Ballycran was well represented in these teams, with Denis "Cody" Crawford managing the team, and myself, Paul Keith and Mick McCullough all hurling in the first 15. We even had Seany Mac on the water this year!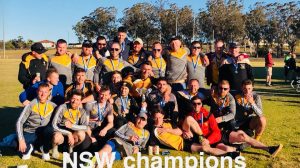 NSW Champions!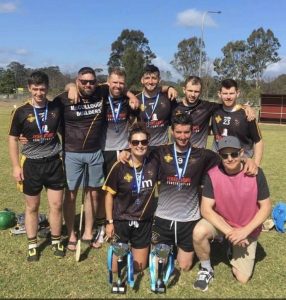 This time with our own Seany Mac
Outside of hurling I like going to the beach on the weekends and catching up with the lads for a few Schooners.
Looking back again at your time in Ballycran, what would be your prominent memory of being around McKenna Park?
I have lots of great memories of McKenna Park, but what sticks in my mind the most was probably the school summers as a kid. There would be a heap of us that would cycle round to the park and spend most of the day pucking around, having free and skills competitions and generally messing about. I also don't think you can have a memory of McKenna Park without mentioning Big Jim, who was always around, making sure we weren't playing "foreign" sports or hammering balls off the pebbledash.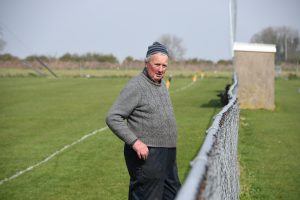 Ballycran's 'Big' Jim attentively caring for our Park
We'll assume you manage to get back 'home' for the odd family reunion, holiday etc, can we ask what do you look forward to the most?
Family and friends are always the most important thing for me when I am home and now even more so with my nephew Diolun on the scene. I do Facetime home most weekends, to stave off the homesickness, but nothing beats being home with the fresh air and the new potatoes.
Other than that, catching up with my friends, having a nice pint of Guinness in Johns and the spuds. I always try to make at least one hurling training when I am home too, just to make sure I haven't fallen too far off the pace.
Tell us a little bit more about your life away from Ballycran, for instance, what's your weekly routine, how do you attack the weekend, and what's a holiday from where you currently live?
I work in the city and up until recently had been studying for my professional accounting exams, which thankfully are now over me. Monday to Friday consists of work in the day and in the hurling season, training during the week and matches on the weekend.
In the off-season, life is stereotypically Australian, with beaches, beers and barbecues.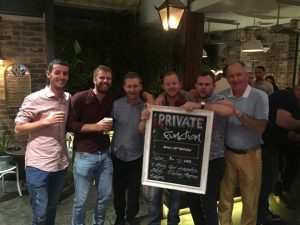 Quality time with Brian Senior
With holidays, the last few trips have been home, but I have made it to Fiji and New Zealand over the past few years too for some R&R.
You're now settled in, doing well, but can we raise our hopes of seeing you return at a later point in time?
Roisin and I get married next year, along with Andy and my sister Gemma, so we will be back three times in 2020!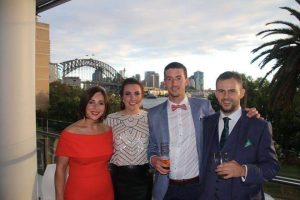 Next year the suit will be different but for now, Ballycran's Paul Keith joins in with a cool one
But at the minute we are both enjoying our time in Sydney and are pretty settled, so no plans to come home for good, but who knows, if a few kids come along in the future, I would love to see them playing in the black and amber. I would just need to convince Roisin to make the move to the Ards!
Finally, do you have a message to send home to Ballycran?
Keep doing what you're doing! The growth and activity of the club has really grown by leaps and bounds over the last few years, and it has been great to track it on social media all the way from Australia.
Whether it be the success on the field, the new facilities or the great sense of community, I always take a great deal of pride that I come from Ballycran and I know that the rest of the lads here in Sydney do too.
Ballycran is profoundly grateful to our Diaspora for sharing their life stories and wishes them a safe, happy and fulfilled life. We look forward to seeing you again, in the not too distant future.