As we work our way towards this Sunday's Down Semi final of the Senior Camogie Championship game between Ballycran and Portaferry, Catherine McGourty takes time out this evening to talk about her Camogie career and what Sunday's game will mean to her and the squad.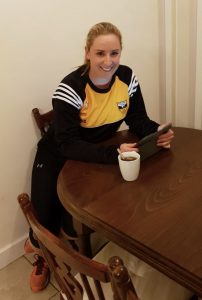 First of all, thank you for agreeing to answer a few questions this evening, particularly since you are no doubt busy with daily life, club coaching, work and training for the Senior Camogie team.
It looks like Sunday will be a warm day but there's a chance of rain. Few players would prefer to play in the rain, but have you anyone on the squad that seems to raise their game under inclement conditions?
Undoubtedly there will be someone on the day that will find extra form, but the emphasis for us as a squad is on ourselves and not really on external things that we have little or no control over.  Our focus and it's no secret, is to go out and work hard and produce the best performance we can regardless of the conditions.  Everyone will have to get used to the conditions.  The first team to adapt to these conditions will have an obvious advantage on the day.
For significant events such as Sunday's semi final, do you step up your role as Captain or is this more about an autonomous team effort that requires you to play more than managing?
Of course the role of Captain is important, especially for occasions such as the Senior Camogie Championship, but we are lucky to have a large body of experienced players in the squad and we will use that gravity to help us on the day.  That experience will provide the driving influence to maintain our game plan and focus on the day.
If you don't mind sharing with us, on the actual day of play, do you go through an established routine or is it simply a case of keeping to your normal daily routines?
Ha ha, normal routines for me thank you.  You know this is what we have trained for. There simply is no point in building this up internally as a massive thing, otherwise it might cloud your mind.  It's a bit of a cliche to say it'll go something along the lines of, up early to go to an early mass, home for a nice breakfast, pack the bag and head to the park for a puc about with a few friends and then we'll work our way up to the venue.  We've done it before and it's a comfortable routine.
Preparation for a Senior title is serious business, but have you managed to make it enjoyable and if so, how?
I mean let's be honest here Michael, every team has their moments and the added work load at Senior level takes a toll from time to time on everyone, but I guess we are talking here about Ballycran folks that are great to train with and we recognise that during our hard training sessions, we are all there to support each other and that generates a great team bonding experience.  After one of those sessions, particularly at the weekend, we all gather around a long breakfast table in McKenna hall and enjoy a nice breakfast with healthy options.  The craic is mighty and we all look forward to this immensely.
It's been seven years since Ballycran lifted the Down SC cup. It's a bit of a classic question, how much would this mean to you, to progress through to the final?
As a thirty six year old, there won't be too many options like this left for me.  So, if I'm honest with myself, this is a significant deal on that term alone.  We managed to get over one hurdle in the quarter finals and that has given us a great boost to go into the semi final with confidence.  You know it's not just for me, everyone has put in the effort to get us back to where we feel we used to be.  We honestly feel we have that sensation back and the performance equal to the year of 2012.
You'll probably play this question down in your usual humble manner, but I'll ask it anyhow. You are an inspiration to the young Camogie players in the Club, so how much additional pressure does that apply to you during these significant events?
I know that I've had a long and successful career in Camogie.  That stems from having plenty of inspirational models to look up to from Ballycran and further afield.  Given this opportunity, I'd like to especially mention Joan Gilmore as one of my own solid inspirational models.  Also Jennifer Braniff.  As a youngster she brought me to Down training sessions and these are the sort of people that nurtured my love of Camogie.  This has travelled with me along my career and job and it's my turn to 'pass it on'.  It's not a burden or chore, I simply enjoy it.  I do hope that my enthusiasm and perseverance to get players to play to the best of their own abilities finds a meaningful place and they too can love this sport, the way I have and currently do.