It's a considerable challenge, taking on a marathon run but that's exactly what Chris Egan will do this Saturday 9th May 2020 in aid of helping 'TEAMS' to raise money for Mental Health Charities.
Chris plans to run from Belfast to Ballygelagh, with a few tweaks in between to total up the gruelling 26 miles and a few yards.  It's a solo effort but Chris will welcome anyone that wants to join in to run along with him or provide valuable roadside support.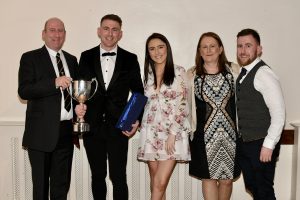 Chris lines out with the family at our recent awards evening in McKenna Hall
Recognising that at this time many charities are challenged by the current situation brought about by the Coronavirus outbreak and with considerable admiration for what these charities can do for people in search of help and support, Chris is undaunted by the challenge that lies ahead.  Although he hasn't run a full marathon before, he has been racking up the miles through the past weeks, running an easy 6 – 7 miles a few times a week.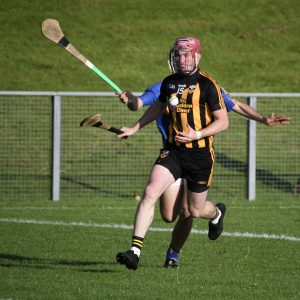 There won't be a stick on Saturday as Chris takes another solo run of a different kind
Ballycran's full forward replied to the question on pace and establishing a target time by saying "I haven't set a target time to be honest but slow and steady will win the race and if I have to crawl on my hands and knees to finish this, then so be it".  Generosity has been flowing from some notable figures and organisations within our hurling community and Chris is hoping for additional contributions to make it a special event. If you can join in or cheer from a corner, why not drop Chris a message to make further enquiries?  His start time is 9am and he'll be wearing a 'TEAMS' T-shirt, so easily identified on the road.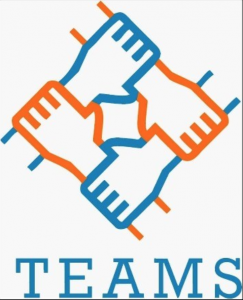 So who are TEAMS?  The acronym stands for Together Educating Affects of Mental Health and Stigma. It's an organisation set up to raise both awareness for mental health issues and also money by running different events throughout the year.  This helps the beneficiaries by obviously raising much needed and gratefully received funds and importantly raises the profile of mental health as a topic in general.
If you'd like to donate to Chris's Olympian task this Saturday, then here's the Just Giving link for your convenience.  We hope to follow up on his effort on Saturday night.

https://www.justgiving.com/crowdfunding/teams?utm_term=x7MbqrDq4
Update 1
Chris has confirmed his route, avoiding Belfast and staying entirely in the Upper Ards region of the Peninsula.  Here's his route…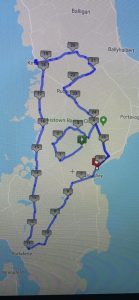 …starting at his house in Ballygelagh at 9am tomorrow (Saturday 9th May 2020) and ending with a straight run into the sea at Cloughey beach.  According to the tide table, he's in for a short sprint!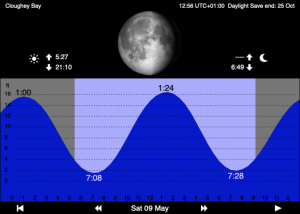 Update 2
We are delighted to report that Chris and his support team managed to get around the planned route safely, despite the warm day and the extra challenge of running through the country roads, the roadside support kept Chris going until he finally realised his goal of stepping into the sea at Cloughey beach.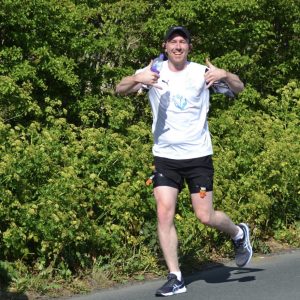 Chris sets off at 9am with an Olympian task ahead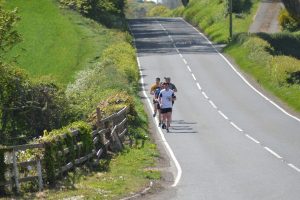 An unusually quiet Portaferry road – exactly what Chris and the lads need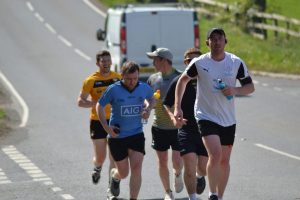 Kircubbin lies ahead and this support team get him nearly half way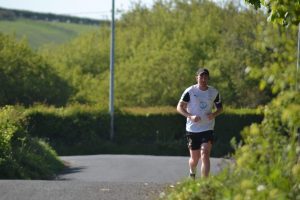 The loneliness of the long distance runner – but not for long!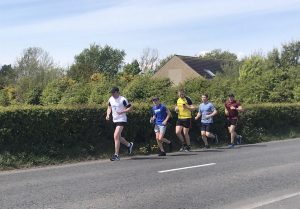 The support team slip in behind Chris as they come out of the Rubane corner on their way to Cloughey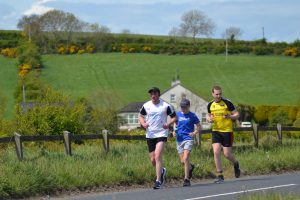 Coming down the Rubane road, the support team start to gather pace with Eoin and Steven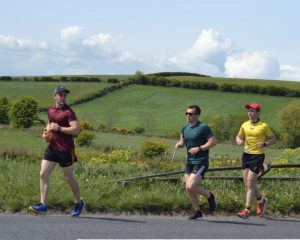 Scott, James and Conor nicely positioned and ready to move on up when needed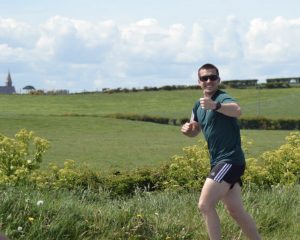 James Coyle is framed by a welcome land mark near the finishing stage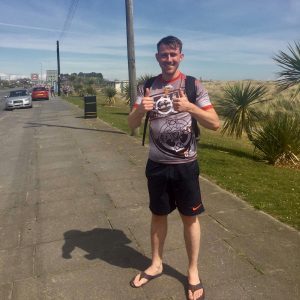 And true to his word, dipped, flipped and no doubt tripped on all those running endorphines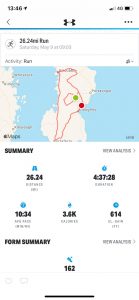 Here we have the running summary – burned up a few bags of crisps there Chris!
Afterwards, once he caught his breath, Chris had this to say.
"I Started at 9am and it took me 4hrs 37, honestly I can't work that out right now my brain is dead 😂, the heat didn't do me any favours but the support from the Ballycran lads running with me was next to none not to mention James Henry Hughes, the camera man at every corner. The big thing was getting to Kircubbin, seeing so many people cheering me on and clapping, it was mind blowing. The community spirit here is ridiculous, I don't think you'd get that anywhere else. I really hit a wall at Coulters hill but it was great to see Wolfie (Connor Dorrian out with the refreshments – some man) but once I got back round to the Mckenna road and seen more people standing out just past McKenna park, gosh I forget the name of the estate there at the end of Rubane, then I got another lift. Again more ice lollies, Powerade water, you name it. Once I got to Kirkstown race track I could taste the end, the adrenaline alone seen me to the end where there were more people clapping and cheering. I never had any doubt I wouldn't finish, I just didn't think I would run the whole way finishing with a time of 4 hours 37 mins. Shout out to everyone who ran along and supported me from the roadside, this is a day I won't forget, one for the grandkids I think!!"
Well done Chris, your support team, cheering supporters and everyone that has kindly donated to the charitable cause 'TEAMS'.