On our journey around the world to talk to our Club diaspora, today we travel up into the northern hemisphere, closer to home on this occasion in order to talk to Clíona, whose working environment is in stark contrast to mountains, beaches and BBQs, though enviably cosmopolitan nonetheless, in the sporting city of Manchester.
For the benefit of the wider readership, let's wind the clock back to a time before you left Ballycran and tell us what your connection was with the club?
Well, my connection actually dates right back to the beginning of the club, my Granda Pat's brother, Hugh, was one of the founding members of the Club. Granda Pat played hurling on our club's first team in 1939 and was in fact on the first senior team to win the Championship back then in 1949. My Granda Pat and Grandma were involved with the Club for the whole of their lifetime. Grandma and my uncle Paddy wrote Ballycran's book, 'Fifty Years in Black and Amber', while Granda Pat was chair of the History committee for the same book.
My uncles Hugh and Shane both played for the Crans, winning a mix of senior championships and Ulster titles, they both still are heavily involved with the club through committees and Shane obviously being the current chairperson. More closely my brothers Jamie and Danny both played hurling for Ballycran and now involve themselves in team management while my Daddy has sat on the Entertainments committee and helped out in that area over the past couple of years.
I suppose the biggest influence on my Ballycran life has been my Mummy, who has been organising and running up and down to the park for as long as I can remember. Mummy sat on the youth committee years ago and more recently has taken on the role of chair of our Entertainment and Culture committee, where she gets to do what she does best, organise a good night out! Everything I have done or helped with within the club has been with Mummy or started with her help. Most people will know, Margo doesn't take no for an answer, so most times I had no choice!
I 'dabbled' in a bit of underage camogie, even bagged myself an All-Ireland medal at the U-14 Féile (much to the dismay of my brothers) but eventually I realised that my role within the club would be more of a clerical or administrative role as opposed to physical or sporting work ha ha!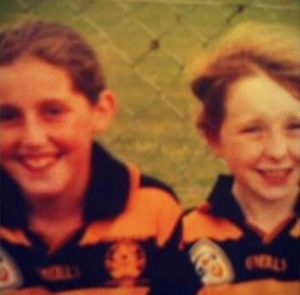 Camogie memories around McKenna Park
Over the years I've taken part and helped with many things that I'm proud of. My first big role was taking part in Ballycran's first ever 'Strictly Cran Dancing', where I was partnered with our family friend Larry, unfortunately due to Larry's two left feet we didn't even place!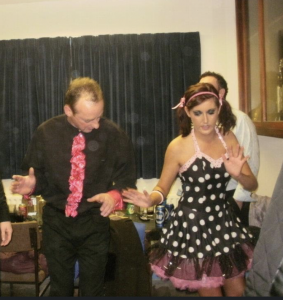 Let's get jiving!
Working with the youth of Ballycran was always something I enjoyed doing and was one of the helpers for our fundamentals programme which brings children into the club and keeps them active during the winter months when the hurling and camogie season has died down.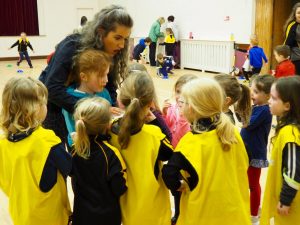 'Passing it on' – coaching at fundamentals
Before moving away I held the position of secretary of our Entertainments and Culture committee and from that was involved in several events that the club ran, the most prominent being 'Cransformation' and 'A Question of Sport'.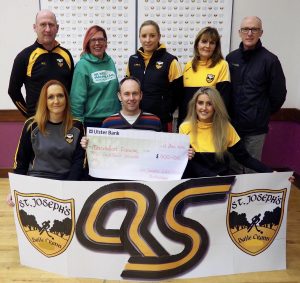 Question of Sport – One of our great fund raisers and a very enjoyable event
With the help of Ballycran and taking part in the running and organising of different things across the club I was able to complete my GAA Goldmark award.
So, from this you can see I was sort of born into Ballycran and it's played a very key role in my life so far.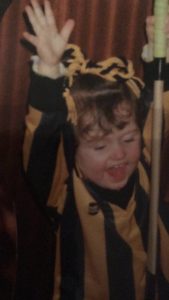 Starting out at a very young age on her Ballycran journey
Can you share with us, your thoughts leading up to your decision to move and establish a life away from 'home'?
I'd actually taken a few years out after university, doing some volunteering and then becoming employed in our local primary school and nursery. Then I realised that I wanted to follow in my Mummy's footsteps and become a teacher. I knew I didn't want to stay at home so I looked further afield to study my PGCE. It worked out that Emer, my cousin, was in fact moving to Manchester to study and so that sort of swayed my decision, moving away from home isn't anyway near as hard when you have someone to do it with. By the time it came to moving, I was with Emer and Aimee (another teacher from Carryduff), all leaving together so it wasn't all that scary!
When did you move and what was it like getting settled in and established?
I moved in August of 2017, which seems like yesterday! Having the three of us start the new adventure together made it so much easier because you know everyone is in the same position. We moved to a flat on a busy main street, which was a big change. The most noise I used to get from outside my window in Glastry was the tractors racing down the road, so listening to bars blasting music to all hours every night took some getting used to!
Can you briefly describe to us your life now, work and have you time to be involved GAA activities?
I'm lucky enough to work in a lovely school along with my housemate Aimee, teaching a Year 4 class. I still live with Emer, Aimee and now Ciara, another expat from Carryduff! Being away from home I think you sort of get closer to whomever you're with and so they are my family over here, we do everything together. The closest I get to any GAA over here is when we go to watch Aimee play Gaelic for our local team St. Lawrence's, as good as that is, nothing ever compares to being home and watching Ballycran!
Looking back again at your time in Ballycran, what would be your prominent memory of being around McKenna Park?
So many memories around McKenna, I couldn't even pick one! More recently I've such fond memories of being around the park running our 'Cransformation' event. The laugh the committee and I had whilst doing this was unreal and I wouldn't have wanted to do it with anyone else.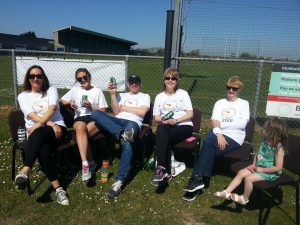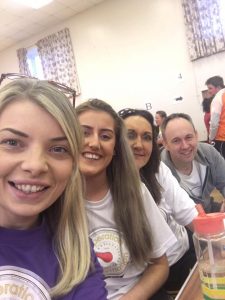 Cransformation memories with the best of friends
We had many late nights and we may have questioned what we had let ourselves in for but it was all worth it, seeing the amount of people from all over that came into the club through that initiative was really amazing and I feel very proud to have been part of it all. So a special shout out to the Cransformation committee, Eamon, Grace, Tony, Maire, Fiona, Una & Megan, for all the laughs (and near tears!!)
We'll assume you manage to get back 'home' for the odd family reunion, holiday etc, can we ask what do you look forward to the most?
I'd say I get home the most for Ballycran events haha! I spent my first September over here without coming home and I'll never forget how homesick I felt over Championship, so I swore I'd never miss that again! I love getting home to see everyone, being away is amazing but you always miss your family and friends, so for me that's what coming home is all about.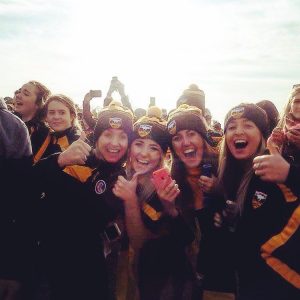 No better feeling – Championship day
When you've been away its always great to get home for a match or event at the park, just being around McKenna, seeing people and having an oul rubbish chat with everyone is great. It's tough some Sunday's over here when you don't have that routine of 'mass, home and a match', you get so used to doing it when your home you don't realise how much you'll miss it until its gone!
Tell us a little bit more about your life away from Ballycran, for instance, what's your weekly routine, how do you attack the weekend, and what's a holiday from where you currently live?
Our weekdays are the same routine as most, 'work, eat, sleep and repeat.' Emer, being an office worker often tries to entice us out to start the weekend on a Thursday night but that usually doesn't mix well with a class of 30 eight year olds so we try to keep our weekdays boring! On a weekend we try to get out and see a good bit of Manchester but it usually ends in the shops or the bar! We're lucky to have a good group of friends in Manchester and around England, so there's always something to be at and keep us entertained! Going to Liverpool or London is a bit of a mini break for us and means we can go and visit friends. Next year's a year of weddings for me so unfortunately the holidays are on hold, my holidays will be spent in Ireland!
You're now settled in, doing well, but can we raise our hopes of seeing you return at a later point in time?
If I don't answer 'yes' here I think my Mummy will murder me ha ha! Of course at a later date I would love to settle in Ireland but at this point I don't have any immediate plans to return. I think there are plenty more places for me to visit before I come back for good! The good thing about home is that no matter how long you go away for, nothing ever changes so I'm in no rush to get back!
Finally, do you have a message to send home to Ballycran?
Always sending my well wishes to Ballycran no matter where I am!
Ballycran is profoundly grateful to our Diaspora for sharing their life stories and wishes them a safe, happy and fulfilled life. We look forward to seeing you again, in the not too distant future.