A New Year and that means a new season.  We are grateful that two of our senior players have taken the time to share with us their 2020 vision, excuse the pun.  Tonight we talk to Conor Woods.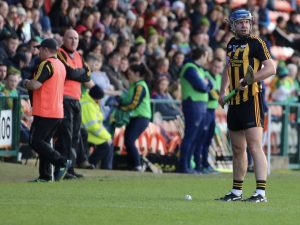 Conor lines up for a free during the Ulster GAA 2019 semi final against Dunloy
Thanks for taking the call Conor, as you know I'd like to explore your thoughts on the New Year ahead with a few easy questions.
"No bother, fire away"
Firstly though, how would you sum up 2019 as a player in terms of your own performance?
"If you don't mind, I'd like to go back to 2018 as this probably had a big influence on last year. I picked up an injury to my hip. It was decision time, contemplating either an operation with rehab and probably a year out of the game or embark on a hip-strengthening programme. In the end, I opted for the latter and it was to be honest, an opportunity to reflect on my own conditioning going forward. I worked my way through a programme and I'd say I was as fit as I have ever been and as the year finished up, I picked up the Down Senior Hurling Player of the year and a Gaelic Life All Star award.
February 2019 brought in a new member to the Woods household, baby Harry and as everyone knows, the baby schedule takes a toll, both mentally and physically. My pre-season prep didn't get off as expected but once we got into the swing of things; there was a turning point for me being able to manage my time, commitments and thus contributing back into the game sometime around June or July. I still though had some catching up to do for the remainder of the year, but without 2018's hard work it would have been so much harder."
What about the overall performance of the team through 2019?
"We had a slow start to the year and although we didn't have a great league season, it was a decent opportunity to bring in new blood with a few of the younger players. That ended up being a bonus as by the time the Championship came around, we had a few more guys on the panel to offset injury concerns, for instance James Coyle was out for the most part with a broken arm. Few of us had been on a team with 'back-to-back' silver, so Jeremiah was a great achievement for many of us on a personal level."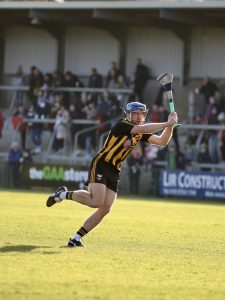 Ulster GAA 2019 semi final against Dunloy
Have you set any personal goals for 2020 and if so, can you share those with us?
"I want to be able to commit to playing for the County this season. That's going to help me focus on improving my fitness levels for inter-county games. The County Coach will present a programme of involvement and you'll be expected to get on with that. The Club will ultimately benefit from that as well. So that's me looking forward to the National league, Christy ring and Club matches too."
It wouldn't be a new year without attempting a few resolutions, have you made any that you can share?
"I guess I have two resolutions for the New Year. Firstly, to still find the time to take Harry out for our walks and the other family commitments of course and then apply myself to the Tuesday/Thursday gym and the Park training sessions.  I'm looking forward to getting into the new facility that the Club are building.  It'll make such a difference if we use it properly."
It's going to be a big year for sport, what with the Euro 2020 and Tokyo Olympics. How about a few predictions for maybe an All Ireland winner and maybe a winner for the Euro 2020?
"Ha ha, let's give that a go, I think they have a good team, a new manager, so it should prove to be a good opportunity for Cork to win the Hurling. Football, Dublin, six in a row I'm thinking. For the Euros, maybe England. Yeah, I think they might come through for this one."
Finally, have you a message to give to our juveniles going into a new season?
"Yes, my pleasure. Winning is a great feeling, no question about that, but it's not the most important thing in my view. At underage, in my own experience, it's about developing. Developing you as a player and a person. You have the time when you're young, so spend it on developing your skills and values such as hard working, honest, reliable and so on. All that will stand you in good stead later on."
Thanks Conor, good luck for 2020.
Some pictures courtesy of Diarmuid ÓDonnghaile