Every year we look forward to certain milestones and the Easter draw is certainly one of those.  It heralds the beginning of spring for many of us and all of what that brings, like the evenings are getting longer, the grass is threatening to need a first cut and there's a general feeling that we have turned around winter's corner and getting ready for the new year of outdoor activities.
Our Easter draw this year will take place under the current restrictions of Covid-19.  You can buy the draw tickets online through your Clubforce account (either via the App or the Clubforce web site) or contact any of our executive or entertainments committee members to discuss an alternative arrangement.
If you don't have a Clubforce account, then download and install the relevant App according to your phones operating system and search for Ballycran, the Club's motif will appear along with the name of the Club, then select this. You have the option to login or create an account if it's your first time using the App or web site to register your membership. And off you go!
You can get the App for Apple (iOS) devices here – https://itunes.apple.com/ie/app/mcf/id1270809419?mt=8
You can get the App for Android (Google OS) devices here – https://play.google.com/store/apps/details?id=com.girt.ebadism.mcf
Alternatively you can use the Clubforce web site here https://clubforce.com/
Our poster has all of the details…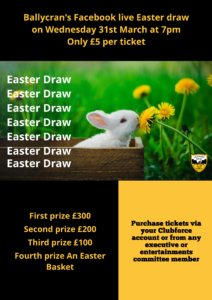 And there's something for the juveniles too! We are running an Easter colour me in draw.  Simply print off the poster (below), colour it in, snap it and post it into Ballycran's Facebook post on "Colour me in".  The closing date for entries is 5pm on the 30th March. Good luck to every participant.