Ballycran's Last Man Standing – LMS is now live and running. Remember that if you crash at the first hurdle, you can buy yourself back in on the first week only.
Here is the list of confirmed selections.  Simply click on the LMS Week link to see the standings going into week x.  Good luck everyone and thanks again for your participation.
Week 2 Selection
Week 3 Selection
Week 4 Selection
Week 5 selection
Week 7 selection
Week 8 selection
After eight weeks of elite games analysis that an investment banker would be proud of, we have a winner.  Yes, Eoghan Hughes is our last man standing.  Eoghan received his haul of £1000 from LMS game co-ordinator Gerard Hughes and out at a socially distanced presentation, Gerard offered to help Eoghan stash the cash instead of the usual senior hurling training burpees.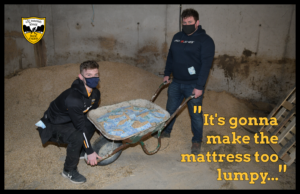 Gerard Hughes and LMS winner Eoghan Hughes