Despite the pressure of keeping to a schedule ahead of last night's County game at the Dub, Chris Egan found the time to chat a bit on the phone and took his turn at sharing with us his thoughts on 2019 and what's possibly in store for 2020.
How would you sum up 2019 as a player in terms of your own performance?
"Well, I guess I could safely say it was one of my better years. I set out with a straightforward goal to start on the senior squad and play in the Down GAA Championship matches.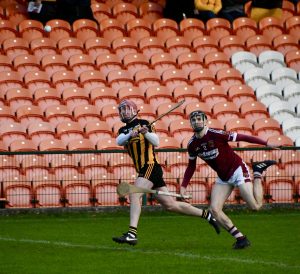 Chris in action against Cushendall in the 2018 Ulster SHC final
Then, totally apart from our regular Tuesday/Thursday/Sunday training sessions and matches, I worked away at a few things on my own. Simple stuff like a little bit more fitness and got up to the park a few times to do some ball work. Looking back now, with a little bit of recognition from outside the Club by way of a Gaelic Life team player nominee and then our own Club's Player of the Year award, I guess I have to be satisfied with my effort to be honest.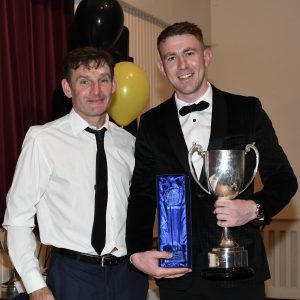 Senior Hurling Player of the Year 2019 for Chris Egan
What about the overall performance of the team through 2019?
I'd agree with the general sentiment that we got off to a slow start in the Antrim league. We were surviving but certainly not in a position to contemplate challenging for domination. That's all good, it gives us plenty to reflect and work on in the next few pre-season months. But I think everyone would agree we all had a good spell in the Championship games, though we had a bit of a blip in one of the early round robin matches."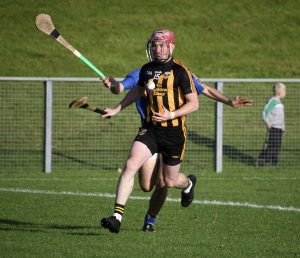 An early set back as Chris describes but there was time to make amends – that 'keep going' spirit
I'm not going to ask but you do know the question I'd love to explore? "Yeah [and chuckles], but I'm not going to go there." Okay, but undoubtedly I may come back to that at some point later in the year. "Grand by me, [and has a good laugh] maybe someone else will take it on". [For reader clarity, it's hard not to want to solicit a view on a possible three in a row now that we are in the season of predictions and resolutions].
Have you set any personal goals for 2020 and if so, can you share those with us?
"Yes, I sure have. I've got three, well three that I can remember. In no particular order though, I'd like to get onto the County squad, make full use of the new training suite coming on line soon and use it to help me maintain my fitness and condition for this year on a par to last year at least and lastly, get up to the Park more to help out with the juvenile commitments. We [Seniors] need to throw in with the rest of the bunch and help to develop our younger players. There's no better place to be on a summer's evening.
It wouldn't be a new year without attempting a few resolutions, have you made any that you can share?
Well, let's start off with a dry January as I had a good break over Christmas. I'll also add in a determination to start with the County and thereafter I guess to try and cut out snacking. I have a desk job and a sweet tooth and that can be a problematic combination. It's not a big deal to be honest but I have a weakness for crisps. Convenient when you get home and need a bite before training but I'm determined to get some good information from the County nutritionist to help me on my way to tackle this.
It's going to be a big year for sport, what with the Euro 2020 and Tokyo Olympics. How about a few predictions for All Ireland finalists and maybe a winner for the Euro 2020?
"Okay, I'll have a go at that for sure, so I'm thinking a Ballyhale v St. Thomas final with the Shamrocks lifting the cup. For the Euro2020 winner this summer, I'll take a punt at France.
Finally, have you a message to give to our juveniles going into a new season?
"Yeah, I wish I had been told, maybe I was, get the hurling stick into your hand as often as you can. Keep practicing, it does no harm and actually make an effort to write down 4 or 5 goals, say areas that you know you could improve on. Keep them simple and practical. Go back every two weeks and see if you are in a position to draw a line through at least one of those.
Get yourself up to the Park, there's always a great spirit about the place and you can spend the time taking frees, solo running up the side of the pitch etc. Make use of our new facility once it's opened. Just keep enjoying being apart of it, don't give up, keep going. We all have off periods, keep working at it and having a laugh."
Many thanks Chris and good luck in 2020!