Recognised as one of our sell out events in Ballycran, we are truly excited to bring you this year's Strictly Cran Dancing 2019.
Before we introduce you to our dancers, let's remind ourselves of how the evening will deliver our winners!
Our five couples will, in turn, perform a jive and then with meticulous back stage co-ordination, transform into another costume and possibly 'hair do' in what will be nothing short of a haberdashery and coiffeur extravaganza, appearing on stage to perform a second dance routine of their choice.
You, the audience, will then select your two favourite performing couples to go through to the head to head round after the break. On conclusion of this, you will be allowed to select your winning couple along with some input from our esteemed judging panel, this year comprising none other than the Ards equivalent of the BBC's 'Beyond 100 days' news tag team of Christian Fraser and Katty Kay, yes it's Seamus Dorrian and Fionnula Torney! To make sure that they don't steal the show, we have another two mystery judges. All will be revealed on the night.
We have a bumper line up for you, so let's waste no more time and introduce the competitors.
Our first Strictly couple is Gerard McVeigh (no relation to Jeremiah and it's a different spelling anyway) and Brenda Savage. Both well known around the Club and during their practice sessions have built up a reputation as being our 'Electrostatic couple'.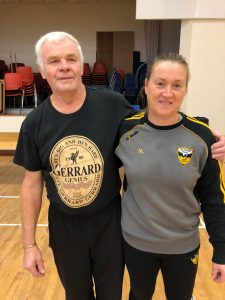 Our second Strictly couple is Gerard McCarthy and Geraldine Rogan. Don't be fooled by their youthfulness, these two have been classed as the vibrant combination to watch out for.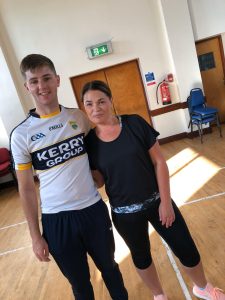 Next up are Nuala McGrattan (of Santa's Grotto fame) and Eugene 'Chippy' McGrattan. Eugene is an ex Ballycran corner back and well versed in the skills of maintaining a competitive approach. Therefore it won't come as a surprise to learn that this couple have been noted as being a very competitive combination.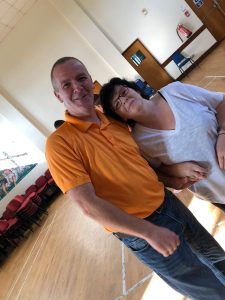 Our fourth Strictly couple are no strangers to tackling a challenge. Please welcome Bob Braniff, some say Ballycran's Anthony Daly look alike and Rhonda Greenhill, both Ballycran Cransformation buddies. Bursting with stamina, they may have a tactic or two up their sleeves!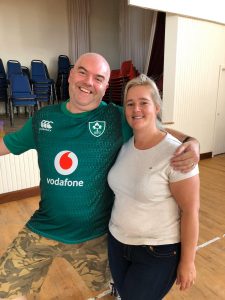 Finally, we have Niamh McKendry and Paul Donnelly. Niamh is the fiancé of Michael 'Mutley' Hughes, last years Senior Captain and Paul, himself a Cransformation devotee and could be this year's dark horse. During the practice sessions, our spotters have noted that these two could be an electrifying combination.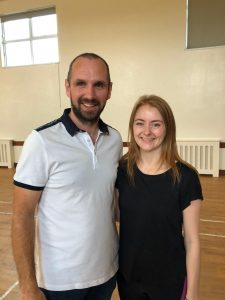 There you have it folks. The event is so popular that we always have to put on a second night, so if the Saturday doesn't suit you, then Friday is a great night to kick off the weekend!