You have to go back 2013 for a Down Christy Ring Cup win. If the fixtures hold true, Down are just one week away from having an opportunity to update the Christy Ring records.  Our historical aficionados will be enjoying all of this.  Yesterday's match is being heralded as the first inter county match to go to a penalty shoot out after the semi final match could not be decided after two exciting halves of extra time.  It was a solid team performance that brought about that outcome and many of us living in the Ards peninsula are proud of our boys' contributions.
But there's more. In the shoot out, Down and Ballycran's senior goalkeeper Stephen Keith, stepped up to the goal line and parried away three Offaly penalties. And if that still wasn't enough, Stephen Keith was the fifth penalty taker in a dramatic show down with Offaly's goalkeeper Stephen Corcoran that kept the streaming commentators stumped to the last second as to who would step up.  It was the stuff of juvenile garden day-dreams.  Like the proverbial putt for the Open.  Like the winning point in the dying minutes to win an All Ireland. Cool, calm and collected, picking his spot, in it went like a rocket.  Final it is then.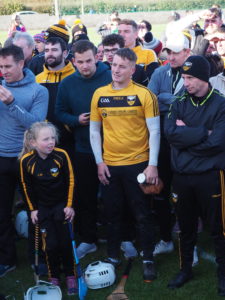 Stephen reflects on a post match winning speech
Many of us know Stephen as the son of legendary Ballycran and Down keeper, Noel Keith.  Noel's career was long and bountiful and we hope that rubs off on Stephen, otherwise know as Viper.  Our County All Star, Gerard McGrattan, once said in an interview for the HoganStand talking about his own award that "I felt that we deserved one or two All Stars…Our goalkeeper Noel Keith for one, definitely deserved an award…".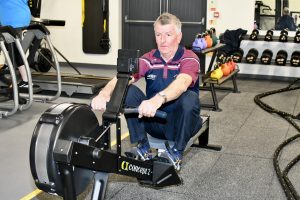 Noel Keith enjoying a workout before the Coronavirus restrictions closed Ballycran's complex
Big boots to hand down then but by yesterday's performance, arguably Viper has added a few eyelets and tightened those boots up even tighter. Just in the door from a recovery session down in the glorious setting of Knockinelder beach, Stephen, approachable as ever was happy to take a call.
Firstly congratulations. How do you feel this morning after yesterday's historical win over Offaly? "Thank you. We are still 100% buzzing. It was a great match and despite the odds against us, we were actually confident in what we could achieve.  I'm just back from a recovery session and then off on Tuesday for a training session where there will be time to settle back in and start to focus on the match coming up.  The fixtures give it 21st/22nd in Croke Park".  We'll all cross our fingers for a stream feed back home. "Yes, that'll be great. We played Kildare in Liatroim earlier this year and the outcome was favourable but we are not in any way complacent.  Confident in our own abilities but we will be focussed".
Talk to me about your approach to penalties as one could be presumptuous to imagine that they are a bit of a Viper speciality now? [Stephen laughs at the thought] Do you watch the body, swing arc or simply the path of the sliotar? "Actually I try to work out from their posture where they are hoping to slot the shot.  It's hard to line up left and puck right with any degree of power and accuracy".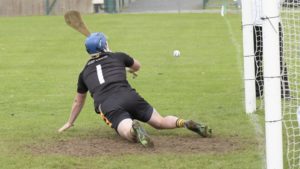 Stephen parrys away a penalty from Gareth 'Magic' Johnson in the SHC round robin stages
Did you know that the game could go to penalties if extra time didn't deliver a result? "No, definitely not.  Once the whistle blew, one of the umpires said to me 'nows your time to shine'.  The manager, Ronan then called out the order. Marc, Paul, Conor, CT and myself.  I didn't think much about it to be honest. I was busy with the goal mouth.  When it was my turn, I just picked my spot and drilled it home.  I used my normal stick that I use all day and everyday for the puck outs".
Looking back at either the full time or extra time score, with seconds to go on the clock it could have gone either way, so a 60 – 80 yard puck would have been devastating.  How do you keep your nerve under that tense scenario? "Well to be honest you can't practice for that exact scenario but you'll have played enough games to know that you can only do your best up to the whistle.  There's no doubt it creeps into your mind but we've all got enough experience now that we keep focussed on the task second by second".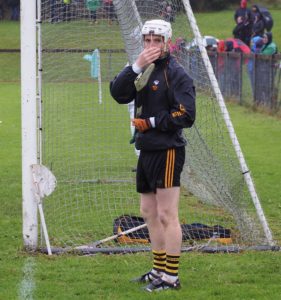 Steely eyed, a cool customer that has learned to stay focussed when the heat is turned up
I've got to ask this, have you had a chance to chat with your Dad and if so do you mind telling us what he said? "Yes, he rang me straight after the game.  He's delighted for the whole team and as for me, yeah he was pretty upbeat about my game but wasn't so sure about me taking the penalty" [he then has a good laugh]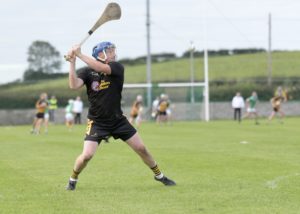 Viper shows us his puck out style that took Down over the line
Have you anything to say that might inspire our young County juvenile goalkeepers? "Ah yes for sure.  I think firstly it's something you have to want to do.  It's not fair stepping into the role if you really want to be playing somewhere else.  I've always wanted to be a goalkeeper.  Train well and enjoy what you are doing.  Watch other keepers and think about what you can do to improve your own game".
So let's see how the pundits call the final against Kildare.  When Down met Kildare in Liatroim, we managed to get to the match and here's a web post with pictures in case you missed that.  Down are arguably a stronger team now with a great panel.  Here's hoping there's enough venom in our performance to bring the Christy Ring Cup home to the County.