Nowadays it's hard to escape the reach of social media intrusion.  Then again, in Gerard's particular case, that was a good thing.  On a three week holiday to see his sister Paula in New Zealand (and you'll know all about Paula now thanks to her contributing article last year), Gerard woke up to a plethora of messages tipping him off of a pending nomination for the County Senior Club Player of the Year.
Naturally sceptical, nonetheless Gerard eventually found out it was true.  Jetting back last Thursday at the end of the holiday with Mum and Dad and making a bee line for the Canal Court Hotel ceremony, Gerard was simply pleased to be there and soaking up the Down footballers Silver Jubilee atmosphere.  Let's find out some more.
Just before we delve into your award, how is everyone in New Zealand?
Everyone is great.  We had a great time, though Dad ended up in hospital.  Nothing serious I hope? Seems like he picked up a bug but he got over it and managed to enjoy the rest of the holiday.
When did you know that you'd been nominated?
With the time difference, it was morning time in NZ, I guess the evening over here.  I was getting a few messages and at first thought someone was having a laugh.  Eventually other messages came through and it seemed to be right enough.
So a really enjoyable evening, good food and interesting stuff going on around you, then your name was called out, how did you feel?
Yes, for sure. A great evening.  To be honest, I never imagined I'd get a nomination never mind the actual award.  I had automatically assumed it would be one of the others and had settled down to enjoy the evening.  I'm proud to collect the award, Conor Woods picked up the same last year I recall, so something to keep in the Club for another year.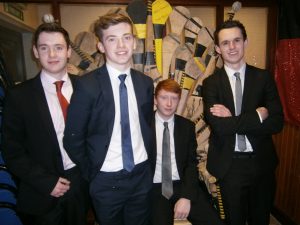 From Minor to Major, Gerard scales his way to County Senior Club recognition
Going into 2020, what are your plans for the new season?
Actually the reason I asked for the interview to be pushed back a few hours was because I was out for one of my pre-season runs with Tommy Mac.  I'll be into the new training facility when it's open and that will add to the pre-season build up.  Let's see if we can have a good start to the year, building on what we achieved last year.  Eventually, it'll be hard not to think about the Championship season and the possibilities awaiting.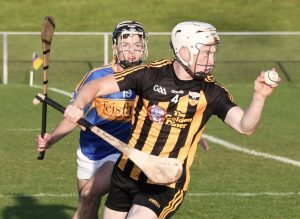 Gerard looks up to progress the Sliotar during one of the Championship matches in 2019
If you don't mind me asking, when you aren't hurling for the Club, what do you get up to?
At the minute I'm doing my Masters at Queens in Civil Engineering.  That's keeping me busy and I've also been playing for Queens for the past four years.  We are off to play against Thurles in the Ryan Cup, the University All Ireland and it's our first match.  Queens have their training regime too and occasionally it can clash with County commitments but the managers are good at organising between themselves and something gets worked out in the end.  Just like our own Club, you're expected to get on with your gym work.  It all keeps me busy.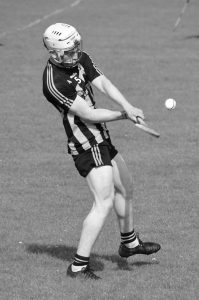 Wearing the number 5 but recently playing on the back line with brothers Paddy and Michael
Finally, another big hurling weekend coming up next Sunday, do you fancy anyone in particular?
I'll be hoping Ballyhale come through with the win.  I'm a Kilkenny fan, so naturally I hope the County can get something from it.
Once again, congratulations Gerard and thanks for your time.
No, thank you, it's good of you to do this. It's always my pleasure, good luck for 2020.