As we near the completion of the new Ballycran Community Complex, more on that later, we thought it would be useful to explore why we decided to do this work and the process involved in getting to where we are today.
In at the start and one of the leading drivers for the project was Peter Finnegan, the Club's Development Officer and I managed to get to chat with him last week during a visit to the premises, about 'the big project'.
Okay Peter, I guess we need to go back a bit in time and uncover the roots of this project, so can you give us an overview of how this all came about?
[Sitting on a gym bench press, Peter takes a moment to reflect] You know, this question does take me back a few years. It actually started with a conversation with Sean McCullough. He told me about a second hand shed and thought it might be relevant to me but in the end it was too big for any use I could put it to. It made me think though; perhaps it was suitable for something around the Club. I thought it through a bit more and came to the same conclusion again, it wouldn't work for the Club, but by now it had sown the seed. We needed something bigger, something appropriate for training and an indoor facility of sorts to get us out of the elements.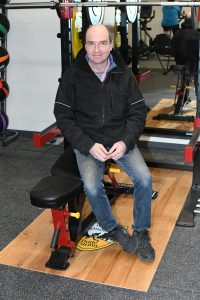 Peter Finnegan, Ballycran's Development Officer talks openly about the origins of 'the big project'
I started to research grants and eventually secured an interest from the Rural Basic Services Scheme. We soon realised that one of the pre-requisites was that we needed to be able to self-fund portions of the project in advance, so that sparked off Cairde Bhaile Crann as our primary funding mechanism. It was Cairde that allowed us to progress with the plans for this project. We established a business plan and once we were 'shovel ready' we were able to get Ards and UCIT onboard.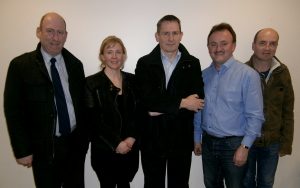 In 2016, Ballycran were exploring grant opportunities with local council resources
It wasn't long before we realised that we were going to need additional funding as we were having to 'upfront' portions of money before the release of assistance. So Gaolbreak was an ideal platform to help us spearhead a funding initiative. [For our scholars, Gaolbreak is considered an older fashioned term compared to the modern version Jailbreak, however it is very in keeping with the Crumlin road historical facility].
If you don't mind, I'd like to take this opportunity to thank everyone that signed up for Cairde, local, far and wide. It was their vision for a sustaining fund raising initiative within the Club, their ongoing loyalty and their trust in our ability to eventually put the funds to good use that has undoubtedly helped us to progress this project to a very successful outcome. I can't thank them enough. It goes without saying that we are also grateful for our sponsorship and all the contributions that came in during the fund raising period.
Then there was a process to establish and follow; can you allude to that please?
Well, few know that it took about 3, maybe 4 years to get it all off the ground. We had to operate in an environment with some considerable risk initially, but once we secured our letter of offer, then we held the extraordinary meeting in McKenna hall to get the Club buy-in. That was a resounding success and off the back of that, we built our project committee and worked hard to make the dream come true.
In your eyes, what's the vision for the complex?
Our vision was to create a first class development environment for everyone from juniors to seniors. The gym is a much needed and sought after resource that is popular with our 'senior seniors' and the wider community.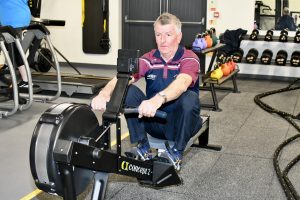 Noel Keith enjoying the facilities on a Monday evening
And with the weather increasingly being affected by climate change, being indoors during the roar of the winter nights and dry under foot is a value added bonus? Yes, the 3G pitch will help us to work at our game skills regardless of what it's doing outside.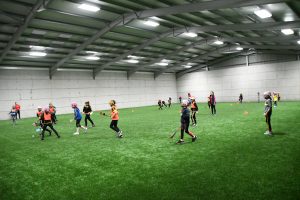 One of the stars of the Complex, our indoor 3G pitch
How will it work on a day-to-day basis?
Well you start off with your registration and a facilities induction. Somewhere in that process, we will take your fingerprints that will allow you to enter the premises and have access to various rooms, such as the 3G pitch or gym for example. We are open everyday from 5am – 12 midnight. There's a class on something just about everyday, something for everyone.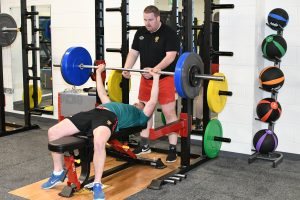 Declan Ennis assists with a fitness and strengthening programme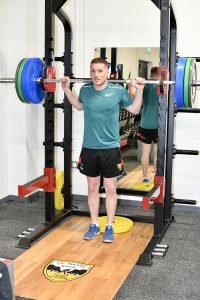 Stephen 'Viper' Keith gives the complex a workout
A venture such as this will have a few teething problems so we are obviously working our way through a few of these. Thankfully nothing of significance and then the normal issues associated with wear and tear will overtake this point before we know it! We will also consider installing vending facilities once we get to level flight as they say.
Finally, is there a phase two?
There's always a phase two [he smiles but it's hard to gauge if there's a plan or simply a reaction to the question]. I'm speculating at this point but we might reflect on improving car parking, a walking track but really we will want to get the facility running well and then we can look forward again.
Any further enhancements or even just separate unrelated projects to this complex will be dependent on our Cairde members staying loyal and allowing us to work up plans for everyone's benefit. I remember the first project, the modernisation of the ladies toilets and from that to the new complex, quite a journey Peter? Yes exactly! That's why it's important that other people come on board Cairde and collectively we can achieve much more. You've had a chance to look around Michael, tell me it wasn't worth it!
Thanks Peter for your time and clearly it has been worth every effort. I'll take the opportunity to thank you, the development team, project committee, Executive, Club members, sponsors, generous contributors and of course last but not least – Cairde, for the wonderful facility that we will all enjoy for years to come.