They say that there's nothing more certain in life than taxes, mortality and change. And change it is on this occasion as the Club interviewed a number of applicants for the positions of manager – senior hurling and manager – senior camogie.  After a series of online interviews, the executive have appointed Jamie Fowler and James Henry Hughes as the dual management team for the hurling and Catherine McGourty as the manager for the senior camogie team.
Jamie and James Henry are no strangers to the senior management circle having served under various past managers on the sidelines over the years.  Out at a bitter cold McKenna Park, Jamie declared that officially they were now actively underway and helping a number of players to establish their own programmes as we work under Covid restrictions these days.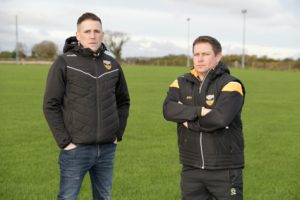 Jamie Fowler and James Henry Hughes – Senior hurling managers
The management team is backed up by Chris Clarke, Dermot Woods and Philip McCarthy, all bringing a great mix of knowledge and experience from their areas of expertise.
"Our engagements in Antrim are at the mercy of the Antrim organisers" said James Henry.  "Things could be very different this year with regards to the fixtures timetabling.  In the meantime we will have to keep the squad focussed until we have clarity and we'll also take the opportunity to get a few friendly matches in too".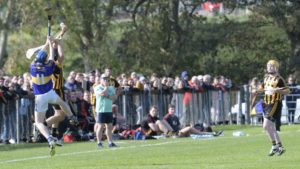 James Henry keeping a watchful eye on the Betsy Gray shield proceedings
Both candidates are excited about their new commitments and eventually seeing beyond the covid implications, they are looking forward to getting out to the Park on better evenings for the training sessions, getting the regular games underway and another Championship season to end the Club calendar.
When pressed on any changes to the line up of the squad, James Henry had this to say. "We had a few injuries on the panel last year and that looked like setting the scene for some changes but without mentioning any names and as a measure of the man, we have one player already making it clear to us he wants to keep going and positive about what he can bring to the squad".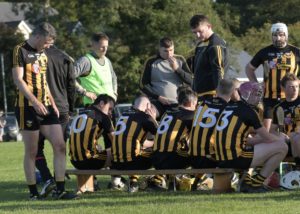 Jamie will step up to a more senior post but will be no stranger to the senior squad
So no revelations this time around lads? Both fell into laughter.  Jamie, "No, not this time around.  No one is walking away. Thankfully everyone is back onboard for another year". So that's the revelation then.
For Catherine, although she has coached at County, Club and School with enviable success, this is her first stint as a senior manager. "I'm taking this slow to be honest.  There's time to put the pieces of the jig saw together and my immediate support team know my heavy commitments and prepared to help me as is needed. I still want to play, I've got my job and County commitments, so 2021 will be a very busy year. To be honest, this is a natural progression for me and as I'm the more senior states person these days, it could be another avenue that allows me to put back into the game what was so generously given to me".
Catherine also has a wealth of expertise and local knowledge to draw from.  "My Dad won't be too far away and I'm hoping that one or two of the other girls will come back in to help out. As it stands, it looks promising".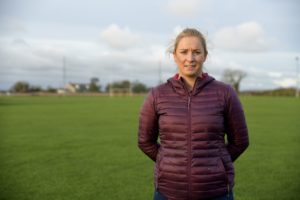 Catherine McGourty – senior camogie manager
Catherine's natural inclination to observe and internally process the game lends her to being a natural coach, so could this be an opportunity to make some inroads into establishing her own management style? "I'd like to try and put my own stamp on things.  Even when you are playing, you pick things up and they stay with you as things you might try yourself if given the opportunity.  That'll be me, trying and changing to improve".
"I don't have a pre-season set up yet.  Let's see what happens with the restrictions that are about to roll in.  Last year we came out nice and early and it was, I suppose, August before we managed to start to get games in.  That was a long period of relative inactivity.  I don't want a repeat of that to be honest". Catherine is keen to point out that there are some things that will benefit from early intervention, like planning and getting more in tune with managing players.  She believes some have more to give and is focussed on seeing what things can be done to help them overcome the challenges of work and life commitments.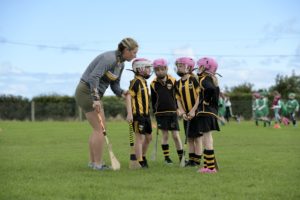 From little acorns do mighty oaks grow – Catherine coaches the juvenile camogs during a summer blitz
"With some help in this area, we could return to some form quickly, the type of form that allowed us to measure up to Liatroim.  That was a close game against a quality field and we came very close to tipping that game in our favour.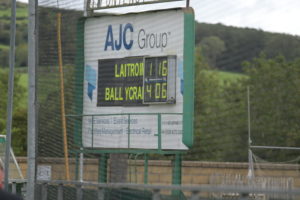 A quality close encounter offers hope
Just like the hurlers, there are no significant revelations to announce but Catherine is excited about bringing in some of the younger camogie players.  "Just like I said at the interview, this is the start of a rebuilding process and the younger players have a big part to play here".  With the recent success of Down in the All Ireland intermediate final, local names and faces are a great advertisement for what is possible.
The Club was encouraged by the enthusiasm and proposals in the recent submissions but regrettably not all applicants can be successful.  The Club would like to thank all applicants and wish the new senior managers the very best for 2021.