It's one of Ballycran's biggest events of the year and this will be our fifth anniversary! Cransformation – a play on the Club's nickname Cran and transformation – is the Club's health and well-being initiative that reaches across the local community to provide a mechanism for exercising and very importantly, staying connected with a support team in a well managed series of events.
This all then culminates in an exciting and dynamic 'head to head' event and eventually ending with a gala ball to reward everyone for their commitment, dedication, motivation and administration.
On the surface it works like clockwork but that masks the enormous effort behind the scenes from a committee focused on delivering a framework of events for your enjoyment. Ever approachable, we had a chat with Marguerite Fowler, who has been involved with this event since its inception. Here's what she had to say.
Marguerite Fowler with husband Seamus at the 2016 Gala ball held in the Clandeboye Lodge
What was the original aim of Cransformation Marge? It was a simple aim actually, to be able to improve your fitness, having fun whilst doing so and making friends along the way. Fun, fitness and friends that was it! Now it's in its fifth year, what a great success it has been.
For some of our readers that are not familiar with its workings, can you give us an outline description? Sure, we start off with a simple registration event down at McKenna Hall. Once the committee has an idea of numbers then they start to work out the number of teams that will need a motivator. Going by experience, we sort of aim for around 12 teams in order to make the whole thing more manageable. Teams can be made up of 10 to 20 Cransformers. That's the name for anyone participating in the event? Uh huh, yes that's right. We have also in the past-accommodated individuals, folks that for one reason or another need some extra flexibility with their time and commitment.
Then the committee sit down and work through the registration list figuring out the team make up based on criteria such as fitness levels, gender, interests, age and so on. Then a motivator is assigned to the team.
Once you have the teams made up and assigned a motivator, do you all meet up for the first event? Not just straightaway, there's a bit of admin still to carry out, for instance sponsorship and then we look forward to giving the teams a name.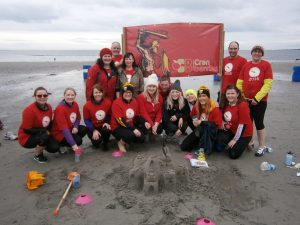 'Cran-berries' from a previous year, down at Cloughey beach in one of the organised events
Then we are ready. So after registration, meet the motivators, meet your team then we have the first weigh-in. When you are in the hall any of those nights, you can feel the atmosphere building up. At some point, the committee will brief the motivators on the up and coming event and then we are off!
How do you judge the winner(s)? At the gala ball, we celebrate everyone's success. To have the courage to apply, remain committed and get involved in the events, even the smaller ones that each motivator will think up is tremendous.
They will all be winners. It's a great night to be honest. Specifically, we will calculate the biggest overall percentage weight loss for a team, then for the biggest loser man and woman. Each motivator will also present a prize to an individual in their team. That'll be based on a range of criteria like positivity, commitment, attitude etc. Just talking about it, I can't wait!
Finally, how do you all stay informed across the event? Normally we have a private Facebook page and each motivator will create their own Whatsapp for their team. Maybe we'll get a splash or two on the Club's web site Michael? Stranger things have happened Marge, good luck to everyone!