Approximately 4,800 miles from Ireland lies the city island of Abu Dhabi, capital of the United Arab Emirates (UAE).  Abu Dhabi translates to 'Father of the Gazelle', famous for it's incredible buildings, beaches and a huge exporter of world class dates, this is the current home for Ballycran's James Balmer.
For the benefit of the wider readership, let's wind the clock back to a time before you left Ballycran and tell us what your connection was with the Club?
I've been involved with Ballycran for easily over 15 years and I've hurled with the Club from underage level. At a later point in time, I also got involved with helping to coach U8 and U10 hurling teams.
Can you share with us, your thoughts leading up to your decision to move and establish a life away from 'home'?
After I had graduated as a primary school teacher from St Mary's University College, Belfast, I seized a great opportunity to teach abroad, firstly travelling to Doha, Qatar and now on to Abu Dhabi, UAE. I've been teaching in British Curriculum schools in both Doha and Abu Dhabi for 5 years.
When did you move and what was it like getting settled in and established?
I have to say that it surprised me to learn of the number of Irish expats also teaching abroad and the extent of the Irish community in the Middle East. There was already a thriving GAA scene, now consisting of 15 football and hurling teams (a little more on that later) and a large Irish community, which I integrated into with relative ease and now have a large circle of close friends.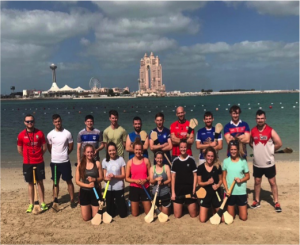 Can you briefly describe to us your life now, work and have you time to be involved in GAA activities?
Life in the Middle East is similar to home with a 5 day working week, albeit from Sunday to Thursday (with Friday being the Muslim holy day). It makes it hard waking up for work at 6am on a Sunday morning and with the 3 or 4 hour time difference, seeing snap chats of people, allegedly still in the Mermaid or John Gerard's still on the beer!!
Looking back again at your time in Ballycran, what would be your prominent memory of being around McKenna Park?
I've enjoyed every moment at McKenna Park and being away from it has been one of the hardest parts of living abroad. I remember fondly such characters as Brian Bell Senior and Big Hugh Gilmore who coached me at underage level and I like to think I've borrowed a few of their managerial traits in my own coaching experience in Abu Dhabi!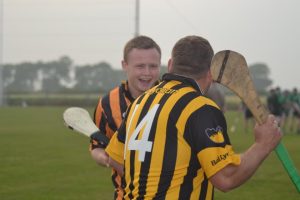 Gazza (Gary Savage as he's more formally known) is a man I've always admired, both as a player and a coach. He ran some of the best and toughest senior training sessions I've attended in my time. Always a great man to discuss hurling over a pint!
We'll assume you manage to get back 'home' for the odd family reunion, holiday etc, can we ask what do you look forward to the most?
A hug from Mum, the fresh Irish air and a pint of Guinness in John Gerard's Bar! A homemade fry and a trip to Sunday Mass are hard to beat also!
Tell us a little bit more about your life away from Ballycran, for instance, what's your weekly routine, how do you attack the weekend, and what's a holiday from where you currently live?
Separation from family and friends is the greatest challenge to any expat abroad, however getting involved with the GAA community provides an excellent outlet and an opportunity to ease this concern. Initially when I was in Qatar, I got involved in playing for both the football and hurling teams and my most significant achievement was winning the Intermediate Hurling Middle East Championship with Qatar back in 2016.
When I moved to Abu Dhabi, I joined as a playing member of Al Reem Shamrocks GAA Club. As a newly established Club in Abu Dhabi, 'Shamrocks' offered only football in the first two years of their formation. Back then, along with Paul Teahan, we were determined to establish the hurling code within the club. With the support of Ballycran and its members, who generously donated hurls and sliotars during my visit home over Christmas, this then became a reality in January of this year. Incredibly, we were then able to field both a hurling and camogie team in our very first tournaments, towards the end of January!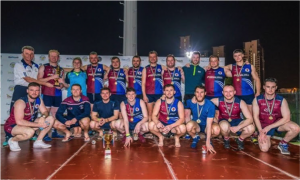 My earlier experience as a hurling coach has helped me to manage the Camogie team and I'm proud of the fact that the camogs went on to glory in the championship this year! As a player it hasn't quite been the same story with silverware, however we remain competitive in the Intermediate league.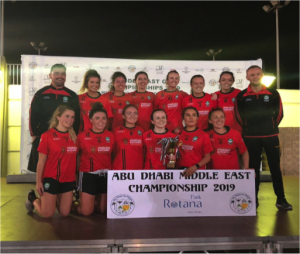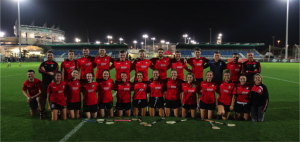 Because I work in a British Curriculum school, we have similar holidays to home (Christmas, Easter, mid-terms) and I'm lucky enough to be able to travel on holiday each time we have a break from school! From South-East Asia to Europe, any destination is available to us when you consider that Abu Dhabi and Dubai airports are hubs to anywhere in the world – the only barrier being the money!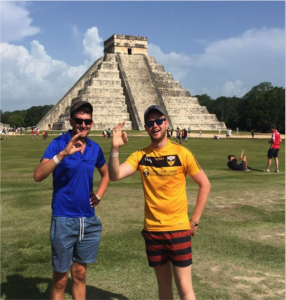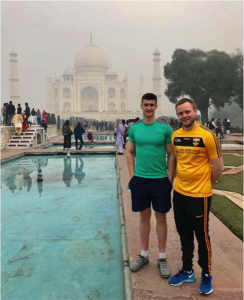 You're now settled in, doing well, but can we raise our hopes of seeing you return at a later point in time?
Yes – I'll 100% return to Ireland at some point! When? Your guess is as good as mine!
Finally, do you have a message to send home to Ballycran?
I'd like to take this opportunity to thank Ballycran and all of its members who donated or helped in any way to establish and support our hurling venture with Al Reem Shamrocks.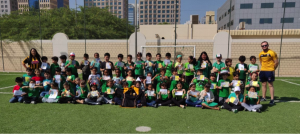 I hope the lads' hurling continues to 'drive it on' at home. It's not ideal being away from home, missing the championship celebrations, but a massive shout out to Mutley Hughes then Padraig Flynn and the rest of the squad for back to back Down titles! I'll continue to wear the black and amber abroad wherever I go! Hail hail!
Ballycran is profoundly grateful to our Diaspora for sharing their life stories and wishes them a safe, happy and fulfilled life. We look forward to seeing you again, in the not too distant future.