Almost 12,000 miles apart, a non stop flight close to nearly a full day and in a time zone that's 13 hours ahead of Ireland, we managed to persuade Ballycran's Laura Hughes to tell us about Camogie, work and life in New Zealand.
For the benefit of the wider readership, let's wind the clock back to a time before you left Ballycran and tell us what your connection was with the Club?
My involvement with the camogie club started when I was about 7 or 8 years of age, after my Mummy finally allowed me to play.  She was (and still is) worried about it being too 'rough' and didn't want me getting injured.  It was my Nanny Kate who thankfully introduced me to the sport in my back garden and then I went on to play with Ballycran and also at my Primary School.
I played with the camogie team from U8s right through the ranks up to Senior level, with my final season ending in 2015 I think, as I then began a permanent job in Glasgow.  My juvenile successes included many league and championships at U12, U14, U16, Minor and then on to Senior level.
My stand out memories or successes would probably include winning the All Ireland Féile in Cork in 2006 (I think that's the correct year) for the first time in the club's history, also winning my first Down Senior Championship with the club in my Senior debut season in 2008 which was the clubs first Senior championship for 39 years (last won in the summer of '69).  The feeling and celebrations at that time were just unbelievable and meant so much to all the girls, management and the Club and it was great celebrating with many of the Mummy's of some of our players who were on the team when the club last won it in '69!
Finally, winning the Ulster Championship in 2012 was amazing and certainly up there with the main successes, again making the history books as this was the Club's first Ulster title in Camogie.
Can you share with us, your thoughts leading up to your decision to move and establish a life away from 'home'?
Well I first left home in 2012 to move to Glasgow to study physiotherapy at university, which was a 4 year course, although thankfully I was home for 3 out of the 4 summers.  I then graduated in 2016 and after a couple of months I started a permanent job as a physiotherapist in Glasgow. I worked for 2 years permanently, which meant trips home were less frequent, weekends here and there really or for any big occasions and Christmas just.
I had always planned to move away after I got a couple of years work experience as a physiotherapist under my belt, as I wanted to see the world while I could and the lifestyle out on this side of the world seemed very appealing.  So, I eventually bit the bullet and went for it along with my boyfriend Michael who had the same travel bug as myself.
When did you move and what was it like getting settled in and established?
We left home in June 2018, travelling to South East Asia for 3 and a half months first, which was an experience of a life time!  Then we arrived in Auckland, New Zealand in October, which is where we're still based. We moved into a house with 4 other Irish people and 1 Kiwi [New Zealander], which was great for us to get to meet people. It's a very sociable house and our outdoor life is great during the summer months.
Not long after arriving we joined one of the GAA clubs here, which was the best way for us to make friends and build a network of mates.  There's a huge Irish community out here.  I found work extremely quickly when I arrived as there's plenty of physiotherapy jobs going here, so that was one less thing to stress about when I arrived.
Can you briefly describe to us your life now, work and have you time to be involved in GAA activities?
I work Monday to Friday, and the occasional weekend as a physiotherapist in Auckland City Hospital, which I love.  I work in the Cardiothoracic Intensive Care Unit, which is the national site for heart and lung transplants and ECMO treatment [artificial oxygenation of the lungs] so we get patients from all over New Zealand as well as the Pacific Islands, so the experience is amazing and I absolutely love this area of physiotherapy.  I also cover the step-down ward for cardiothoracic and the coronary care unit too, so it can be pretty busy.  At the weekends we love to head away for a day trip or maybe over the entire weekend to visit other areas of the island where there are plenty of beaches and beautiful sites and nature to see.
Within an hour's drive or less from Auckland you can find so many beautiful spots for walks, hikes, various outdoor activities or simply just to relax at the beach.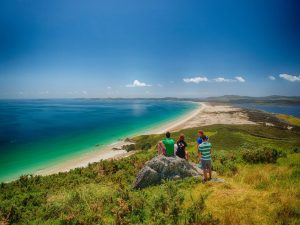 New Year's Eve at the top of the North Island along with Paula Hughes and Sean McCarthy both from Ballycran too who also live out here in Auckland.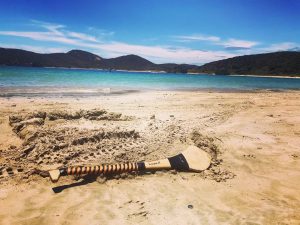 One of my sticks that I brought over for a puc about on the beach
I joined a GAA club last season, which I loved and played both camogie and Gaelic football.  My camogie and Gaelic football team had a very successful season and were undefeated in both sports all season, winning both the league and championship and also the New Zealand Championship in Camogie and Football too, which was hosted in Auckland last year.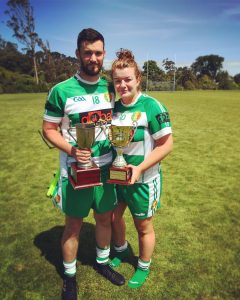 Michael and myself in our Celtic, Auckland Club kits after winning both men's and ladies championships last year
Unfortunately this season hasn't been as successful for me.  I played my first Gaelic football match of the season on Sunday past and ended up breaking my finger and required surgery just yesterday, so it looks like that's my football and camogie out the window for this season anyway, which is very frustrating.
Looking back again at your time in Ballycran, what would be your prominent memory of being around McKenna Park?
As I mentioned previously, I have many great memories and successes on the field. Looking back, I lived and breathed camogie while I was at home.  I was at my happiest when I was playing, whether it was training or playing matches, I just got such an amazing buzz from it and loved every minute of it.  The atmosphere in the changing room with all the girls was great too, most of the time anyway, except for the odd occasion when Sean McGourty had to give us the 'hairdryer treatment' as they say, usually when needed and we had many a laugh over the years.
There's a lot of characters and people who had a big influence on me during my time at the club, too many to mention them all really, although if I had to mention a few, I loved playing under Sean McGourty at senior level.  He gave me such confidence as a player, especially from the young age of 13/14 when I started playing with the seniors and he had such a good mind for the game, which I loved and I learnt a lot from him.
I couldn't forget to mention Ciara and Orla McCarthy too, who were coaches for me at under age level and I then played alongside side them at senior level too.  Both the girls took me under their wing at camogie from day 1 and were like big sisters to me on and off the field and have both done so much for the Club and contributed to the Club enormously over the years.  They also weren't afraid to let me know when I needed to 'pull my socks up' or 'get my ass in gear' on the field, which I needed at times as a young player, and thank them for that too ha ha!
We'll assume you manage to get back 'home' for the odd family reunion, holiday etc., can we ask what do you look forward to the most?
I've been home once for about two and a half weeks back there in July of this year, which has been my first and only time back since I left home in June 2018.  It was great seeing everyone again, but it was an extremely busy time, trying to fit everyone and everything in as I had to squeeze in some time in Glasgow and Donegal to make it for various special occasions and meet family, as well as trying to spend time at my own home in Ballycran.
Of course I didn't get to see everyone I wanted or spend as much time with some people as I would have liked, but unfortunately that's the way of it.  There just wasn't enough time for everything.  Catching up with my best friends and family was what I was looking forward to the most and just being HOME was lovely, surrounded by the green fields I grew up in.  Irish potatoes and soda bread was also up there with things I was looking forward to; you just can't beat Irish food in my opinion.
Tell us a little bit more about your life away from Ballycran, for instance, what's your weekly routine, how do you attack the weekend, and what's a holiday from where you currently live?
As I mentioned before, we love to try and get away for the weekend or away for day trips when we can, especially when the weather is good, essentially to see as much of this beautiful county as we can.  New Zealand has so much to offer, it's got everything from bush and costal walks, amazing beaches, great camping sites, various water sports and activities, GAA, whale and dolphin watching, skiing or snowboarding, skydiving, bungee jumping and of course stunning scenery all over just to name a few things.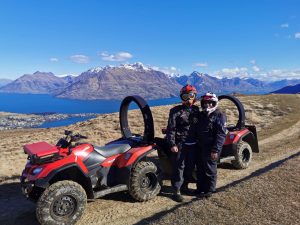 Quad biking in Queenstown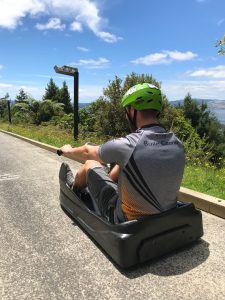 Michael on the luge in Rotorua in his Ballycran top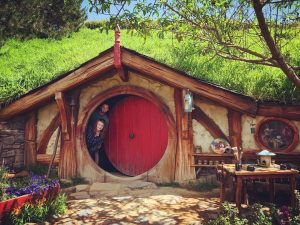 Hobbiton, the movie set of the Hobbit (North Island)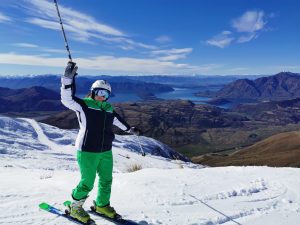 Skiing in Queenstown (South Island)
A holiday from here for us, gosh that would be to the South Island.  We're planning to do a road trip for a couple of weeks next year.  New Zealand is made up of 2 Islands, one in the north and one in the south. Then there's Australia and any of the Pacific Islands like Tonga, Samoa, Fiji etc., which look stunning and are on the list.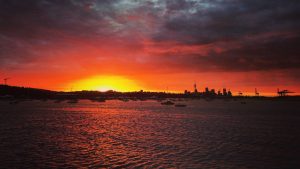 Sunset of Auckland's skyline
You're now settled in, doing well, but can we raise our hopes of seeing you return at a later point in time?
I hope I'll return home some day to settle down, but we don't have any specific plans to be honest and we love the lifestyle we have here for now and are happy, so we'll just have to wait and see what happens.
Finally, do you have a message to send home to Ballycran?
Best of luck to the boys in their Ulster campaign, myself and all the other Ballycran folk over here in New Zealand will be cheering for yas.  And finally, a big hello to all the camogie girls that I've played with other the years, the very best of luck in the new season ahead.
Ballycran is profoundly grateful to our Diaspora for sharing their life stories and wishes them a safe, happy and fulfilled life. We look forward to seeing you again, in the not too distant future.