Staying in the southern hemisphere, we travel east for the penultimate time this year and explore another life story in the magical 'Kiwi land'.
Judy Collins wrote a song called 'Mountain Girl' with lyrics that we can only guess family and friends will hope to be prophetic in nature someday…
"Bought a ticket back again,
Heading home once more,
Feel that aching pain recede,
Like the waves on the shore.
I feel the heart of the mountains again,
Beating inside my breast,
Bringing me back to the place I belong,
Bringing me home to the west,
No pain or sorrow can keep me away"
…so, late on a chilly Christmas Day in Ireland, where the evening is drawing to a close, let's enjoy the warmer company of Ballycran's Ciarán and Michele (nee Dorrian) Fitzgerald as they enjoy another Christmas summer in New Zealand and contemplate their future.
For the benefit of the wider readership, let's wind the clock back to a time before you left Ballycran and tell us what your connection was with the Club?
Michele: I have been running about McKenna for as long as I can remember due to the family connection, but I think my first Ballycran camogie training was after Brenda Coyle and Ann McCarthy had coaxed me to come out at primary school training. Since then I have played camogie at every level right until I left for New Zealand. At that time, I would have been found wearing the No. 3 jersey on the senior team.
I have many fond memories of Ballycran and was lucky to have had successes at juvenile levels, then later at senior. My three Down senior championships and Ulster title in 2012 are probably most memorable but also the year we went to Kildare for Féile. Although it ended fairly brutally for us in the final, I don't think anyone could have faulted the excitement and determination we all had travelling to that tournament.
Ciarán: Unlike Michele it's been a while now, but a few years ago I would have wielded a hurl from time to time for Ballycran. I played my underage hurling alongside a decent chunk of the elder statesmen of the current senior ranks. Like Michele, I remember spending most of my childhood running around the park most evenings but after underage hurling I wasn't as involved as I could have been looking back.
Can you share with us, your thoughts leading up to your decision to move and establish a life away from 'home'?
Ciarán: There weren't any particular set of circumstances that lead to where we are, more of a sense of adventure and seeing what the world had in store. We consider this as a short-term trip and always look back to home as Ballycran. We had recently got married and thought it was the perfect time to go away for a year or two.
Michele: As Ciaran said there was no real reason for us to leave other than always wanting to experience life in another country and travel. Our options were NZ or Canada. Ciaran applied for a job and within one week we were organising a move to Auckland. I was well aware NZ existed but didn't quite realise how far away we were going.
When did you move and what was it like getting settled in and established?
Ciarán: It wasn't too bad from my perspective; I had a job sorted and we had temporary accommodation arranged before we left. The hardest part was leaving, as we hadn't lived outside of Ireland before. Once we got somewhere more permanent to live in, it was easier to settle.
The Kiwi work life balance is very much geared to enjoying the work you do but getting time to explore the outdoors. The workplace is quite social and was very welcoming. Auckland is the biggest city in NZ but is very similar to Dublin so it's not too big.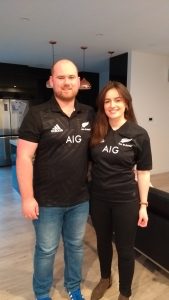 An opportunity to support the All Blacks v South Africa – Michele's jersey courtesy of the Cran Camogs!
Michele: Unlike Ciaran I didn't have a job when we moved. I spent my first few weeks applying and getting my qualifications assessed by the NZ regulatory boards. Luckily, I got sorted fairly quickly. We moved over in the winter time (July) and although it isn't as cold up in the North Island as the South, it is much wetter having a tropical climate. For a while I was wondering what the hell have we done. The Irish people here were all extremely helpful having done it all themselves before at some stage. In NZ everyone drives on the same side of the road as at home so even something as trivial as that helped us settle.
Can you briefly describe to us your life now, work and have you time to be involved in GAA activities?
Ciarán: I work as a consultant civil engineer primarily in the water industry. I get to go around a good bit of NZ for work and have had some eye-opening experiences. On my first week I was welcomed onto a Maori Marae and got the full works, hongi and all! We live at the foot of Mt Eden so the idea of a volcano (extinct) in the back garden is strange. We both joined Auckland Celtic GAA club and give the hurling a crack in the summer but it's a short season.
I even got roped into giving social cricket a rattle on a Monday night. It's not the same excitement that we are used to with hurling but the beers and sideline bbq help ease you in! Even got hitting a six with my unrepentant hurling grip and swing!
Michele: I am still working as a Biomedical Scientist or Medical Laboratory Scientist (as they are called here) in the largest hospital in NZ. It has provided me with much more opportunities and experience than the Ulster hospital did. Currently I am testing Newborn baby samples for developmental, genetic and metabolic conditions. We did try to stay away from GAA so that we could get involved in other activities but it somehow attracts you. I have played camogie for two seasons now. This latest season we won the Auckland league and championship. I also played on the Auckland team that won the NZ championships last year. Camogie isn't a very popular sport but there is enough to keep the itch at bay.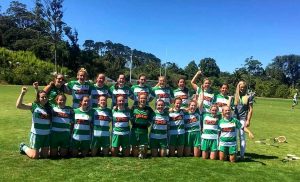 Auckland Celtics – Auckland Championship winners 2019
Looking back again at your time in Ballycran, what would be your prominent memory of being around McKenna Park?
Michele: I have so many fond memories of McKenna so it is hard to choose. Féile was always a highlight at underage or the little blitzes that ran sometimes, which meant the park was buzzing. I suppose one of the most poignant was 2012 when we trained through the winter for our All-Ireland Semi-final. I think I can say every member of that team got a squad of new family members that season with the amount of time we spent with each other. The camaraderie was overwhelming between the girls. Training through the winter was hard but there were seldom ever any complaints, unless Bill Nicholson was trying to introduce some new method of torture. Everyone was so focused on the job ahead and although it didn't go our way at that time, I definitely would give the time up to do it all over again.
Ciarán: Mine are a good few years ago but would be the summers spent training at the Park and playing matches with your mates. Then when we got older the winter training for Minor runs at Ulster competitions are etched into the memory. Looking even further back, I fondly remember our trips to Féile and most notably the homecoming when we won the Féile in Mullingar.
We'll assume you manage to get back 'home' for the odd family reunion, holiday etc, can we ask what do you look forward to the most?
Ciarán: Seeing family and friends. We haven't made it home yet and left in July 2017, so the time is racking up rightly. Would be partial to a decent stout when I get the chance back home. We do our own baking so we're never short of soda, wheaten or potato bread thankfully. It sounds strange but I'll look forward to coming into Kircubbin, down Alan's Hill and seeing the harbour, a sight I was getting sick off with all the commuting for work but now feels quite nostalgic.
Michele: We still haven't managed to make it home yet because we weren't supposed to be away from home this long. Our holidays have been mainly spent hiking and biking in NZ.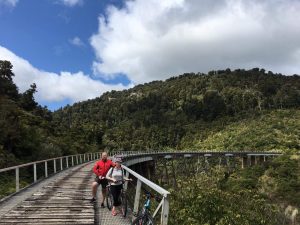 Cycling the Ohakune old coach road with our friends Paula and Sean
Family and friends are definitely what we look forward to seeing the most. Even though we have been away for a while, it's easy picking up where we all left off. It has been hard missing out on all the milestones like birthdays, weddings and babies being born. After that I can't wait for cracker barrel and plain bread and to do some decent clothes shopping.
Tell us a little bit more about your life away from Ballycran, for instance, what's your weekly routine, how do you attack the weekend, and what's a holiday from where you currently live?
Ciarán: We both live close to where we work so the thought of commuting up the Portaferry Road is a distant memory. A 10 min train to and from work during the week and some after work social sports in the summer. Most weekends we are away in the car camping, hiking or mountain biking.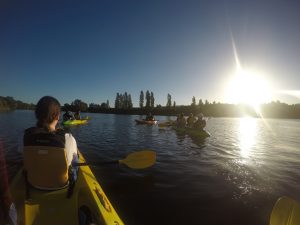 Kayaking on lake Karapiro
Most of our holidays have been driving around NZ, we've nearly been all over the country on road trips – only a few places left to see. We've been lucky to have both our families out to visit, so we were able to share our adventures with them.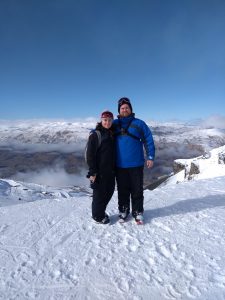 Skiing at Cardrona
Michele: We use our weekends to get out and about mainly. We are constantly interrogating Kiwis about what to do next. NZ is a small country but has so many beautiful places to be explored. One lesson we will take away from living in NZ is to make use of nature around you.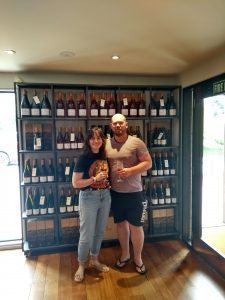 Wine tasting in Otago
Ireland has many possibilities, but I don't think we used it well when we were there. I like to try my hand at new things so I have been doing yoga, a bit of salsa and have actually got back into Irish dancing which was another passion of mine when I was younger.
You're now settled in, doing well, but can we raise our hopes of seeing you return at a later point in time?
Ciarán: I don't think I could put an answer in print without saying we'll be back home. The trip away was only ever to be for a year then turned to 2 and now we've NZ residency, it has been extended again. Home will always be home and that's where we want to be permanently. I'll not commit to a firm timeline but I'm sure Michele will have one lined up.
Michele: YES, we will be home in the future. Given we hadn't planned on being away this long I can't put a date on it. We have more of the world to see though-Samoa is next! My mother is going to kill me for writing this.
Finally, do you have a message to send home to Ballycran?
Ciarán and Michele: I'd like to pass on congratulations to the senior hurlers on their back-to-back championships. The Ulster campaign didn't turn out their way but take time off to relax before next year and go for it again. Also we'd like to say well done to the Club as it continues with the big project, which seems to be going well and it has been very impressive the way it's been approached. It will be a huge lift to the Club and the community and I'm sure all the hard work and fundraising will be worth it! Hello to all the camogs also, hope to see you all soon!
Finally we'd like to say thanks to the social media team who's up to date notifications are greatly appreciated from the other side of the world to keep us updated on life back at the club.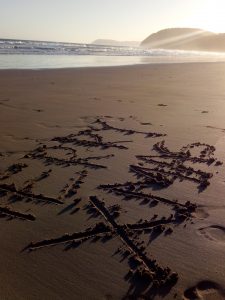 Meri Kirihimete (Merry Christmas) and best wishes to all members for the year ahead.
Ballycran is profoundly grateful to our Diaspora for sharing their life stories and wishes them a safe, happy and fulfilled life. We look forward to seeing you again, in the not too distant future.