As the horizons of the world progressively broaden through travel and the easy flow of information from media and social platforms gets our swift attention, we are readily made conscious of a shrinking world.
In that shrinking world it's difficult to find someone that hasn't been made aware of, or indeed impacted by, the tragic or unexpected loss of life of a relative, friend or a friend of a friend, whilst abroad.
It's practically impossible to imagine how one would begin to process this news if close to heart, never mind finding the inner strength and resources to deal with the financial burden and the logistics of bringing a loved one home to Ireland – the act of repatriation.
Thankfully, the financial burden associated with the repatriation of Irish souls has been eased through the work of the Irish based Kevin Bell Repatriation Trust (KBRT), additionally offering that first point of contact and emotional support for families receiving the unfortunate news.  This year, Operation Cransformation 2020 is proud to announce the KBRT as the event's appointed charitable beneficiary.
During the week, we managed to correspond with Colin Bell, trustee of the KBRT and the conversation went like this…
Colin, before we discover more about the KBRT, can you tell us a little bit about the origins of the trust and who was Kevin Bell please?
Firstly, can I say thank you to Ballycran for keeping us in their thoughts.  Kevin Bell was just 26 years young when he was killed in a hit and run in New York in June 2013.  Kevin was one of 7 children of Collie and Eithne Bell and was one of their second set of twins.  I've learned that he was a gifted Gaelic footballer?  He had played for Newry Mitchels from u8 through to senior and was with the Armagh Gaelic Club in NY at the time of his death although his first love was Irish Dancing.
Can you expand a little bit more about his interest in dancing?  He won several Ulster Scor na nOg medals along with his twin Brendan and sister Cíara at Ceili Dancing but he also had a great love of Set Dancing. Brendan would subsequently win a Senior Scor All Ireland medal after Kevin's death in a team that was resurrected in his memory. Kevin loved travel and had spent a year in Australia prior to going to New York where he had been for 10 months.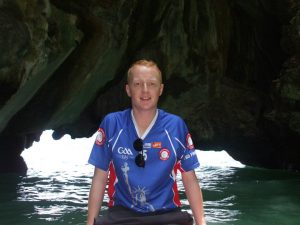 Kevin Bell – picture courtesy of Colin Bell
And in honour of their son, the Bell family established the trust, which brings us to learn of the work of the trust.
Our mission statement is to alleviate the financial hardship of bereaved families repatriating the body (bodies) of loved one(s) who have died abroad in sudden or tragic circumstances back to Ireland.
And for our readers, your objectives for the trust would be?  
To provide financial assistance to bereaved families to repatriate the body (or bodies) of a loved one(s) who died outside Ireland
To maintain the Trust as a permanent legacy of Kevin Bell
To sustain the Trust by having on-going fundraising activities
To recruit members of the Trust to sustain its purpose and ideals
You've been established for a few years now, how has the Trust's work responded to calls from abroad?
KBRT have now repatriated 876 loved ones to their families in Ireland from countries such as Australia, Argentina, South Korea, USA, Canada, Ecuador, Cambodia, India, Uganda to name just a few.  On average, the Trust repatriates 10 – 15 loved ones back to Ireland every month.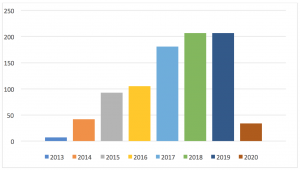 The work of the KBRT increases year on year with 2020 only just beginning
It's important to know that the Trust operates on a 32 County basis, for all sides of the community, colour, creed and circumstances of death.
The KBRT has a web site and additional information can be found here on the KBRT Home Page (use your back button to navigate back to our site):
The organisers and participants of Operation Cransformation 2020 wish the KBRT the very best in future funding initiatives and donations for what is a remarkable and comforting service to our Irish families and diaspora.