Gathered around the phone and waiting patiently to take their turn at answering the questions, like all of our participants, the McCarthy family was generous with their time and answers. Here's how the call went so that they could share their lockdown story.
Starting with Julie and Shane, what was your biggest challenge in the initial phase of lockdown and how have you managed to adjust to this?
"Well says Shane, how about opening up with not wanting to chase Julie far enough! [Julie laughs in the background] I've been painting, trimming, cutting hedges and must have made upwards of a dozen bonfires to burn all that material. I guess in my own words, I've caught up on twenty years of DIY." Julie adds, "Initially, I've not liked being stuck in the house. I'm used to running plenty between Portaferry, Sean's football commitments and visiting friends and family.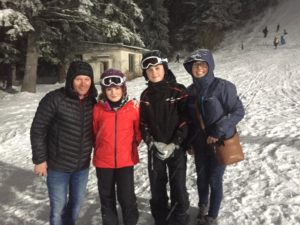 The McCarthy's enjoying a spot of Skiing
But you know what, now I'm really getting used to it and enjoying being around the house. It's not like me but I've watched lots of TV, Netflix, Iplayer and followed a few of the popular series' that others have managed to see and talk about, like Killing Eve. I guess though when things open up more, I'll be back to my old ways soon enough."
What have you both missed the most during lockdown?
Shane says "I've missed my sailing and getting in for a pint to the bar at the end of the sailing. Also, I'm missing the craic around the Park and you know what, you miss the kids from the squad, they all have their own character and all the other stuff that goes with helping to manage a team".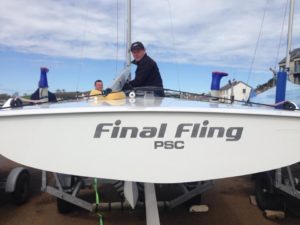 Shane's passion for sailing has been affected by the lockdown
Julie takes a moment and then says "I've missed getting into Portaferry to help out with the lottery, getting involved with the camogie, socialising at the sideline and this year I was particularly looking forward to seeing Sean play in the Féile up at Bredagh. That's turned out to be one of my lockdown disappointments."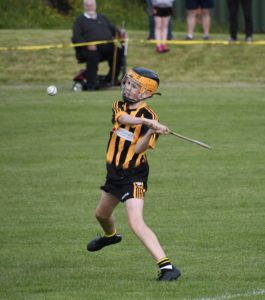 Sean at last year's enjoyable Féile
Shane added 'This year both Julie and myself had signed up to help out on the Sundays with Ballycran's Wellbeing initiative called Cransformation. We were looking forward to that but that's for another time maybe."
What are you looking forward to as we contemplate the easing of lockdown?
"For me," says Julie, "shopping, yes shopping in Belfast with no queues." Shane laughs at the thought and comments "That'll be unlikely given the circumstances nowadays." When asked what type of shopping, like for clothes or food, Julie quickly replies "No, for furniture now that the house is looking not too bad." and then laughs across to Shane. "Oh yes, one more thing, I'm really looking forward to getting to a coffee shop with my Thursday morning friends and having a real good catch-up."
For Shane it's a predictable return to sailing, getting out to the Park, seeing more people and a return of some of the old ways that we used to call normality.
What activities have you managed to do that you probably wouldn't have done without being in lockdown?
Julie was happy to offer some praise; "Shane was a dab hand at the old BBQ and polished off his cooking skills when we had the great weather." And agreed with a giggle that he had unwittingly become the mega DIY aficionado with all that hard work around the house. Julie further added this about herself "I've been doing online lessons using the Zoom app to follow Gemma from Fighting Fit NI and plenty of walking. In fact I've just completed walking up Slieve Donard with Eimear, Sean, Clare and Letitia for her 50th Birthday!"
How have the kids adapted to home schooling?
"Well," says Eimear as she steps a bit closer to the phone that's on speaker, "I've finished now so I swapped the online classes for baking, yes lots of baking to be honest. Chocolate cakes, logs, scones, lemon drizzle cake and German biscuits to name some of the items."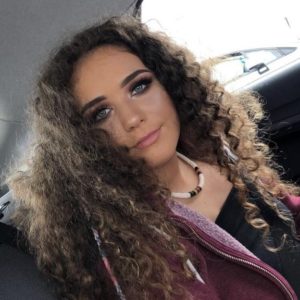 Eimear was productive making lots of treats for the rest of the family
"It wasn't great at all," says Sean "I felt I was just going through the process and not really learning anything. But that doesn't make school better." And you could sense a big smile across the long distance call.
So, what have you missed the most during lockdown?
For Sean, "Seeing everyone, playing my sports, although we got out into the garden to use the rebounder and Orbit ball." Eimear had a similar answer but added, "Going on holidays, yeah we had booked a cruise and I was looking forward to that but now it's been cancelled."
What are you both looking forward to the most after lockdown eases?
Sean was happy to suggest, "Getting active again so that I can avoid getting bored. That's been tough for me on a few occasions." Eimear is happy to look forward to the odd day trip with friends, simply jumping on a bus at Kircubbin and heading up to the big smoke.
Finally, did you have a favourite part of being in lockdown?
Although it wasn't a favourite part, nonetheless both Sean and Eimear said that they enjoyed cycling during the nice weather. Eimear headed out to Knockinelder for five days in a row whilst Sean was happy to take a spin down to Watsons in Cloughey and back up home, occasionally with Eimear too.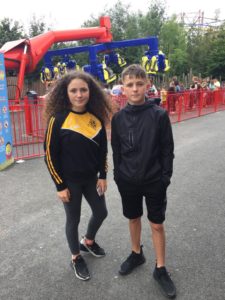 Eimear and Sean took advantage of the great weather to enjoy their cycling
For a particular favourite part, Eimear had this to say, "It's been great not to have a specific time to have to do things. It's all so much more relaxing and I've enjoyed controlling my own day." Sean's answer will chime far and wide, "No school – no early rises!"
Thanks to the McCarthy family for sharing their lockdown experience with us.