In the rolling hills of Ballycran, the Rogan family gathered to reflect and contemplate on the impact of lockdown on their lives and thankfully they are happy to share their experience with us. Mum Michelle was nominated as the spokesperson.
Michelle, what was the biggest challenge in the initial phase of lockdown and how have you managed to adjust to this?
"I think my biggest challenge in the beginning was keeping morale high when the novelty wore off and the realisation started to set in of what we were all getting into. I adopted 'The swan technique' appearing calm and in control for everyone but underneath worrying about what was evolving around us, praying family would be safe, especially my mum who lives in Fuerteventura. Home schooling gave some structure to the day, though some days ran more smoothly than others. Anyone with a family knows just how much the kids enjoy grazing during the day when they're off and at times it felt like I was running a restaurant, with everyone eating at different times. The bigger ones got more involved in cooking as time moved on and I have learned new skills too. My days now are spent making sure everyone's happy, for me that's the most important thing."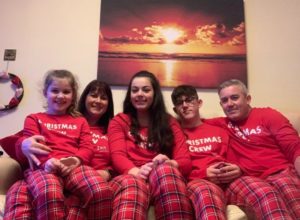 The Rogan family lining out for a Christmas selfie
"Martin's own personal challenge was about making sure he didn't bring any of the virus home after being at work all day and trying to keep himself safe too. Not having any contact with his parents has been hard as he would normally see them daily, as well as not seeing other family members and friends."
"Erin, our eldest, wanted to add her own comment on the biggest challenge by saying, 'Accepting the fact that I've no control over things like exams, leaving school, prepping for Uni, leaving home, moving onto the next chapter. I've had to adapt to accepting the here and now, not being able to look forward to the plans that were already in place'."
What are you looking forward to the most as we contemplate the easing of lockdown?
Michelle reflected on this question and replied, "I'm looking forward to catching up with friends and getting some quality time to myself! If lockdown has taught me anything it's that life's too short to sit back and watch the world pass by"
"For Martin, that's going to be about getting the kids back to some normality, meeting with family & friends and getting back to playing music again with Whatever Next?"
So, what activities have you managed to do that you probably wouldn't have done without being in lockdown?
Michelle answered by saying "We've enjoyed the slower pace of life, playing cards and family board games. We've spent more time in the garden together and the Wii has been resurrected! It's not often that everyone's in the house at the same time and it's been nice to just enjoy each other's company."
And for Martin? "Being out in the garden in the sun, having lots of BBQ's! The good weather really helped us all to survive lockdown in Ballycran"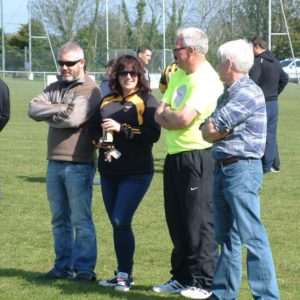 Martin and Michelle enjoying some spring sunshine during a past Club event at the Park
Can you share with us how have the kids adapted to home schooling?
"Ella, who was involved with the home schooling experience, was happy to tell me, 'Home schooling is OK Mum but I would prefer to do the work in school. I like doing my work on the laptop all in one go and then being able to do whatever I want afterwards'"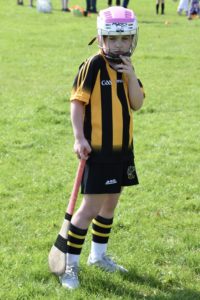 Ella, prefers to do her work in School
What have the kids said they missed the most during lockdown?
"For Ella, 'Definitely friends!! I've missed school, camogie and my Brownies too.' Erin was happy to add, 'I've missed going out and seeing my friends for dinner, cinema, drinks & social gatherings. I've also missed seeing my Granny and Granda, who I would normally see every day.' Adam told me, 'I've missed Hurley, premier league, meeting up with the bros & my tasty box from the Golden Diner!'"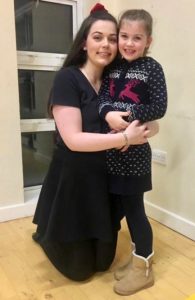 Erin and Ella, missing the extended family and friends but have each other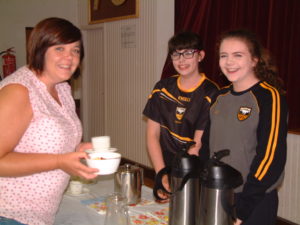 Erin and Anna serving breakfast to Lorraine Brown
 at one of our health initiatives held in McKenna hall
As lockdown eases, what are the kids looking forward to?
"Ella said 'Going back to school, playing with my friends, going to the Park, going to Brownies and a few sleepovers!' Erin, 'I'm looking forward to seeing and catching up with my friends, making new plans and also having more of a structure to my days' and in the case of Adam, he sees things slightly differently but friends are a common theme, 'I'm looking forward to meeting up with friends, going to the beach in the good weather and getting back to my hurling!'"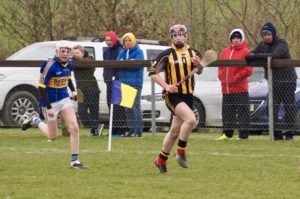 Adam, looking forward to getting back to his hurling
Finally, did the kids have a favourite part of being in lockdown?
[Ella describes her favourite lockdown relief that makes you reflect on your own childhood; Michelle shared with us what she said] "'Playing outside on the trampoline, riding my bike, hitting the ball about with Adam and practicing cartwheels and handstands. Adam showed me how to play basketball and I've learned how to zoom with my friends', whilst Erin has been productive in her preparations for Uni, 'I've enjoyed having more time to read, watch TV shows and spending time with my family. I like having the freedom in the day to do things e.g. exercise any time I like. I've also learned how to bake some new things and I've also learned a few new cookery skills for when mum can't make everything for me anymore'. Adam told me 'For me, I liked not having a routine, being able to use our home gym more, playing some basketball, X-box, more time to hit the ball about and I learned to cook a bit more for myself too'"
Thanks to the Rogan family for sharing their lockdown experience with us.