If you travelled at 10 Knots a day by boat, leaving Dublin port and arriving in Auckland, New Zealand, it would take you approximately sixty days travelling through these significant sea landmarks.  Let's see, starting with the Irish sea, then into the Atlantic ocean, turning into the Straits of Gibraltar, the Mediterranean sea, the Nile delta, Suez canal, Red sea, Arabian sea, Indian ocean, Coral sea, South Pacific ocean, the Tasman sea and finally Auckland port.  Here, you will find Ballycran's Paula Hughes.
For the benefit of the wider readership, let's wind the clock back to a time before you left Ballycran and tell us what your connection was with the Club?
I've been a member of Ballycran for as long as I remember and I was involved in every age group right up to senior. I think the last time I played camogie properly for Ballycran was in 2012, which wasn't a bad year to finish after winning the Ulster Senior B Championship with my two sisters Mary and Fiona on the team. Another very fond memory I have was with our Under 14 team and winning an All Ireland Féile medal. My family is very much involved with the Club. It was great to see the senior hurlers win the Down Championship this year, especially with three of my brothers lining out. On those kind of days, you certainly feel the distance from home.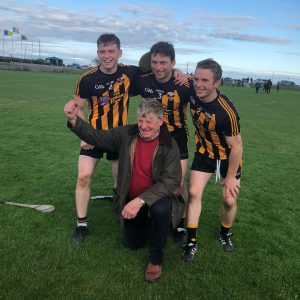 Gerard, Paddy, Michael and Dad celebrate the Down win
Can you share with us, your thoughts leading up to your decision to move and establish a life away from 'home'?
I initially flew the nest in 2014 after getting a job in Glasgow. There wasn't many jobs at home and I had always been curious about moving to a new city and seeing what opportunities I could grab hold of. My next move to New Zealand I suppose, was a tad more random and unexpected which made for excitement but at the same time posed an element of fear of the unknown.
My partner Sean and I went to enquire about a holiday to New Zealand in STA travel but we each came out of the shop with a one year working holiday and a one way flight. We then handed in our notices to work and then thought what on earth have we done! So, we made our big move down under and have been living and working in Auckland, New Zealand ever since. I suppose moving away from home was a time full of mixed emotions, sad to leave friends and family knowing that you will miss out on birthdays, milestones, weddings and even new family members, but at the same time curiosity was always at the back of my mind.
When did you move and what was it like getting settled in and established?
In January 2017, we left with our one way ticket and landed in Auckland where Sean had a friend. We felt like very small fish in a very large pond. We slept on sofas and floors for about a month until we got moved into a house with four other Irish and one kiwi who I would now regard as my NZ family. Being away from home, we all shared similar hard times and we helped each other when its was hard to pick up the phone and call home. After that, things started to fall into place, we got jobs relatively easy. I work in a private radiology company and Sean works for a plumbing firm.
Can you briefly describe to us your life now, work and have you time to be involved in GAA activities?
At this stage now after being here for over two and a half years, we definitely feel quite settled in New Zealand (don't worry, Ballygelagh will always be home). We have recently got our residency status here which is very exciting. New Zealand is a very beautiful country with so many different landscapes and we definitely try and make the most of our weekends to discover new beaches and hidden treasures we haven't seen before. On a Friday evening you would usually find us with the car jam packed with tent, bbq, bikes and battling the traffic out of Auckland.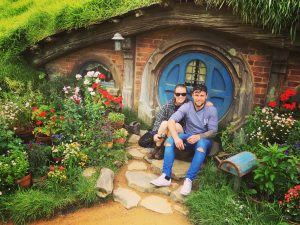 A visit to the Hobbiton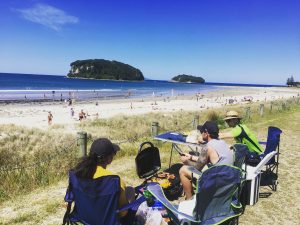 BBQs by the beach
This Christmas Mummy, Daddy and Gerard land down in NZ for a taste of a summer Christmas, I'm counting down the weeks now until I pick them up at the airport, exciting times! Maybe I can convince them to retire out here…
We joined a team called St.Pats Emerald City and we've played 2 seasons with them. Unfortunately our success rate wasn't great but sure it was good craic and we got to meet a great bunch of people. A few of us grouped together to form a mixed male and female social soccer team, 'Pats on Tour' which we seem to have better luck at.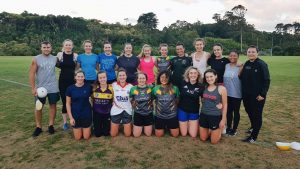 St Pats Camogie team – Sean is the manager
Looking back again at your time in Ballycran, what would be your prominent memory of being around McKenna Park?
I suppose being from such a tight knit club as Ballycran you have so many specials memories and always feel attached to the club. Seeing all the familiar faces, in my head I can picture myself walking up the stand and knowing what faces and families you will encounter along the way at their usual viewing points. Even the simple things such as rushing the lottery tickets round to the park after mass, spending my tips I earned the night before at the golf club on Ballycran lotto which I never won. I'm one of the rare Hughes' with no luck. I was home for a period last year and it was so nice to slot back in and feel so welcomed, it definitely does warm the heart and makes it that bit harder to leave again.
We'll assume you manage to get back 'home' for the odd family reunion, holiday etc, can we ask what do you look forward to the most?
Getting a trip home is definitely very exciting! I'll be home next summer for my brother Michael's wedding. I have a new niece Alice and a new nephew Shane who I can't wait to meet as well as catching up with the rest of my family and friends. A night out with your friends is definitely another thing to look forward to, you grow up so close with them and you all do the same thing and then slowly we all choose different paths so there's nothing better than catching up and reminiscing and knowing that we are all still best friends. I've never been one to crave a favourite takeaway but one thing I am looking forward to is a simple dinner of spuds, meat and two veg, even though I could make it here it would just never be the same as your mother's cooking and maybe some apple crumble and custard. Definitely the simple aspects of home life like a constant pot of tea or the late late show on a Saturday night make me long for a trip home.
Tell us a little bit more about your life away from Ballycran, for instance, what's your weekly routine, how do you attack the weekend, and what's a holiday from where you currently live?
Sean and I now live in a one bedroom apartment in a suburb by the beach in Auckland called St Heliers. As I mentioned earlier, making the most of our weekends is no.1 on my priority list, so any spare time I get at work I'm always asking people where to go to next, even quizzing patients on their favourite spots to go visit ensuring I leave no rock unturned by the time I leave.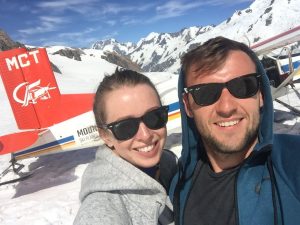 A spot of Skiing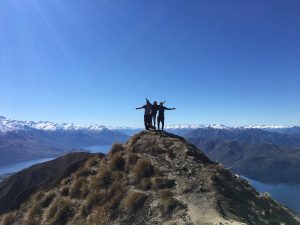 Climbing to the top of Roy's Peak
There's quite a few crans out here now, all eager to see as much of the country as possible and it's nice to get out of the city life that us county bumpkins aren't used to. You might find us away with Ciaran and Michele Fitzgerald or Laura Hughes and Michael or big Screech, who is the latest addition to the Cran expats.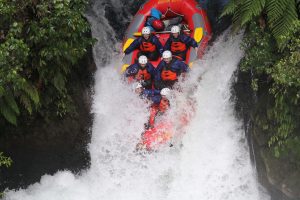 White water rafting with Ciarán and Michele Fitzgerald
We have learned that the culture here is very laid back so even though our weekends can be hectic with hiking or mountain biking etc., they can equally be just simply chilling out, lying at the beach with a book. I think the Kiwis and the Irish are very alike in their friendly way, they love a good social event and are maybe slightly better than Ireland in the rugby and you definitely hear about it. However, this weekend they were a bit gloomy after their defeat against England.
As soon as we stepped off the plane in 2017 the NZ people have been so friendly and welcoming. If we don't happen to go away at the weekend you can usually find me trying out a new coffee spot and searching for the best almond croissants. A holiday over here would have to be the campervan life, without a doubt you wake up to the best views that way.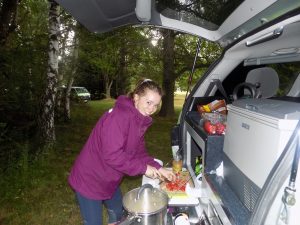 R&R with the Campervan
You're now settled in, doing well, but can we raise our hopes of seeing you return at a later point in time?
Yes for sure, I haven't hung up my Ballycran boots just yet!
Finally, do you have a message to send home to Ballycran?
The club seems to be thriving at the minute and I love scrolling through posts and pictures on social media, especially all the photos recently when the hurlers won the Down Championship. I can't wait to visit home next year and see how the big project is coming along!
Ballycran is profoundly grateful to our Diaspora for sharing their life stories and wishes them a safe, happy and fulfilled life. We look forward to seeing you again, in the not too distant future.