We have a nice problem in the County.  Our games are popular, Clubs are growing and fixtures are on the increase.  Therein lies the rub as they say.  We have a shortage of referees.  No ref – no game.  It's a simple but obvious statement.  From juveniles all the way up to seniors, the game's top facilitator is an essential part of keeping our fixtures calendar fulfilled and they are in high demand.
Fortunately the solution lies within our Clubs.  Firstly we have to promote an awareness of the impact of this shortage.  Shall we say job done?  Then we need to encourage volunteers to come forward and embark on a two evening course followed by a healthy award of games in order to start gaining valuable experience and building confidence.  Essential support through a mentoring system will be set up and made easily available.
So we hear you asking what qualities should I possess in order to become a referee?  Well, a typical non exhaustive set of qualities might range from:
the ability to concentrate for the duration of the match,
common sense, calm temperament and the ability to communicate well,
an interest in the sport with the desire to learn more,
an excellent knowledge of the sport's rules and the ability to apply these consistently and fairly,
mobility that gives you the ability to judge the action,
a desire to contribute or put something back into the game,
an empathy that translates into caring for the players well-being and so on.
As you can see, these are all every day qualities that you might already have.  Ballycran has had a great line of referees over the past years and it would be such a fitting tribute to them if we could rally volunteers to continue with this tradition.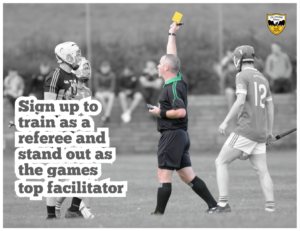 So if you are interested, here's the plan. Contact our secretary, Tony Bell for a chat by either phone (07767271764) or by email secretary.ballycran.down@gaa.ie and hopefully Tony will then be able to submit your name into the County so that you can be registered for the up and coming online training programme in a couple of weeks.
Our Club hopes to be able to play a part in the next wave of newly appointed referees.  Can we count on you?