As we re-launch our Hall of Fame up onto the Club's web site, it created a great opportunity to explore the life and times of our recent inductee, Sean McGourty.
Congratulations Sean on your Club award, no doubt another wonderful addition to an already long list of personal sporting accolades, so an obvious question coming up, what does this award mean to you?
I've known for a long time that it's a reflection on the amount of work and time others have contributed into the Club and therefore I'm pleased to have been acknowledged to be in that category. Actually, on the night I was shocked. I was sitting beside the County Chairman, intently listening to the Club Chairman's piece on the nominated individual and I never knew it was going to be me. Others around me knew, but I didn't, it came as a great surprise. Flabbergasted in one word, proud is another.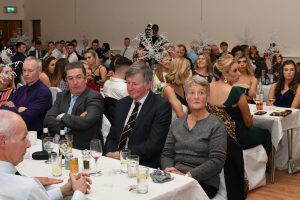 Reflecting on the Club Chairman's words to shortly discover they were personally applicable
We'll talk more about your recent times with the Club, but maybe for the benefit of our younger readers, can we talk a bit about your involvement with sport in your younger years?
Yes, as a young fella, I lived in east Belfast and travelled everyday up and down to St. Malachy's on the Antrim road. I played Gaelic football for the school, enjoyed it to be honest and had the opportunity to play along with Martin O'Neill. He was a great player. Through time, I ended up playing for St. Galls who were in division 1 and after a few games, worked my way onto the Antrim squad. I enjoyed 3 Antrim titles and an Ulster Championship with St. Galls. Great times. I also had limited success with Antrim, winning the Mckenna Cup in 1981, just two weeks after I was married!
Then you moved down to the Upper Ards. Can you tell us your motivation behind that and how you got involved with Ballycran?
[Our Club geography students will enjoy knowing that Upper Ards (or Ards Upper) extends from the south of the peninsula up to Ballywalter, whereas Lower Ards (or Ards Lower) extends from Greyabbey up to Bangor]
I left St. Malachy's and went to St. Joseph's teaching college and graduated out into my first job as a P.E. teacher down in St. Columba's school in Portaferry. I was there for 29 years, retiring in 2002. As for Ballycran, that's an interesting twist. A few teachers and myself brought a group of students from St. Columba's to an outdoor activity centre in Tullymore forest, Newcastle. I had pre-arranged to play a match that afternoon; believe it or not, the team I played for in those days was called St. Columba's, they were in Glengormley. I got injured, actually I ended up with some damage to an eye and when night fell, I wasn't able to see properly to drive. One of my students, Brendan Mullen, had a provisional license and he drove me home. I managed to get him on a bus back home and through the process of thanking his family for what Brendan had done for me; I met Ballycran's Jimmy Hughes. That was the start.
With your family now steeped in hurling and camogie, I guess it was a natural step to get involved in management. Tell us a little bit about that phase of your sporting career.
My family was starting to get more and more involved with local activities and I was thinking about leaving St. Galls around then. I think that was around 1990. Jimmy and Brendan McCarthy asked me to join them, to help train the senior hurlers. I have to admit, it was a great time to step into that management team. Despite a spell of injuries in the earlier stages, we moved on and ended up with three in a row and an Ulster in 1993. Then I opted to help Dermot O'Prey for a couple of years and that ended with the Féile team going down to Wexford. Although we didn't do as well as we'd hoped, nonetheless it was a great experience for the boys.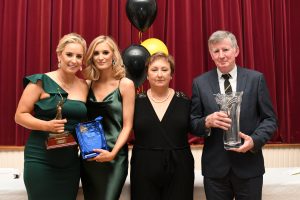 Catherine, Bríd, Pamela and Sean enjoy the Club's award evening
Then at some point you got involved in administration within the Club. How did that come about?
I guess you have to do your bit at some stage. I had spells on various committees and I think two terms as the Club Chairperson. Those were busy times too but also very rewarding. I remember John Mallon putting me under considerable pressure to get the stand up. Yes, there was no let up [laughs at the memory].
Looking back at your involvement with the Club, would you be able to share with us a few highs and lows?
Well obviously I'll say the three in a row and the Ulster to start with. Then I had a great spell managing the Senior Camogie team. We all worked hard and had a breakthrough year against Clonduff. Thereafter we went on to win a Down and Ulster in 2012. A low comes easily to be honest. I think back to the incredible game the Senior Camogie team had in the semi final of the All Ireland. After extra time we ended up in a draw with Castlegar down in Ballinasloe. What a game to be honest. Disappointingly, we weren't able to repeat that performance for the rematch in Casement Park.
You are now back in an administrative role helping to develop the new Club complex. Are you excited about this and what will it mean for the Club and community?
To be honest, I was a big skeptic right at the very start. Ballycran has always been proud of being a Club with no debt and going into a project like this challenged that position. However, the fund raising and project handling by the appointed committee have been great and now I'm truly excited about it's opening. You build these facilities hoping that younger teams can use this over the winter months. They'll be able to use this all year, imagine. Also, the seniors don't have to go off and hire facilities now. It'll be great to have everyone training locally under the same roof.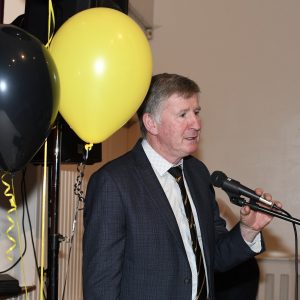 Sean delivers a convincing speech of gratitude for the Hall of Fame award
Finally, what are you looking forward to in 2020?
I'd like to see us return to playing in the Ulster Championship and we do that by winning another Down Championship. That would also place us in a three in a row state and then into another Ulster campaign. With the new facility coming soon, I'd like to see it having an impact on player development, particularly our juveniles. I also think both the senior hurlers and senior camogie players will get a tremendous benefit from the facility. It's an exciting time.
Many thanks Sean and I look forward to catching up with you soon. Thank you Michael.
[You can find our Hall of Fame under the Home Page Main Menu as one of the Quick Menu items]