Operating a company such as EOW Solutions in a technical space, Ballycran's U17 hurling manager, Neil McGrattan, is no stranger to the significant advantages yielded by the correct use of today's IT tools.  However, in the wrong hands or applied incorrectly, these tools can be used to cause concern or even distress to companies or individuals.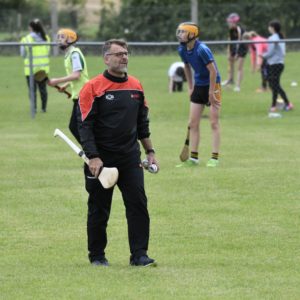 So, with an awareness of this potential and concern for juveniles in the Club and in the wider community, Neil approached the Club's Child Protection Officer, Angela O'Prey, and asked if there was something that could be done to educate and inform the juveniles of the dangers associated with online activities and downloaded Apps, so that they can make proper choices regarding what Apps are acceptable to download and what activities are safe and normal practice.
That was an easy sell to Angela and off she went to investigate how this could be TACKLEd.  Yip, more on that later. Angela's first contact was Chris Young from the PSNI.  Angela had used Chris' expertise in juvenile related matters in the past, so after a short discussion, it became obvious that there was merit in widening the net and Chris headed off to approach Louise Clarke and Anne Magee, the Child Protection Officers from Ballygalget and Portaferry respectively.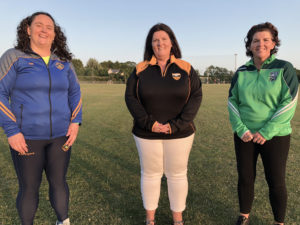 It wasn't long before this small committee had the embers of a special event that undoubtedly would benefit from additional expert contributions and support.
Under the overall title of 'TACKLE', the event will aim to tackle (together, awareness, choices, knowledge, learn, empower) the issues surrounding online activities, Apps and their potential misuse.
We are pleased to inform you that the final schedule of topics under the event titled 'TACKLE' are…
Extern – Social Media Awareness
NI Alternatives/YJA – Making Right Choices
Tracey McVeigh – Mental Health & Well-being
Niamh Mallon – Sports Science
This is a proactive event aimed at empowering our young individuals to be able to make informed choices around online activities. The organisers are keen to package the event as a serious attempt to inform our juveniles in a friendly and fun environment.
'TACKLE' will be held in St. Patrick's GAA Club, Portaferry on Thursday 12th August between 10am and 4pm.  Refreshments will be provided and there is a goody bag for those that register and attend the event.  TACKLE is open to 32 juveniles, each from Portaferry, Ballygalget and Ballycran between the ages of 11 to 13 years including the  P7 to year 8 transition group.  Attendees are requested to wear their Club colours.
If you think your child would be interested in coming along for a great day out in the company of other young Gaels to benefit from talks in protecting themselves online and how to improve your approach to games involvement through some sports science from Niamh Mallon, then please contact your Club's Child Protection Officer here:
childrensofficer.ballygalget.down@gaa.ie
childrensofficer.portaferry.down@gaa.ie
childrensofficer.ballycran.down@gaa.ie
We are indebted to the following supporters, contributors and organisers:
Extern, PSNI, NI Alternatives/YJA, Ards & North Down PCSP, Niamh Mallon, St. Patrick's GAA Club, Portaferry, John Mitchel GAA Club, Ballygalget and St. Joseph's GAA Club, Ballycran.