During the Coronavirus lockdown, many challenges have come our way as we re-adjust to a different way of life, at least for now.  But as they say, every cloud has a 'bronze' lining (see later) and within this current 'life hiatus' opportunities have been presented to us in the form of increased exercising, greater bonding time with family and an opening up of resources to study courses on line or brush up on your Irish language.
Many of you will know our Oifigeach Cultúrthacultural (Cultural officer), Seán Gilmore.  Seán is responsible for planning our cultural development and engagements and one of those is the promotion of the Irish language, especially around the Club premises.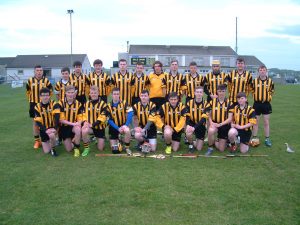 Oifigeach Cultúrthacultural Seán Gilmore, back row second from the right during his Minor days
Seán's linguistic skills were applied to our signage and web site cultural and history pages.  No doubt these were strong contributing factors that helped Ballycran to earn a bronze Joe McDonagh Foundation award last December in Croke Park [Now you can see the play on silver lining to bronze].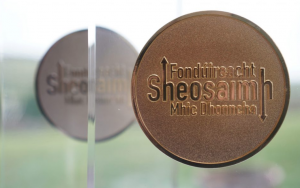 The Joe McDonagh Bronze Award Medal
The Joe McDonagh Foundation have been in touch with Seán and have asked can we please take a few minutes to complete their survey, which aims to explore where we might be as a Club in terms of language development and what services we might benefit from in the near term to enhance our Irish language profile. Before we take the survey, let's get a better understanding of the players in this arena.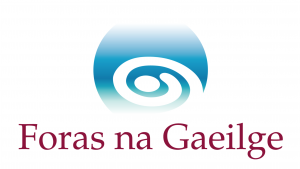 At the top of the structure of organisations aimed at promoting the Irish language are the public body called 'Foras na Gaeilge'.  Established in 1999 by amalgamating other bodies associated with publishing, book distribution and clarification on terminology , they have a wide remit of functions around research, promotion, advising, supporting and developing the adoption and use of the Irish language north and south of Ireland.  Foras na Gaelige fund Glór na nGael.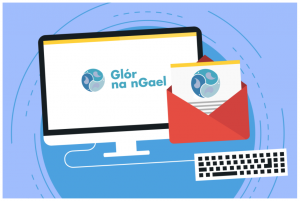 Glór na nGael 'Voice of the Gaels', is tasked specifically with promoting Irish in the family, community development and in business.  Lately, they have collaborated with the GAA in a project called 'An Turas Teanga' (the language journey) to help focus on language development around the Clubs.  The combined resource from Glór na nGael and the GAA are channelled through the Joe McDonagh Foundation.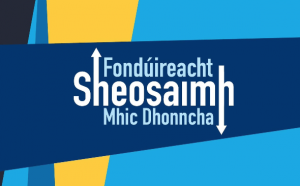 Most clubs have been promoting the Irish language in some form or another. The Foundation is here to help develop that promotion in a more measured and planned fashion.  The foundation is the Club's principal point of contact for our Oifigeach Cultúrthacultural on these matters.  The foundation was named in memory after Joe McDonagh, an Irish hurler (1953 – 2016), later moving into GAA administration and eventually served as the President of the GAA from 1997 – 2000.
So, if you can spare a few minutes, please take this easy survey here. It may benefit you and the Club at a later stage…
https://eur04.safelinks.protection.outlook.com/?url=https%3A%2F%2Fforms.gle%2FQWtrDfUYittMuxoZ8&data=02%7C01%7C%7C27fa4e8eb30b4348683108d7ed07df80%7C84df9e7fe9f640afb435aaaaaaaaaaaa%7C1%7C0%7C637238490371175871&sdata=a74%2B%2FFs64sIzFMQwMUYQYejVMS%2BCjqI2sU8eQ5kTGjM%3D&reserved=0