Nestled between the Comeraghs and the Knockmealdown mountains lies the village of Tournaneena, west of Waterford.  Secluded, agricultural, self reliant.  Here, you won't find a better icon for a classic GAA community.
Almost 400 miles south of Ballycran, a decent 5 hour non-stop car journey, we've managed to stop Brendan McGourty in his tracks, probably on his way out the door to another training session, to talk about his passion for Hurling and Football and his life away from Ballycran.
For the benefit of the wider readership, let's wind the clock back to a time before you left Ballycran and tell us what your connection was with the Club?
I grew up playing hurling in Ballycran from about the age of 5 or 6 years old. I was fortunate to be around at a time of great underage coaching, then that fed through to Ballycran starting to have a lot of underage success, which I'm sure eventually led to senior success.
My Father has been involved with the Club since he moved to the area from Belfast to teach in St Columbas, Portaferry. I guess under his influence, all my siblings have been involved at underage hurling and camogie with Ballycran at some point in time.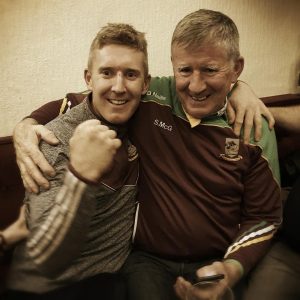 Brendan and his father Sean in a celebratory mood
Can you share with us, your thoughts leading up to your decision to move and establish a life away from 'home'?
Originally, my brother Paul and I went out to New York for 90 days to work with our uncle Jim (Stephen McAree's brother). I was a bit restless after just a week back home, so I decided to go back out for another 90 days, which eventually ended up with me staying another two and a half years! In the last year of my residence in New York, I met Tara, now my wife and after chatting it over for a period, we decided to relocate to Perth, Western Australia where we lived for four and a half years.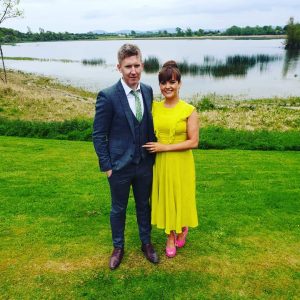 Brendan and wife Tara
We took a notion to wrap up in Perth and head back to Ireland. Now we live just outside Dungarvan in Touraneena, West Waterford and we've been settled here for the last three and a half years.
When did you move and what was it like getting settled in and established?
In February 2008, we (myself and brother Paul) stayed with our uncle Jim who looked after us very well. He set us up with work in a large construction company. New York is an amazing city with a great transport system that facilitates easy travel and allowed Paul and me to commute from Queens to Van Cortland Park and Gaelic Park for training and matches.
You know, the GAA community abroad brings all the Irish together to train and play our games.
Western Australia was a lot different but brilliant in its own way. You needed to have a car for work etc. and to travel to training and matches. Fortunately, I was in a great GAA club in Perth called Sarsfields Hurling Club and typically we all socialised together. It was a great experience to be honest.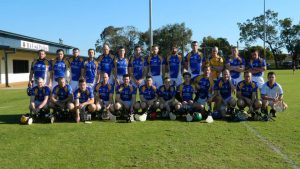 In the Sarsfields league Winners team of the Western State Cup 2014 (middle back row)
Can you briefly describe to us your life now, work and have you time to be involved in GAA activities?
You know, I kind of feel like I've come full circle. Everything in my community is focused around the GAA club, which is St Marys/Sliabh gCua. It was created back in 1927 but in a more solid fashion since the early 70s. At the time of this interview, we are still in the hurling championship here so more or less it's work, training Tuesday, Thursday and Sunday, that's if we don't have a match at the weekends.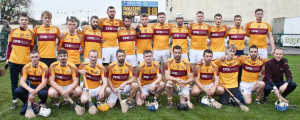 Sliabh gCua/St. Mary's (back row with the helmet)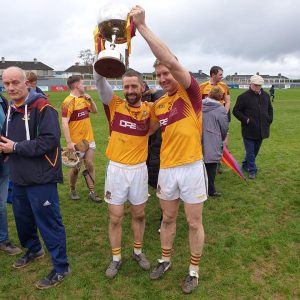 County JJ Kavanagh & Sons Junior 'A' Hurling Champions 2019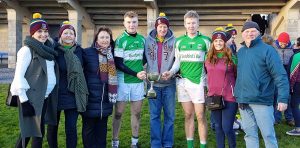 Football success for Brendan in dual club Sliabh gCua/St. Mary's County JJ Kavanagh & Sons Junior 'A' Football Champions 2017
I work locally in Dungarvan, which is a 15 minute drive away and I count myself lucky as it's great not having to travel too far. But you never know my next job may be further afield. Another added bonus of living in Dungarven is that Tara's family all live very close.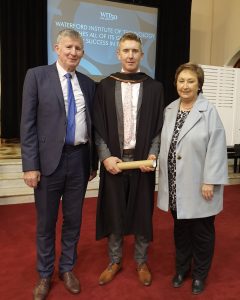 Brendan picks up his degree in Construction Management and Engineering with Dad Sean and Mum Pamela proudly attending the ceremony
Looking back again at your time in Ballycran, what would be your prominent memory of being around McKenna Park?
I guess when I was younger, I would go down to the senior training sessions whenever Dad was part of the management and seeing all the senior team training and when I think about it, me trying to join in! Back in the 90s Ballycran had a great team and I'm still aspiring to be like them one day.
I also recall the fun of marking lads like Paddy Hughes and Garry Savage. You'd always be struggling to get the better of them. Then there was our training sessions out in the back gym in McKenna with the Ennis' and Denis Crawford. A final memory lingers with me; I remember the championship Sunday mornings where a bunch of us used to meet up for a puck around prior to the match later in the day.
We'll assume you manage to get back 'home' for the odd family reunion, holiday etc, can we ask what do you look forward to the most?
That's easy, obviously looking forward to seeing family and a catch up for a few pints with friends. I also look forward to trying to get to a match. I haven't got to too many recently. The last big one was against Cushendall last year in the Ulster final. Then before that was the Slaughtneil game last year in the Ulster Championship semi final, the lads were superb that day.
Tell us a little bit more about your life away from Ballycran, for instance, what's your weekly routine, how do you attack the weekend, and what's a holiday from where you currently live?
As I said previously, it's mostly work and then training when in the hurling season. I like to go out and socialise with my teammates down here. For a holiday, well at the moment I'm settling for getting up to Ballycran for a spell and then I hope to get over to see my brother Paul this month in London.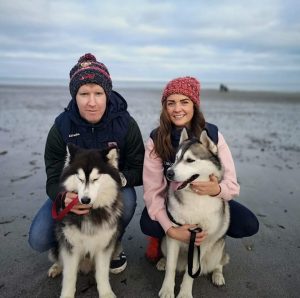 Ballywalter beach provides a break away from hurling and football for Brendan, Tara and the dogs
You're now settled in, doing well, but can we raise our hopes of seeing you return at a later point in time?
I wish I could say yes but unfortunately age is not on my side and living 5 hours away does not make it feasible, at least with regards to playing for the Club.
Finally, do you have a message to send home to Ballycran?
You all should be very proud of the Club that you have created. The social media aspect of things has really allowed Ballycran people from all over to follow what's going on in and around the Club, for example, all the fundraising activities for the new training facilities.
Well done to the senior team on the recent back to back Down Championship and hard luck against Dunloy.
Ballycran is profoundly grateful to our Diaspora for sharing their life stories and wishes them a safe, happy and fulfilled life. We look forward to seeing you again, in the not too distant future.