This year's Cransformation event had to be cancelled due to the committee's responsible thinking around our continued approach to the Coronavirus pandemic.
Whilst we look forward to things improving gradually and harbouring a fleeting thought for Cransformation 2021, in the meantime a spin off team from the Cransformation committee have been busy in the background setting up another health and wellbeing initiative and we are pleased to announce the launch of Weigh2Go@Ballycran Community Complex (W2G@BCC).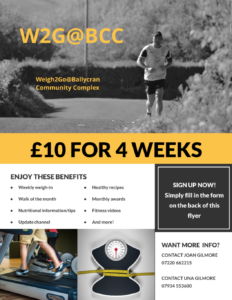 Weigh2Go@Ballycran Community Complex launch flyer
We've attached the flyer and registration form here so that you can download and/or print off.  If this appeals to you, then we encourage you to fill in the form and pass it across to Joan or Una Gilmore in the first instance (contact numbers are on the flyer).  This will be a great initiative to keep you regularly in touch with other like minded individuals and allows you to keep going at exercising and maintaining an awareness of a healthier lifestyle inbetween the other health and wellbeing initiatives that we know you all look forward to.
Good luck!
Click on this link to get your registration form –