It's less than a week since the Down U17 squad finished the year by lifting the Peader Ó Liatháin Cup in Navan against a very capable Meath side. We are all too acutely aware that social media can hasten the passage of time, so it's with a degree of satisfaction that we get to look back at that win but this time from the perspective of full forward, dubbed by some pundits as Down's goal scoring machine, Francis Caldwell.
Out on one of those fresh days over Christmas, Francis and his Dad obligingly met at Cloughey beach to discuss the game. Standing at the edge of a wind swept Warren, as we lined up for a few photos, Francis reflected on the win, "We had been training hard for easily what must have been four to five months and this is our just reward I think.  I know it's a bit of a cliche but it was satisfying to finish the year with silverware.  The lads, including the management, all came together as one team and everyone worked especially hard as we knew we had a real chance of doing well and for some of us, it was going to be our last game at U17 for the County".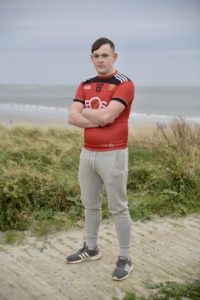 Francis Caldwell – Ballycran and Down U17 full forward
During the semi final match against Louth, Francis tallied up four goals and inherited the label of 'Down's goal scoring machine'. I asked Francis did that bring any additional pressure onto his shoulders going into the final. "Yes. Look to be honest, I had it on my mind, especially after getting a mention in the Gaelic Life but I wasn't seeing it as anything other than a bar that would probably be impossible to achieve against a quality side like Meath in a final.  A goal, any goal would be just grand".  Francis added, "We knew Meath would do their homework and have a go at double marking me out of any opportunities.  That worked fine for us too as it drew a man away and we went wide to cause a different kind of threat.  It's a lot of pressure on them too.  It only takes one lapse in concentration and up pops an opportunity.  To be fair, although I slipped past them in the end, their full backs were hard workers".
After a couple of portrait shots, we eventually got to talking about the goal.  That goal. Few will have known that Francis took this one handed.  Francis recalled the build up, "Pearse Smyth took his puck out low and found Oisin Coulter running forward.  That was a nice piece of goalkeeping as he must have worked out that Oisin had space to come into.  Then Oisin off loaded up ahead of Michael Dorrian.  It was a straight contest between Michael and the Meath half back but the pressure made the Meath player spill the sliotar into Michael's hand.  Then Michael lobbed the sliotar up into the air hoping to find one of us on the forward line.  The ball bounced high off the Meath full back's hand and I slipped the stick up and scooped the ball into my left hand. Instinctively, I turned onto my left side and ran across the goal to open up the angle.  I could see two Meath players coming in on my left side and knew that I had only a moment to pick a spot and get the sliotar away before they blocked out the shot.  I had absolutely no time to get the second hand onto the stick.  I batted the sliotar down onto the ground and found the angle that I needed.  It bounced high into the goal and I could see it hit the net over the top of the full back who had stretched to block a high shot".
The one handed wonder shot from Francis that secured Down's win in Navan
If you want to see the build up and that winning goal, click on the play video icon.
Video clip credit to Meath GAA TV – without audio
Like any competitive sport, you are only a heart beat away from a turn around.  Take the Meath side line puck that put them a point ahead with the clock ticking down.  Francis picked up on that by saying, "When they pointed that side line in injury time, I thought that could be it.  We need another point to force extra time. But no one put their head down.  We stayed focussed and Pearse's puck out started the chain reaction that ended in the goal".
By all accounts it was a highly ranked game, even by the Meath commentators standards.  A joy to watch, full of the right stuff.  Francis was eager to commend all of the Down team's contribution but singled out Pearse for his clean sheet and added that Deaglan and Jarlath were worthy recipients of the Gaelic Life mention.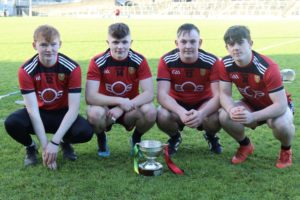 Down panel members, Ballycran's Rory Corcoran, James Clarke, Francis Caldwell and Adam Rogan – pic credit to Official Down GAA
So what now for the young Ballycran man? Francis is looking forward to joining the senior panel by working his way up through the thirds and into maybe a Betsy Gray squad in 2021.  For County hurling, we will have to wait and see what comes of planned discussions to try and fill the gap above the U17 squad.
We wish Francis all the best in his Club and County endeavours.  If not a spectacular one, here's to at least a spectating 2021.