Hall of Fame
In 1996 Ballycran decided to start honouring those individuals within the club who had provided outstanding service to the club over the years. The table below shows the recipients of the club's hall of fame award since its inception in 1996. Underneath the roll of honour are a few more details of the personalities involved and a sample of the contributions they have made into our club.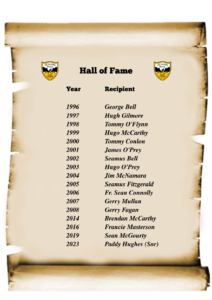 George Bell 
The inaugural winner of the Hall of Fame award in 1996, George was a member of Ballycran's first team in 1939 and contributed richly to the early years of Ballycran. As well as being a club trustee, George has been a life-long member and supporter of the club and was a very worthy recipient of the first award. He sadly passed away in March 2008 and will be missed around the club.
Hugh Gilmore
In 1997 the Club awarded Hugh Gilmore the Hall of Fame award, which he proudly cherished. It was a fitting tribute to a man who not only was a member of the first Ballycran team, but was also a founding member of the club and an early chairman. In 1939 Hugh and his friend Pat Hamilton approached the headmaster of Ballycran School, F. J. Mckenna, about the possibility of starting a hurling team in the parish and so the club was established and went on over the years to grow from strength to strength.
Tommy O'Flynn
In the early years of Ballycran's fledgling hurling history, Tommy O'Flynn was a key player. His prowess on the hurling pitch was well renowned and recounted through the years by many of his peers on the team, all of whom held him in the highest of regard. Tommy also made a rich contribution to the administration of the club for many years and supported the hurling team religiously through thick and thin. He deservedly received the Hall of Fame award in 1998.
Hugo McCarthy
Ballycran were blessed in the early 1960's to have men of vision at the helm of club affairs. These men sought to build Ballycran from a small rural parish based club into a great club with facilities such as the
splendid McKenna Park and McKenna Hall, shared as a community centre and acknowledged as one of the best at that time in the entire country. No one was more influential to such progress than the club secretary of those years, Hugo McCarthy. Hugo continued to maintain a keen interest in Ballycran's affairs and the Hall of Fame recognised the immense contributions he made to the club's growth and emergence in those key years of our history. Every time you enter McKenna Park you come through the excellent gates meticulously constructed by Hugo for Ballycran.
Tommy Conlon
In 2000, the Hall of Fame award was given to club trustee and a long time friend of Ballycran, Tommy Conlon. Working with the club over many years, Tommy carried out sterling work for the benefit of Ballycran and was at the forefront of many of the more ambitious and progressive initiatives undertaken by the club. Tommy was recognised by the Hall of Fame selection committee for his much appreciated hard work.
James O'Prey
For many years the O'Prey name has been synonymous with Ballycran hurling. James O'Prey was an excellent hurler who represented club and county over many years from the 1950's through to the 1960's. If you take the time to look back through the club's history, you'll see that James stands out as a key player for Ballycran over many years. James received the Hall of Fame award in 2001.
Seamus Bell
A significant presence in Ballycran hurling for many years, Seamus Bell also served the club well as a great club Treasurer. Following his playing career with the club, Seamus continued to give generously of his time and managed various young teams in the club in the 1970's and is held in high regard to this very day by those young boys who are now grown men themselves. The Hall of Fame committee selected him for this award in 2002 and in doing so, confirmed Seamus' contribution to club life.
Hugo O'Prey
Ask anyone with memories of hurling over the years, who was Ballycran's best ever player and the name of Hugo O'Prey is sure to crop up in the conversation. He was held in the highest esteem not only within Ballycran, but further afield in hurling circles around Down, Ulster and beyond. Following an illustrious playing career, Hugo went on to manage the senior hurling team in Ballycran's golden era. After a long and successful role as a senior manager, Hugo turned his attention to juvenile coaching, management and club administration. In recognition for his contribution over the years, Hugo received the 2003 Hall of Fame award.
Jim McNamara
For many years, Jim has been at the service to members and anyone associated with Ballycran who might need to use McKenna Hall and its facilities. Jim had a successful playing career, then as a club treasurer for many years and then at a point in time, helped with the running of juvenile teams within the club. 'Big Jim' as he is affectionately called, has devoted his entire life to the cause of Ballycran and to this day, continues to provide many services to the club, not least cutting the pitch to keep it in the pristine condition everyone has come to expect of McKenna Park. In 2004, in appreciation of his efforts, Jim was awarded the Ballycran Hall of Fame.
Seamus Fitzgerald
Seamus Fitzgerald was one of Ballycran's most renowned full-forwards over the years. In his hey-day, he was a feared and respected attacker. He won many honours with Ballycran from the early fifties right through the 1960's and his standing in the club was reflected in his inclusion in the historic 1964 Down team which lifted the county's first all-Ireland junior title. Later, Seamus devoted much of his time and energy in matters associated with club administration and served as club chairman for a time. He was awarded the Hall of Fame in 2005.
Fr. Sean Connolly
In 1963, Ballycran was in a rather unique position, namely being able to recruit the serving priest in the parish, Fr. Sean Connolly onto a playing squad. Fr. Connolly encouraged a youth policy, which was to later pay very rich dividends for Ballycran and also successfully represented the senior hurling team. Despite having a busy role within the parish, Fr. Connelly found time to provide many hours of voluntary labour in building McKenna Park. For anyone associated with Ballycran in the 1960's, Fr. Connolly stood out as an obvious and popular inductee into the 2006 Hall of Fame.
Gerry Mullan
Gerry Mullan was one of Ballycran's most outstanding administrators and served not just within the club, but as a representative in various committees from county through to Ulster board levels. Like other recipients of this award, he was a multi-faceted individual who played at various levels for Ballycran over the years and also participated in coaching the juvenile hurlers in the skills and technicalities of the game. Always a friend of the club, Gerry was given official recognition of his input over the years with the 2007 Hall of Fame award.
Gerry Fagan
Gerry Fagan has had a long association with Ballycran right through from his hurling days in the sixties to his management and administration days in the eighties. Gerry was part of a vibrant hurling community in the sixties, in what was the dawning of a new era in Ballycran and played his part in the many successes that various teams within the club experienced at that time. Later, he led the club as chairman for a spell in the 1980's and during that time, the senior hurling team was dominant within Down. It is a matter of fact that many of the hurlers who played on that senior hurling team came through the intermediate ranks under the stewardship of Gerry Fagan as their manager. Gerry was given official recognition for all of his valued input over the years with the 2008 Hall of Fame award.
Brendan McCarthy
In 2014, the club's 75th Anniversary Year, the very worthy recipient of the Hall of Fame award was a man with a very long and distinguished Ballycran career, both on and off the field. In his playing days, Brendan McCarthy represented the club with distinction and was fullback on the 1974 Ulster Championship winning team that defeated Sarsfields to win the club's first title at this level. After retiring from the game, Brendan became a great administrator for the club and served for many years as a very accomplished secretary. He still maintained his interest in the game and saw more Ulster Championship glory with Ballycran in 1993, this time as part of the successful management team. He has been a very loyal servant to the club down through the years and continued for many years in his role as club secretary. It is a measure of his commitment to Ballycran that Brendan was the 2015 club chairman and spends much of his retirement time and energy pursuing the interests of our club.
Francie Masterson
From the age of 12 years old, Francie was immersed in Camogie and dedicated her spare time to training and playing right up until her early forties, where her commitment was rewarded with the league and Junior Championship trophies in 1996.  Thereafter, there was no better time to retire from active play and so Francie replaced her boots for a pen and spent the rest of her time stepping up to the role of Camogie Club treasurer before the hurling and camogie clubs amalgamated into one club.
Francie continues to be a steadfast fan of Ballycran and admirably managed to have her entire family involved with Ballycran over the years and continues to influence and encourage her grandchildren to have an active participation in Club activities.  The Hall of Fame committee were pleased to award the Hall of Fame to Ballycran's first female inductee in 2016.
Sean McGourty
With a distinguished career in Gaelic football amassing 3 County Antrim titles and 1 Ulster Championship, it's hardly surprising that Ballycran enjoyed considerable success when Sean decided to apply his coaching skills and game knowledge to a management role. By his own admission, it was a fortuitous time to help manage Ballycran's three in a row and an Ulster Championship, nonetheless the Club remains indebted to his contribution, extending right into managing the Senior Camogie team that picked up an Ulster Championship title in 2012.
Holding several committee roles over time and two terms as the Club Chairman, Sean has returned into administration to help roll out the Club's new sporting complex project. It was with ease that the Hall of Fame committee concluded that Sean would be the recipient in 2019.
Paddy Hughes (Snr)
When we think of hurling in Ballycran, one of the names that quickly comes to mind is Hughes. Paddy Hughes Senior, Trustee of St Joseph's GAA Club, Ballycran, is the worthy recipient of this year's Hall of Fame Award. A brilliant hurler in his day, wearing the number 4 jersey now worn by his son Gerard, Paddy started his hurling career aged 14 and has many accolades including 2 Ulster Club Hurling Championship medals and 10 Senior Hurling Championship medals. At one point he was manager of our senior hurling team. Immortalised in song by the late Joe Mullan: "and at the back came Doocher Hughes", Paddy had a reputation for taking no prisoners, and his passion for the game and the club continues to the present day.
If you want tickets sold, ask Paddy Hughes. If you want help with fundraising, ask Paddy Hughes! Paddy's generosity and support of our club knows no bounds. He was one of the Gaolbirds who spent a night "behind bars" to raise money for our 3G pitch. Indeed he will always be remembered for knocking doors in far off fields such as Crossmaglen, to sell tickets for the Big Project, complete with his black and amber hat! His playing days may be over, but his sons still keep the Hughes name alive in Ballycran, and the future looks bright with the grandchildren following up the rear! Congratulations Paddy Doocher, on this well-deserved award!