With it being the weekend, we imagined that James might be difficult to pin down due to his sporting commitments, but resting an injury (more on that later) at home, we managed to get a hold of him and chat at first hand to hear all about his latest Danske Bank Ulster Schools GAA All Stars Award.
But first, what is an All Stars Award?  Over thirty secondary level schools in Ulster make the difficult choice based on their selection criteria of nominating a few of their players, in this particular case hurlers, to progress through to a series of match trials held currently at the Dub in Belfast.  The judging panel reduce the number of players down gradually to around 40 and then select their 15 on the basis of displayed skills and sportsmanship.  It's a long and tough old day of round robin matches.  Weather, fitness on the day, skill level, contention, determination and a real sense of on your own are factors to contend with on the day.
The Ulster Schools GAA Chairperson, Jimmy Smyth, has been quoted as saying "To achieve an Ulster Schools All Stars Award is to rightly earn a place in hurling's hall of fame.  These awards recognise and reward these talented players' commitment and endeavour on the hurling field".
James, another award, another chance to chat about this growing habit of yours, so I guess the first question is how do you feel about being awarded an Ulster Schools GAA hurling All star?
Emm, actually surprised, honestly, really surprised.  I'm proud to have managed to do so well in this. Did you know that you are now in good company with other winners from the Club? Well, I think Conor Woods is one…then there's Brendan McGourty, Paddy Hughes and Chris Egan to name a few more.  Ohh, didn't know that, that's really great to hear.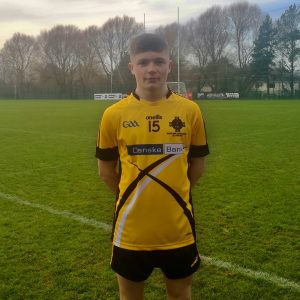 James proudly wears his Danske Bank Ulster Schools GAA All Stars jersey
For the most of us that don't get to see the inner workings of these awards, can you describe to us the trial days?
Sure, yeah, the first day if I remember was on the back pitch and we had enough players for what seemed like three, possibly four teams.  We got to wear a selection of jerseys appropriate for the squad we were in.  Then, you read your name against your team from a sheet on the door.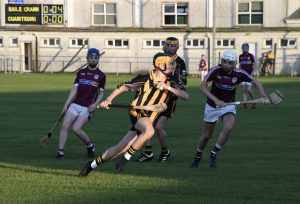 The unmistakeable vectoring of James in action at his own McKenna Park
Out you went and done your best in a number of hurling matches.  The second trial was on the Arena pitch and it was two teams of fifteen.  I guess that's the final selection stage.
Just quickly, turning to Mum, both you and Dad must be proud of this fella?
Absolutely. It's just great for him.  Lovely to see him applying himself and just nice to get that sort of feedback.
James, how much motivation will you get from this going into a new season?
Emm, a lot I'd say.  I know in my heart that a few will question did he deserve it, especially with me being younger than most but that in itself will motivate me to prove it more, both at Club and School level.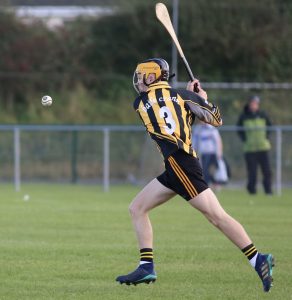 From a full back to an All Stars full forward position, a marvellous all rounder
I guess it'll give you a boost going into the next significant match, the Schools All Ireland semi final?
Yip, I'm actually excited to see what the standard and quality of hurling will be like.  We are starting to get focussed and there's been a couple of training sessions so far and a trip in the planning but details for that will follow on at a later point.  Good job as I'm resting up a grade 2 ligament tear and I'll be nice and ready soon.  I've used Christmas to get it well rested.
Finally and really more a bit of fun, I usually end up at this point in the Senior interviews asking them do they have a message for the Juveniles – do you want to send a message up to the Seniors?
Ah yeah, sure, well done on your accomplishment on winning the Down GAA Championship.  Good luck for 2020 and please try and pop down to see our games, it'll give us a bit of drive and fills us with hope when we know you're taking an interest.
Thanks to Joanne and Stephen for permitting the interview.
Some pictures courtesy of Catherine McGourty and Diarmuid ÓDonnghaile.