Portaferry's Senior Camogie squad travelled up the short distance to McKenna Park for another Dean Davis division 1 league encounter on what started out as a cloudy but warm and breezy evening.  Referee Lorenzo McMullan threw in on the dot of 7:15pm and with both sides playing without some significant players, there followed a period of play where each side explored and tested each other's defences.
The first attempt at scoring came from Mary Doll Gilmore but it rebounded back off the upright and cleared away by Portaferry's full back MaryJo Mageean.  The match clock ran for almost 12 minutes before Aoife Bell from Ballycran caused the scorer to jerk into action and register a point for the home side.
Ballycran's Erin Caldwell blocked the stick of a Portaferry defender that resulted in a Ballycran side line.  A short cut ended in a scrummage for the ball but it was eventually leaked to Neisha McCullough who scored her first point of the match.  Portaferry's puck out was turned around quickly by the point hungry McCullough and with back to back points, Ballycran were 0-3 up against Portaferry.  Ballycran's fourth point came in high from what looked like another attempt at a point from Neisha, this time it took a vicious bounce in front of the square and bounced over the bar.  Portaferry's sideline team were quick to respond by asking their players to win the puck outs that were destined for their hand.
Keeva O'Prey took the game to the water break with a point leaving the balance sheet Ballycran 0-5 Portaferry 0-0.  The scoreline at this stage failed to register the many attempts by the Ports to break through Ballycran's defence, but the hard working Brid McGrattan and Jennie Fowler were largely responsible for that.
After the water break, the match plateaued with just three more points from McCullough, Lavery and O'Prey once more, however Niamh Lavery broke free from some tight defending to rattle the cross bar with a hard slap that must have been heard up in Cranmore.  The rebound was scooped up by Portaferry and the firey attempt at goal was snuffed out.  The teams walked in at half time, Ballycran 0-8 Portaferry 0-0.
As the second half started, Portaferry rotated in two fresh pairs of legs, got traction into the game and Erin McGrattan started her point scoring campaign for the evening, taking sole ownership of the point scoring for Portaferry by adding three more points across the second half.
Ballycran increased their lead by another three points to finish their scoring for the evening at 11 points but Portaferry weren't happy to end the evening on 2 points. After the water break, McGrattan completed her tally of points and as the sunshine peeked out to bath the Park in a golden hue, this heralded a golden trail to Ballycran's goal mouth as Portaferry's Francis Toner took a huge solo run through Ballycran's defence to score Portaferry's first goal of the evening. Shortly afterwards, it was the fresh legs of Aoife Coleman that took Portaferry to within one point of a draw as she smashed the final goal of the night deep into Ballycran's net.
Ballycran's management gambled on putting in a huge crop of substitutes, four in total, towards the final segment of the game, but Lorenzo McMullan eventually blew the final whistle and the scoreboard clattered down from Ballycran 0-11 Portaferry 2-04 to it's reset position.
Only one point now separates the three Ards teams in the league.  It was a great game to watch, with strong character roles from Ballycran's Fowler, McGrattan and McCullough. Keeva O'Prey played a pivotal role in mid field before picking up an injury and being substituted by Alaidh Smyth. Portaferry players Erin McGrattan and goal scorers Toner and Coleman had good contributions into the evenings match but the Ports will look back on a couple of missed goal mouth opportunities, a tally of wides and some frees that were given away on receipt of their puck outs.  Here's a selection of photos from the game.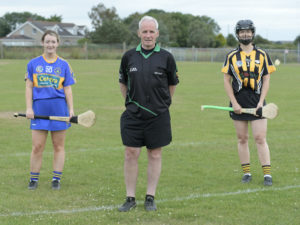 Referee Lorenzo McMullan accompanied by Portaferry's Captain Catherine Mullan and Ballycran's Captain Brid McGrattan (BvP – 1)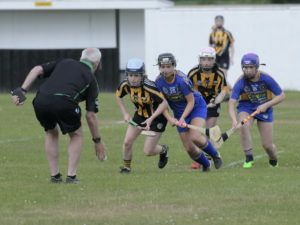 (BvP – 2)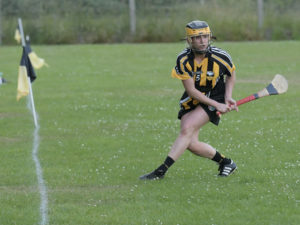 (BvP – 3)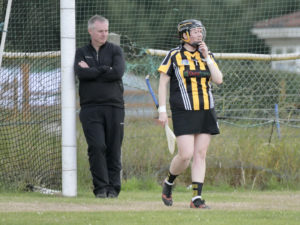 (BvP – 4)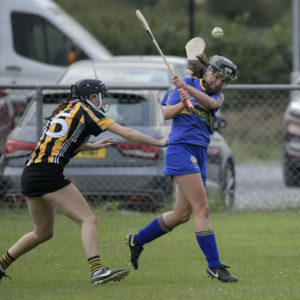 (BvP – 5)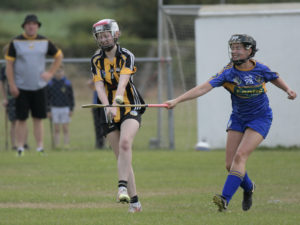 (BvP – 6)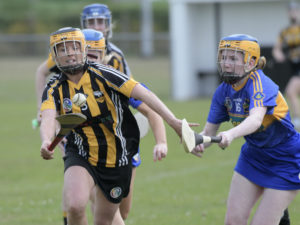 (BvP – 7)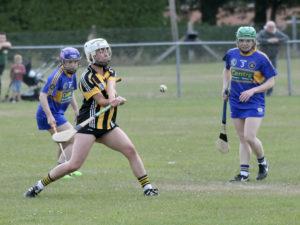 (BvP – 8)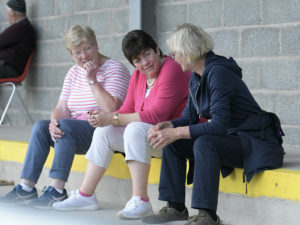 (BvP – 9)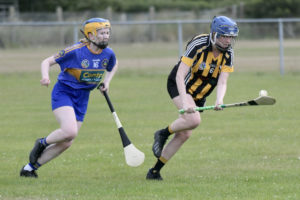 (BvP – 10)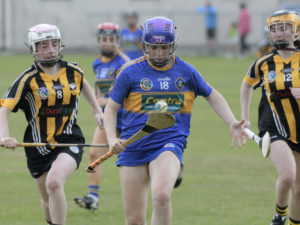 (BvP – 11)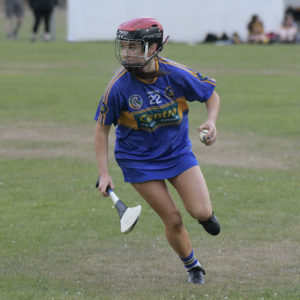 (BvP – 12)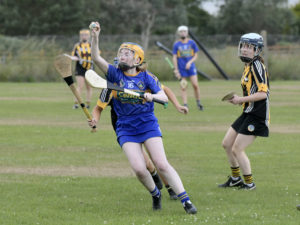 (BvP – 13)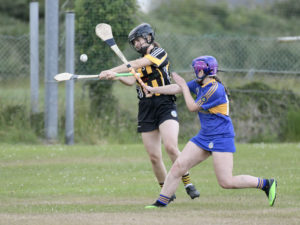 (BvP – 14)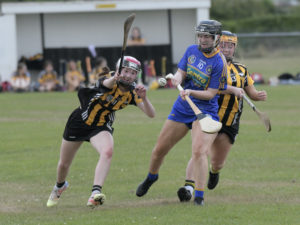 (BvP – 15)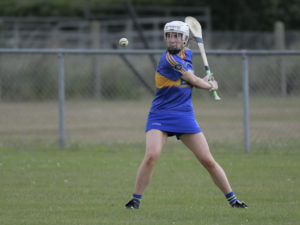 (BvP – 16)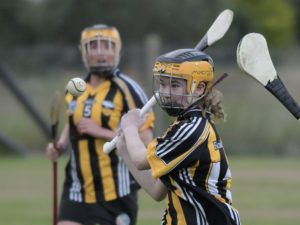 (BvP – 17)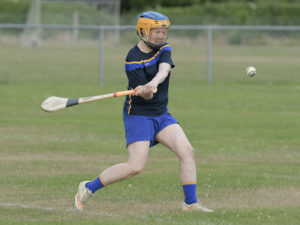 (BvP – 18)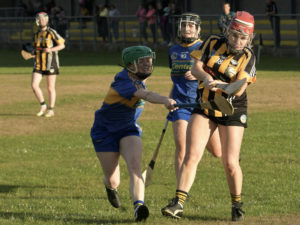 (BvP – 19)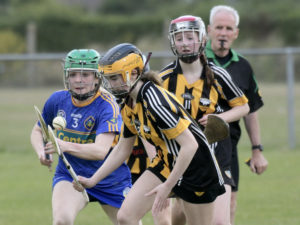 (BvP – 20)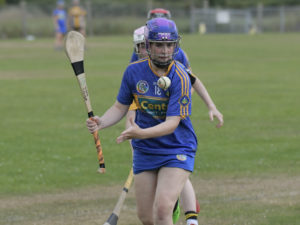 (BvP – 21)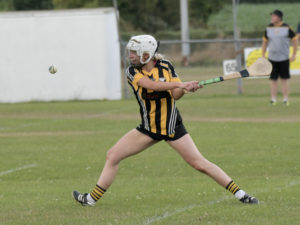 (BvP – 22)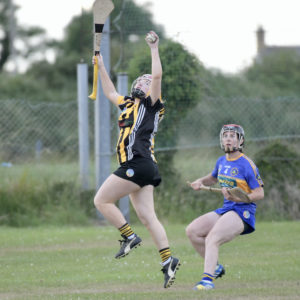 (BvP – 23)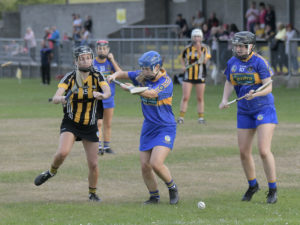 (BvP – 24)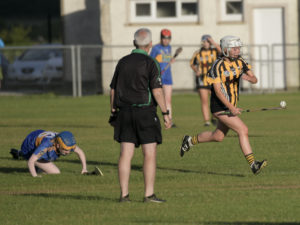 (BvP – 25)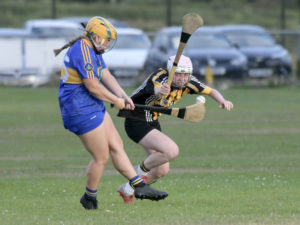 (BvP – 26)
Thanks to the Portaferry team and management for your assistance throughout the evening and to our gate and covid volunteers for keeping the match environment a safe place for us all to attend.