When we dusted down the Hall of Fame from the old web site to put up onto the new one, one of the more recent inductees 'fell between stools' when we launched the new site.  To set the record straight, we caught up with Francie Masterson out at her home to chat about camogie, family life and her Hall of Fame award.
Francie, how did you get into Camogie?
In those days, it was actually somewhere to go. You got in with your friends and in my case; I followed my sister, Bridie. We would have played out at Ruban House, locally known as the Boys Home.
Who were your idols in those days?
[Has a good laugh and a beaming smile] There weren't any idols in those days, none that I knew of anyway. You just trained, played matches, enjoyed it as best you could and got on with the rest of your life. We would've walked from Gransha to training and back again. We did travel to matches as well. I remember going to places like Kilclief in John Gerard's Dad's mini bus.
Would you be able to describe your family life back then and how you managed to juggle camogie training, matches and dealing with a young family?
I guess it wasn't any different to everyone else. I built up my family starting with Paul, and then obviously camogie stopped for a while. I got back into it, then along came Sean 'Devil', Terence, Brendan and Cheryl. Quite a commitment there Francie, did Camogie take a back seat?  Actually we also moved out to Parsonage Road in between too. Camogie was on and off Michael. Eventually I got back into it and then came the year of '96.
Yes, then suddenly it got serious, with a league and Junior Championship win. What can you recall from the Championship day?
Not a great deal to be honest. When you have a family that comes first and then when you have time, you pickup your commitments. For me, it was basically a normal day. I think it might have been a Friday evening out at Portaferry or was it at Ballycran, maybe someone can help to clarify that? [Thanks to Joan Gilmore for subsequently clarifying that it was a Sunday evening in Portaferry].  Joan Gilmore was the Captain in those days. From memory, I think the score line was Bryansford 1-2 Ballycran 1-5.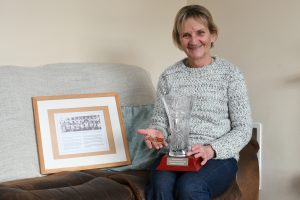 Francie proudly displays her memorabilia from the '96 League and Championship wins along with her Hall of Fame trophy
At some point you took the decision to retire from playing and get involved with administration of the Camogie Club. Did you enjoy your term?
Yes immensely. I guess that's why I stuck at it for so long. When the hurling and camogie joined as one club, I decided to step down and let Jim McNamara run for office. It was going to be a bigger affair and I was ready to watch more from the sidelines. I love to get out to see all the matches, especially the ones that my family are involved in. Now that's being extended to include the grandchildren.
We haven't mentioned the Hall of Fame yet, being awarded that, what did it mean to you?
Proud of course. I got a lovely trophy that sits in the cabinet here.  I had a lovely night at the awards with all the family.  It was a big surprise.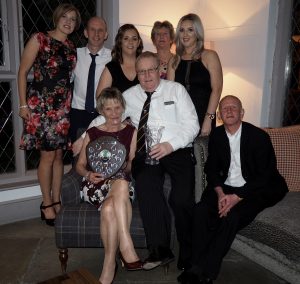 Francie surrounded by family at the Ballycran 2017 awards
How do you see the Club now, compared to some years ago?
I see a big difference to be sure. The Club is moving with the times. I don't mind admitting that we were old school and you need to keep up with all that's going on around you, like the social media thing, creating events to fund raise and the organisation in general is great. Look at the new facilities, sure isn't it great to see, not only for the bigger ones but the youngsters can enjoy this for a very long time to come.
Have you any wishes for the Club's next year years?
I wish Ballycran every success in their camogie endeavours and good luck to the men in their games, especially for the Down Championship, as I know what that'll mean to them.
Thank you Francie for sharing your memories with us. Thank you Michael