Hello Paddy, I'm delighted to get you in tonight as I know you are still a very busy man, what with still a light touch on the business and your activities around the farm. Recent hurling events have created somewhat of a unique occasion, but we'll get onto that later. Let's talk a bit about you for now.
How and when did you get into hurling?
Well, in my time, there wasn't the same variety of sports as you see now, so it was mainly football and hurling where I lived. When I say football, I mean we played football on a GAA pitch, not maybe legal [laughs heartily] in those days! Our parish priest was mad for football. So, I was an alter boy in Ballycran and we played a match against Nunsquarter alter boys. I can't remember how that finished but what I do recall is, that Ballycran wanted a rematch but on that occasion, hurling would be played. I guess I got a taste for it then and through some coaching or maybe was it coaxing, ended up committed to playing the game.
Have you played for any other teams over the years?
No, not really. I did play for a number of teams throughout school but really I've been with the same club all my playing years.
Talking about your playing years, what's been a decent memory or hurling highlight for you out of all your hurling activities?
[Thinks a little bit] I suppose winning the Ulster Club Championship in 1974, against Sarsfields [Ballycran (Down) 3-5 Patrick Sarsfields (Antrim) 3-2]. We then went on to play St. Finbarrs (Cork) in Ballycran for the semi final in the All Ireland Senior Club Hurling Championship. The first half didn't go well but we played better in the second half, though the match didn't go our way. They went on to be All Ireland winners that particular year. Then there was '76 as well. Another Ulster for the Club but we went out to Camross (Laois).
I have to mention the recent back to back of the Down Championship. That's a great achievement and I'm proud of the Club and my boys for playing their part. Nice times for the Club.
What are you up to these days?
My son, Paddy, now runs the business and I spend a lot of my time [interrupted] in retirement now? Oh God no, around the farm. A portion of the farm came my way and I've added to it over the years. Keeps me busy now. I'll take a break come this Christmas and head out to see my daughter, Paula, in New Zealand.
Did you 'coax' the girls and boys into camogie and hurling or did it happen another way?
Another way, [laughs] I guess you rely on the school and their friends at that age to get them an interest. We were lucky; they took to it and I believe they have enjoyed it across the years.
Now Paddy, the main reason we are discussing hurling here is because a fairly unique set of pictures have been doing the rounds after the Down GAA game. There's one with you kneeling in front of Gerard, Paddy and Michael. That's Ballycran's full back 4, 3 and 2 formation. We'll have to depend on our hurling historians to tell us that's not unique?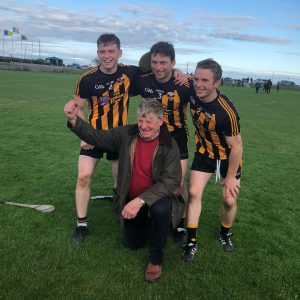 [Big laugh] Well I can't think of a similar set up to be honest. Maybe a couple of brothers in different positions but as you say, it's a remarkable thing. I enjoyed the game, delighted with their contribution, a proud dad.
Have you managed to grab their focus and offer advice on the game?
Oh I have. But I don't think it gets executed. I accept that the game has changed, different from my days in ways, but who knows.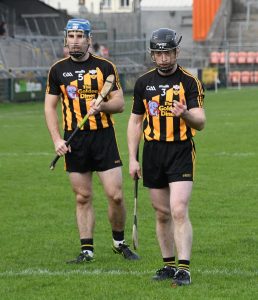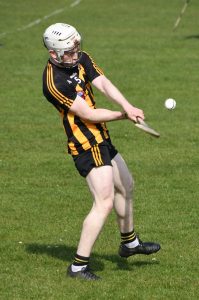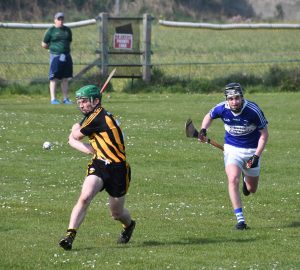 Finishing up Paddy, if you had one hope for the Club's hurling success, would you like to share it with us?
Sure, an All Ireland. It's a decent goal.