It happens to us all at some point.  A drawer full of Christmas socks (most of them you won't ever wear), a shed full of dysfunctional gadgets or more scented candles than the Vatican.  It just happens by default and few of us get around to changing that.  But now you can!
Did you know that a Down draw ticket costing £120 allows you entry into a monthly draw of incredible prizes and there's nothing to stop you buying that as a present for a friend, family relation or work colleagues and equally nothing to stop you dropping a hint that it would make a great stocking filler for you.
Illustration only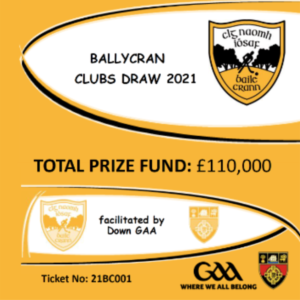 Have you got the magic ticket?
Once you buy a ticket, you start to play a big part in supporting the County teams and our Club. Imagine that if you bought one to share amongst your relations or work colleagues, then you would have all of those people surfing the Down site every month to see the draw results – that's a real boost to our County engagement right there.
So how does it all work?  The best way to answer that is to follow the link and read all about it.  There is a really easy mechanism there as well to help you make an online payment. Make sure you click on Ballycran and good luck!
http://www.downgaa.net/clubsdraw2021