For many devotees of the fastest field sport in the world, winning an All Ireland is as rare as some celestial events. Like an asteroid that enters our part of the vast universe, never to return in our lifetime. Oddly, for others, it's a common enough event in their career but then it especially gives them a metric for commentators to measure them up by. Just like All Star awards.
Down's recent All Ireland Intermediate Camogie win in Breffni Park was maybe such that elusive career event for some but we do hope with the present stellar setup, there will be more to follow. The county camogie team is a great representation of our clubs around the county and this year, we are fortunate enough to have a smashing representation from the peninsula and blessed to have three local club girls on the panel.  After the celebrations died down, we took the opportunity to get in one last long distance call before the Christmas break in order to speak to Ballycran's own Catherine McGourty, Neisha McCullough and Rhea Smyth.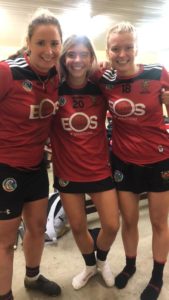 Smiles all around, what's not to love about the County?
Well ladies, firstly congratulations from everyone. It was a thrilling match to watch on the TV and like our Christy ring team, it gave us such great entertainment. Let me ask a question that I suppose many people might ask within themselves, namely what was going through your mind leading up to the final? Catherine takes the lead on this and offers, "As much as possible NOT on the game actually. It's very much about  getting on with the day to day stuff, which keeps you grounded. Just get on with enjoying work and life in general. But I'd be fooling myself to say that it doesn't creep into your thoughts occasionally. Then I just play out on my own responsibilities for on the day. I've a career in outfield roles and stepping in front of the nets is a significant change.  For me, it's been about running forward towards the nets. Now I have to relearn and build up my skill set to be able to deal with the occasional one on one. We, as in the keepers in the squad, have had great support from people like Karol Keating. A lifetime of knowledge came our way and we'll build on that".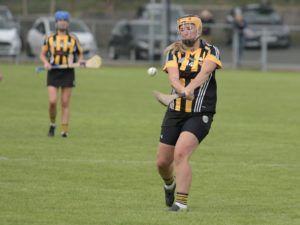 Outfield experience has cultivated an inch accurate strike
Catherine would be her hardest critic. "I spilled a ball off the line within the first thirty seconds whenever we were all aiming to settle into the game. But I used some of my own experience to know that it was just a moment in a long game and didn't let it annoy me". Such are the swings and roundabouts in sport that it is easy to forget about the neutralising input, like inch accurate puck outs to Keown or O'Hagan or into the half forward line that feed into Down's deadly full forward trio of Mallon, Clarke and McCarten. Then there was the awkward bounce at 63 minutes into the game, resulting in an intelligent technical foul by Catherine in the square. A 20 metre free taken by Antrim's Nicole O'Neill was fizzling net bound but delicately defused by Catherine at a pivotal point in the match where Down needed to continue to display their dominance.
Rhea laughs and sees things differently. "It was my first year at county activities and the experience was intense. In fact I'd be honest to say it was nerve wrecking at times! But then, you know what? My mum has had success with Down at junior level in the past and there's a great bit of competition between the two of us, so going one better was a great personal motivator that focussed me. I sensed the confidence in the squad and allowed that to benefit me".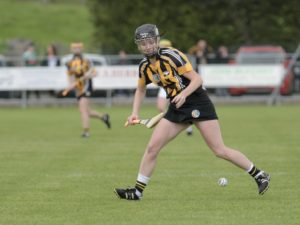 Rhea in a Club role builds on her skill set for the county's benefit
Neisha agreed, "Yes, for sure, there was an incredible buzz around the game and we used that energy to put extra value into our training sessions".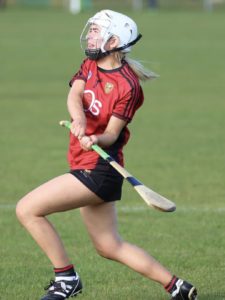 Neisha, also getting plenty of 'air time' this year on the pitch
Okay, so things are a bit different these days and a coach trip is currently out of the question, so how did the travel plans work out from Ards? Rhea, "Ahh, simple. McGourty drove us down. She's like a mummy to us both. We just supplied the chat and took her mind off the drive and game". Neisha adds "yeah, I just waffled about work, life in general at the same time trying to keep Rhea's mind off being car sick. Before we knew it, we arrived at the Carrickdale for our team lunch".
Although in the same car, it's funny how we see different things out the same windows as Catherine adds, "We drove down through some of the best country side in the world. The colour of the sky and trees, flags and bunting, it was just great to see. I just got absorbed by the country side and to be honest when you asked what music did we have on in the car, I really couldn't tell ya!".
After the light lunch of pasta, chicken, tea and coffee, the squad headed off in a convoy to the Cavan Gaels pitch to change and warm up. Then it was boots off and a short drive to Breffni.
As Catherine started, it was a good opportunity to ask what were her feelings running onto the Breffni pitch? "Well, I've had many a run-on to be honest. Plenty of runners up to know that you focus on the game in hand.  There's no point in letting your mind get too far forward in any game. Now's the time to put into practice your training and experience."
Rhea and Neisha had different journeys themselves to Breffni Park and for Neisha it was a bit of a gifted year. "I had a back injury that kept me out for a while but I'm loving being back and working my way towards a goal of starting next year. I'm teacher training at the moment in a local school and was allowed to remote work my university coursework from Ards, that means I was able to attend all the training sessions and commit to being on the panel for the qualifying games. The pandemic precautions were favourable to my own circumstances".
This is Rhea's first county year. "I have to say I was impressed with how it all worked. It was so professional. We had online meetings and I got an insight into strength and conditioning – it was all brilliantly planned. When covid lifted and we were all back amongst the students, we were able to travel to training in our own little bubble. I was loving every minute of the experience".
Now, with an All Ireland under your belt, what's the next step in your camogie career girls? Catherine said, "It looks probable that there won't be any movement this year as in relegation or promotion, but I'd love an opportunity to go up. I guess there's a few decisions for me to make too. Simply put, I'd love another year at least in nets and if we can keep this same panel together then that's a great starting place for next year". Neisha is planning to stay with the county but understands there are some things out of her control like studies or work commitments. But the intent is all there she says.
"Ah well" says Rhea, "I'm in for sure. What a year it's been for me. Saying as I wasn't on the senior panel, I got to play and captain the Ulster Intermediate squad for some silverware. I guess I'm hooked on county camogie now!".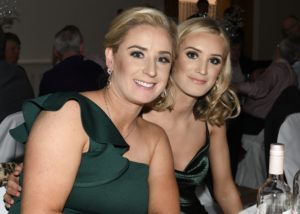 Catherine and her sister Brid, attending a Club dinner dance last year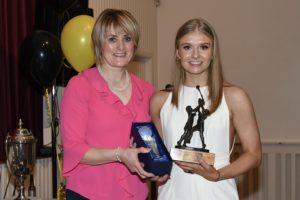 Rhea picks up some silverware at the dinner dance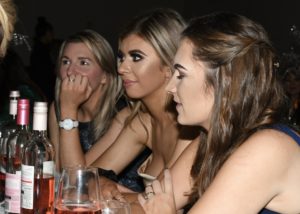 Neisha tunes in to some craic at the senior camogie table
Finally ladies, what can we bring back from this experience to share with all of our county camogs? Neisha and Catherine agree, "Stay at it. Keep plugging away but make sure it's something you enjoy as the commitment will soon rack up as you progress". Catherine adds "I've met so many friends through camogie, some great people, had great feelings and experiences so that's all a great goal in itself". Rhea finishes off by saying "Be coachable. By that I mean come with the correct attitude, to want to learn, improve and you'll be a great asset to your team and managers. If you get an opportunity to play for your county, then grasp it.  It will undoubtedly make you a better player and you will love the whole experience".
Thanks to the girls for an insightful view on their recent win and playing for the county.  Let's hope some of the win will spill out into the back gardens of all of our young camogs who perhaps will dream about winning an All Ireland in their own time.  For the rest of us, on this historical day for medicine with the first Coronavirus national programme vaccine applied to a woman in a vulnerable age group, let's dream that next year we will be able to follow the red and black down to another final, to be able to spectate and take pictures.