On the evening of Saturday 21st November, GAA Clubs lit up their pitches and premises in commemoration of the fourteen lives lost in Croke Park one hundred years ago. We'd suspect that on a dark winter's eve you'd be able to see that spectacle from space and for those amongst us with a spiritual disposition, maybe from a heavenly vantage.  From our physical world, we are humbly attempting to say 'we remember you'.
The Club's cultural officer, Seán Gilmore travelled out to McKenna Park so that the floodlights could be switched on along with the Hall and changing room lights.  Here's what Seán had to say about this moment in the Club's history.
"Driving out to the Park was quite a humbling experience.  I hadn't seen the park in complete darkness for months and I thought it would be nice to have it lit up again, if only for an hour. I went out at about 19:15 to begin turning things on and it was a good feeling to know that we were playing a small part in this remembrance of Bloody Sunday. The 21st of November 1920 was such a huge day in the history of Ireland and also for the history of the GAA.  The sense of occasion hit me whilst I was driving away from the Park and looked over my shoulder to see how bright it looked in the dark evening".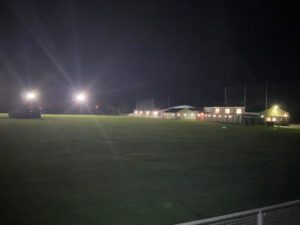 McKenna Park viewed from the John Mallon stand
"I was proud of our Club being able to play a role in this.  I think it is the least we could've done to remember those fourteen people who needlessly lost their lives 100 years ago.  It is just a shame that due to to the pandemic restrictions, we were robbed of the opportunity to gather as a Club and remember them together".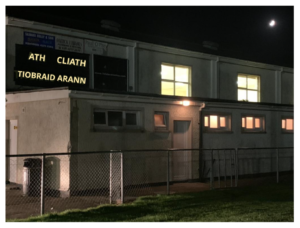 Dublin v Tipperary – a nice touch from our cultural officer