"Most great people have attained their greatest success just one step beyond their greatest failure" – Napoline Hill. Such is the fragile, fallible position for any sporting manager.  At the moment, it's all success for Ballycran's Denis 'Dessie' Crawford, Bainisteoir for the Central Coast GAA, Sydney, Australia.  Enjoying success in his management role and life down under.
For the benefit of the wider readership, let's wind the clock back to a time before you left Ballycran and tell us what your connection was with the Club?
First of all thank you to the club for doing this, it's great for people abroad to still feel connected and being kept in the loop of things. My connection with Ballycran covers a variety of things really, being a player, a junior committee member, then as a full committee member and other roles such as being on the entertainment committee etc. I would have been around the club a lot and I got the opportunity to coach the U14s one year along with Sean Ennis. A good friend of mine, Bill Nicholson and myself got the current garage gym up and running, which I believe has been recently upgraded with some new equipment. I have to say, the new facilities are going to be top class and full credit to all those involved.
Can you share with us, your thoughts leading up to your decision to move and establish a life away from 'home'?
That's a good question. Difficult to answer that one, as I'm not to sure what led me to make the jump to Australia. I did have a good friend Conor McCarthy from Portaferry here that helped to make it a smooth transition. I was originally supposed to head over with Brendan McGourty, but he made the move to the States with his uncle instead – I have a feeling that Sean and Pamela were relieved by that [Laughs out loud]. But it worked out well for us all as Brendan later moved to Western Australia (WA) with his now wife Tara and we made good contact while we both lived here. There have been so many Crans and other folk from home landing here over the years; it feels like home at times.
When did you move and what was it like getting settled in and established?
I moved out to Sydney in March 2009, that's over ten years now! The first couple of years were hectic to say the least. To be honest, work and the GAA took a back seat as I enjoyed the social side of life in Australia. Things settled down when wee Mal [Gilmore] from the 'horse park' landed over in a "convict ship" and we got back into the hurling and work. Then Eoghan Hughes burst onto the scene. He was just like a firework going off, burned bright and then faded fast, maybe Jimmy needed him home.
Can you briefly describe to us your life now, work, family (if any) and have you time to be involved in GAA activities?
Life now is a lot different compared to when I first landed. I am engaged to Geraldine and have two kids Sorcha and Finian. Between work, the kids and managing the Central Coast hurlers, over the last number of years I barely have time to scratch myself!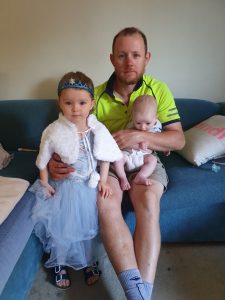 Enjoying family life between hurling management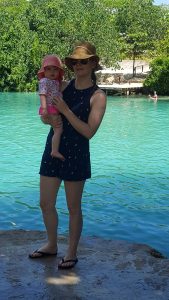 Behind every great man as the saying goes
I've really enjoyed the last few years managing the Coast hurlers especially with the lads from home on the squad like Seany Mac, Paul Keith, Conor Boots McCarthy, Mick McCullough and Brian bell.

A headline from the Gaelic Life could easily have be written for our man in Sydney
We have had a lot of locals from other clubs this year and in other years guys like Peter McManus, John McManus, Caolán Bailie, Brook Byres, Declan McManus, Neil White and Gareth O'Neill for instance.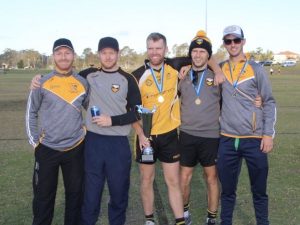 Ballycran contingent comprising Conor, Dessie, Michael, Brian and and Paul
We have enjoyed a lot of success together on the field and if any of the boys head home anytime soon I think the standard of hurling here will stand them in good stead and they will all be an asset to their clubs heading home. I would be known for leaning fairly hard on our own lads as I really hope they can offer us something if they decide to head back home to McKenna Park.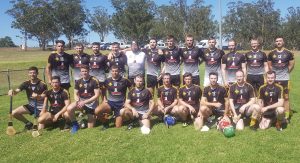 Central Coast hurlers "a great bunch of lads both on and off the field"
Looking back again at your time in Ballycran, what would be your prominent memory of being around McKenna Park?
To be honest, nothing too specific comes to mind. I just enjoyed everything about the club and I really loved the training. I was entertained by the odd outburst in the changing rooms and along the sideline. I remember heading to the thirds games with Brian Gilmore when he had the windows rolled up tight in the Rover and the pipe going full tilt. It's all coming back, I could do no wrong in Brian's eyes, I was his blue-eyed boy! I also remember hitting the ball off the wall to see how much dash I could knock off it. I had a notion big Jim secretly enjoyed seeing me hone my skills.
We'll assume you manage to get back 'home' for the odd family reunion, holiday etc, can we ask what do you look forward to the most?
I mostly look forward to just catching up with everyone and trying to get around and visit and see a few places locally that you wouldn't of even thought about while living at home. Its also great to watch a few games, getting out to the Park to see the lads training etc.
Tell us a little bit more about your life away from Ballycran, for instance, what's your weekly routine, how do you attack the weekend, and what's a holiday from where you currently live?
The weekly routine used to involve going to the beach after work, BBQs every weekend, out every weekend, the Aussie dream! But nothing lasts forever!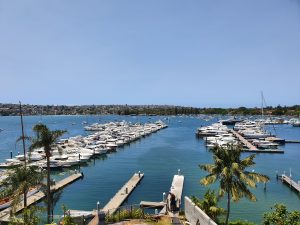 Back garden view helps with getting up in the morning!
Nowadays I'd be up at six every day of the week, home at five or six and train the boys every Tues and Thursday and a game Sunday. Paul, Mick etc would be doing even more hours, as they don't have any young kids. They do a lot of civil works and 60 to 70 hours a week is standard for those lads. Work hard play hard, as Seany Mac would say!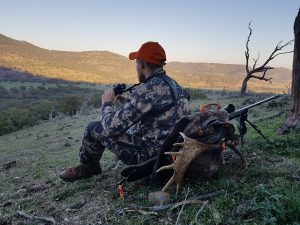 But it's not all about hurling, time to take a break in the Australian wilderness
You're now settled in, doing well, but can we raise our hopes of seeing you return at a later point in time?
I was hoping to be moving home to Ballycran but will instead settle in Kilkenny close to Geraldine's parents in Ballyhale. Big John Blob reckons I'm going to ruin the Fennelly bloodline. I haven't known the man to be right about anything yet, so let's hope he's got that wrong too! But you know what, a four hour trip down the road means nothing to me now after living so far away for so long. I hope to be around Ballycran on a lot of weekends and school holidays etc.
Finally, do you have a message to send home to Ballycran?
I would like to congratulate all recent committee members for spear heading the club forward and putting the wheels in motion for a lasting and state of the art facility, which our parish and community will benefit from, for many years to come. Also the effort that has went into the hurling to keep three adult teams going is great as Junior and Intermediates is a great stepping stone for 'blooding' in new players onto the Seniors and keeping young players interested. I hope with our new facilities nearly complete we can focus our energy into underage structures and really capitalise on our new facilities and build strong teams year after year.
To the entire players young and old, well done in representing the club so well for the last number of years. Enjoy your time hurling and stick at it regardless as you're a long time retired. Enjoy the game and train hard.
The best of luck to everyone, for next year and beyond.
Ballycran is profoundly grateful to our Diaspora for sharing their life stories and wishes them a safe, happy and fulfilled life. We look forward to seeing you again, in the not too distant future.