For our last article in this winter web series, we managed to get Conor 'Boots' McCarthy to sit down at the laptop and despite offering a technology disclaimer, crafted a commendable 'heart on the sleeve' insight into the shifting sands beneath his feet and where he's at right now.
So, let's wind the clock back to a time before you left Ballycran and tell us what your connection was with the Club?
I started playing with Ballycran fairly young, some time during Primary school. Even though I went to school and lived in Ballygalget originally, I was drawn towards the black and amber with a little nudge from the old fella and seeing DJ Carey strutting in it one day I think. I guess that prompted me to get the black and amber helmet and green ashguard for a few years. That started a love/hate sort of relationship for me with Hurling, playing right through all the underage groups through to sporadic appearances at senior level over the years. Sadly with my last memory of playing for Ballycran being probably in the worst Senior final in history in Portaferry on an awful day getting beaten by Ballygalget in 2016. There were many greater days though, winning many leagues, Féiles, championships and a few individual awards over the years at all levels.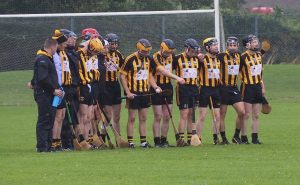 Ballycran's 2016 Down GAA SHC final squad, the game was played in miserable conditions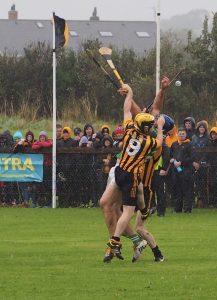 During the 2016 final, Conor rises high with 'Magic' Johnson and eventually picks up the loose ball
Can you share with us, your thoughts leading up to your decision to move and establish a life away from 'home'?
Originally I left for Australia (Oz) in 2009, after being made redundant and getting a nice little pay- off, Denis Crawford and Malachy Gilmore (2 more good Cran men) had made the move not long before and I just said sod it, I'll give it a go. So off I went, had too much craic on Bondi beach, in the Tea Gardens and in The Cock And Bull (pub) for a year, absolutely loved it and said I'd definitely return at some stage. I went and gave Canada a go for 8 months but the winter snow was too much after a few weeks. So I returned home after that in 2011 thankfully.
When did you move and what was it like getting settled in and established?
After circumstances at home it took a few years and it wasn't until 2017 this time that I felt the time was right to return to Oz and give it another go. Now it's just home from home with what feels like half of County Down and a few more good Cran men Dinger Bell, Merve Keith, Millo McCollough and the Bull McManus residing up the road. We had a good session the weekend I arrived, started hurling training the Tuesday evening and Dessie had me a job lined up for the following week so the settling in didn't take too long at all. It was a big bonus with so many people I already knew being here and everyone helps you to get up and running. Merve's sofa came in handy for a few weeks until I found a place to stay.
Can you briefly describe to us your life now, work and have you time to be involved in GAA activities?
Sadly, it's not just living the dream in Sydney lying on the beach all day every day as people would imagine; we still have to work, with the cost of living being quite expensive. I work for a small engineering company called Fountainline that manufactures various components for companies within the Aerospace, Mining and Medical sectors.
Personally I finished up playing last year as I spend more time nursing injuries than actually playing now. I went out on a high with league and championship winning medals and having scored a few goals along the route, bowing out happy enough.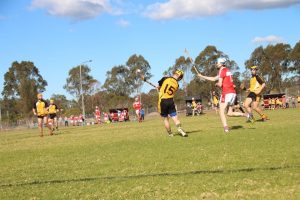 Wearing the 15 jersey, a strike and wide on this particular occasion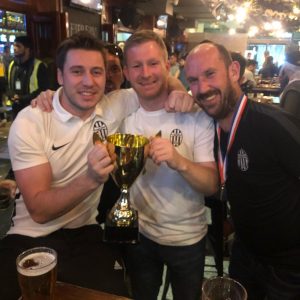 Coogee league winners celebrations
The GAA is definitely alive and kicking in Sydney and seems to be getting more competitive every year; the younger Crans are still flying the flag high.
Looking back again at your time in Ballycran, what would be your prominent memory of being around McKenna Park?
My prominent memories would be when I was younger, just torturing my Da to get me down to McKenna to every training session and any match that was ever on. Looking back that may just have been my way of delaying doing homework for as long as possible. I always actually enjoyed training as well as playing so probably spent 3-4 nights a week around the Park, which is a lot of time over the years.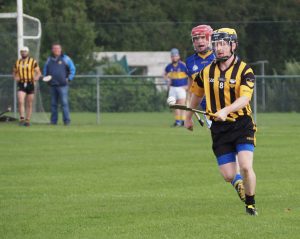 In action against Portaferry up at Mitchel Park, Ballygalget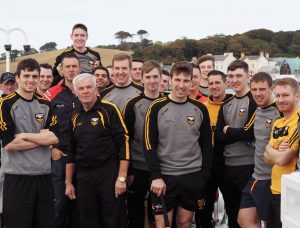 Ferry journey to an Intermediate final, but sadly lost to Bredagh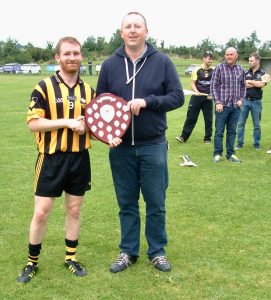 More great memories, Captain of the Betsy Gray win against Ballygalget
There is far too many people to mention but I met so many good friends and teammates over the years at McKenna, it was such a big part of growing up.
We'll assume you manage to get back 'home' for the odd family reunion, holiday etc, can we ask what do you look forward to the most?
I haven't got home as much as I'd like because I just can't deal with the journey, being stuck sitting on planes for 24 hours. It really is just the simple things that you miss like the food, family, friends, the bars and the dog. Now there is a little nephew in the family and it's a bit annoying only looking at the videos of him growing up, so looking forward to seeing him and his mother of course. But the main thing I look forward to is getting to see my mother again, still the only woman that could ever put up with me for any length of time even though I tested her plenty.
Tell us a little bit more about your life away from Ballycran, for instance, what's your weekly routine, how do you attack the weekend, and what's a holiday from where you currently live?
Over here I still tend to work a lot of hours every week. It's quite good here in that it's acceptable for you to work up extra hours and take longer holidays if you wish. In the last couple of years I've travelled the east coast of Australia, Thailand, New Zealand and went to Vegas for a McGregor fight, which were all great experiences.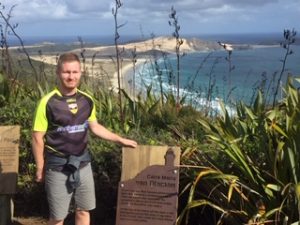 Cape Reinga, New Zealand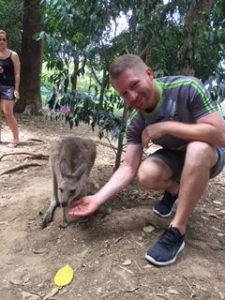 Time to feed the Kangaroos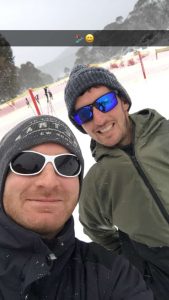 A spot of skiing with my mate Paul 'Merve' Keith
I still play a bit of football when the back, knee or ankle isn't too sore and try to train a couple of times a week and get a run in every now and again. Now it's heating up heading into the summer, that's great as we can go to the beach in the evenings and weekends. I still like to head out on a Saturday night for a few beers with mates but with it being late night opening here, sometimes it turns into a very long night.
You're now settled in, doing well, but can we raise our hopes of seeing you return at a later point in time?
Currently I've no time frame set on a return, I've never really been one for making plans, If I do wake up one day and I'm not enjoying it anymore I will go book a flight home and that will be that. At the moment being busy with work and heading towards summer I don't think there's too many better places to be.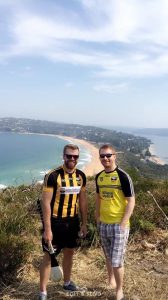 Blue skies, beaches, friends from home, what's not to like about it now?
As for a return to play for Ballycran, the body definitely says no and with the age creeping up it's looking very unlikely. Hopefully I'll get an over 35's charity game in a few years wearing the black and amber again. More likely I'll be back judging from behind the wire however, giving out about how useless the new generation are (constructive criticism though).
Finally, do you have a message to send home to Ballycran?
It looks like a very exciting time to be a part of the club with new facilities on the way and great work going on behind the scenes to improve. I hope it keeps pushing forward progressing as I think the whole community will reap the benefits in years to come and in turn bring many more Jeremiah Cups home.
A massive congratulation to all the lads on another Championship victory, I'm sure there was a lot of disappointment with the Ulster result but keep working and you'll be back again next year no doubt.
Camogs please get the finger out as a happy (winning) Amy is so much better to deal with for all of us [laughs heartily at the thought]. One little shout out to my mucker the number 1 shot stopper in Ulster, Stevie Keith, you take it easy in the off season now. See yas soon, UTC!!!!
Ballycran is profoundly grateful to our Diaspora for sharing their life stories and wishes them a safe, happy and fulfilled life. We look forward to seeing you again, in the not too distant future.