Billed as the Allianz hurling league Roinn 2A, round 5, Meath travelled to McKenna Park and with a return to spectating, Down were keen to stack up another edge with a local supporting crowd.  The game had all of the intensity you'd expect from an inter-county spectacle and on display was a very fit and tuned in Down.
With a spring clean here and there, McKenna Park was dressed for the occasion and enjoyed the warm air but the promised sunshine eluded the spectators as an overcast sky settled in for much of the game. Typical of the area, the Ards peninsula dealt up a southerly breeze and with a win of the toss, Stephen Keith decided to take the challenge head on and play into the wind for the first half.
Although we were allowed to spectate in limited numbers and watch the match from the comfort of our armchairs, for those of us that weren't able to attend or see the match, here's a summary.
After one minute, Paul Sheehan slipped the sliotar over the bar to register Down's first point of the match. No sooner had Meath attempted to respond to that when Daithai Sands made a charge for the net from the right hand side.  Sensing a possible block coming in from the left, the sharp shooter took a one handed flick and Down had their opening goal.
It took nearly three minutes before Eamon ODonnchadha brought Meath onto the scoreboard with a point. But that wasn't to be a sign of Meath on the turn, as Eoghan Sands scorched a solo run through the half back line to offload a backward hand pass to Oisin McManus. From that opportunity, Oisin made no mistake and creased the back of the net for Down's second goal.
Both teams settled into their stride now and the scoreboard crept up in points in an almost tit for tat approach.  At the half time, Down led 2-11 to Meath's 0-08.
The second half started with a lull in intensity allowing Meath to inch a couple of points before 44 minutes had elapsed on the clock.  Down had now recalibrated their sights with Conor Woods playing a long ball into the hands of Daithai Sands. Eoghan Sands received his brother's hand pass inside the 21 and made no mistake by powering the sliotar into the back of the net.  That was to be a mould for the next goal, where almost on the dot of 60 minutes into the game, Marc Fisher played a long puck from mid field into the high hand of full forward Chris Egan.  Egan dropped to his feet and within a short step or two slipped his marker, Ben McGowan and then smashed the ball with colossal force into the goal mouth and bulging the back of the net.
The game ended Down 4-23 Meath 0-14.
Down points from Paul Sheehan, Matt Conlon, Daithai Sands, Eoghan Sands, Conor Woods, Marc Fisher, Pearce Óg McCrickard, PJ Davidson and Michael Hughes.
Meath points from Eamon O'Donnchadha, James Kelly, Stephen Morris, Pauric O'Hanrahan, Jack Regan, David Reilly and Paddy Conneely.
Here are a few photos to capture the day's events.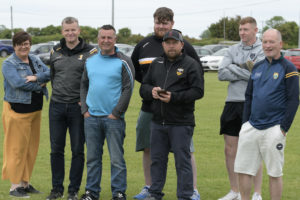 Club and Down supporters looking forward to the game (DvM-1)
Referee Thomas Gleeson flanked by Meath's Shane Brennan and Down's Stephen Keith (DvM-2)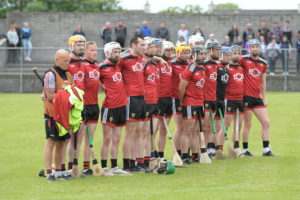 Down line out for Amhrán na bhFiann sung by Portaferry's Erin McGrattan (DvM-3)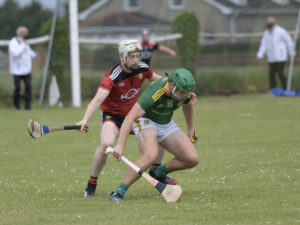 Gerard Hughes covers Meath's Cian Rogers (DvM-4)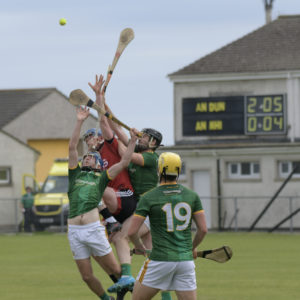 Meath's James Kelly takes the one down position anticipating the loose sliotar (DvM-5)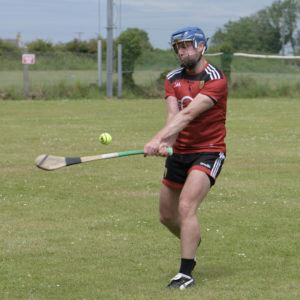 Conor Woods takes full advantage of a free with a deep puck to the half forward line (DvM-6)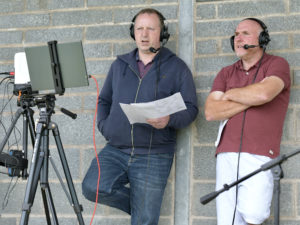 Local commentators Connor Watson and Gary Savage keep a watchful eye on proceedings (DvM-7)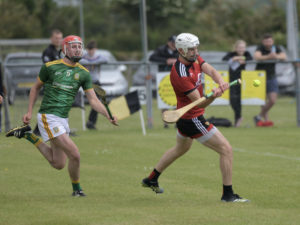 Donal Hughes clears the back line of any danger (DvM-8)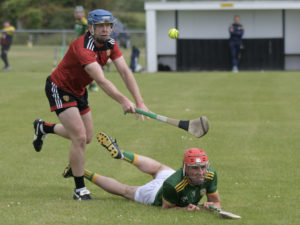 Conor Woods patrols the half back line (DvM-9)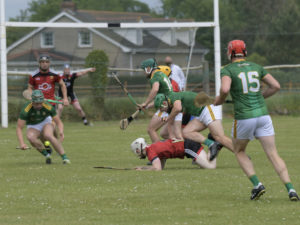 Meath take a tumble as they clamber to form an attacking pack (DvM-10)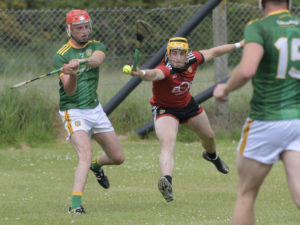 Down's Caolan Taggart stretches to block Callum O'Sullivan's attempt to score (DvM-11)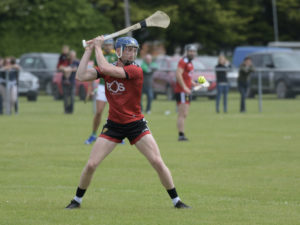 Paul Sheehan coiled to deliver the sliotar over the bar (DvM-12)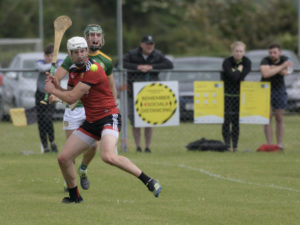 Donal Hughes finds himself clearing from the half way line (DvM-13)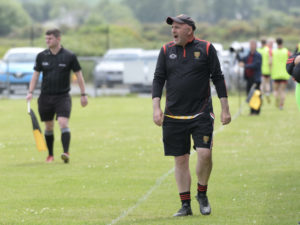 Manager Ronan Sheehan patrols the side line (DvM-14)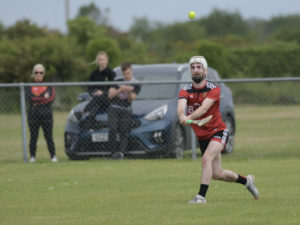 Down supporters witness Jordan Doran play a piercing pass across mid field (DvM-15)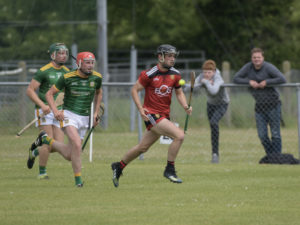 Liam Savage confidently tosses the sliotar into the hand as he prepares to offload (DvM-16)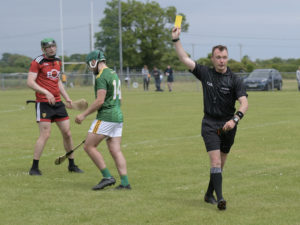 Meath's Pauric O'Hanrahan picks up a card from referee Thomas Gleeson (DvM-17)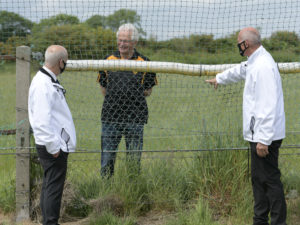 Ballycran's Brendan McCarthy finds a few moments at half time to chat to the umpires (DvM-18)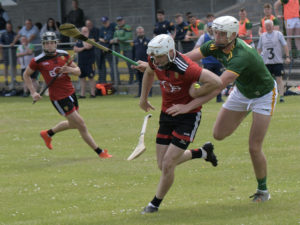 Eoghan Sands drops the hurl but retains possession of the sliotar  (DvM-19)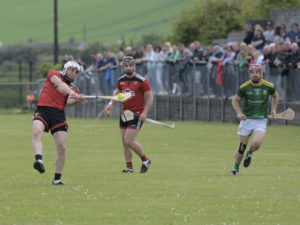 Marc Fisher watches on as Eoghan crushes the sliotar off the bás (DvM-20)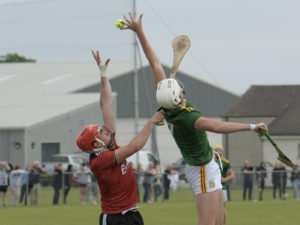 A tricky ball for Pearse Óg McCrickard, spilled from the hands of Meath's Ben McGowan (DvM-21)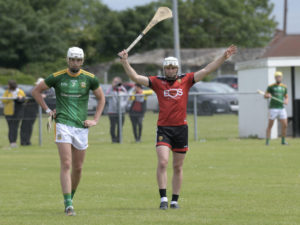 Eoghan Sands 'goes big' to close down the options (DvM-22)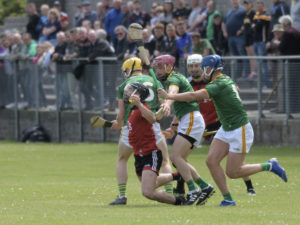 Ryan McCusker goes down for the free as Donal Hughes is fenced out from helping (DvM-23)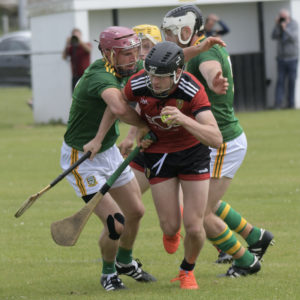 Daithai Sands pulls away from the Meath defence (DvM-24)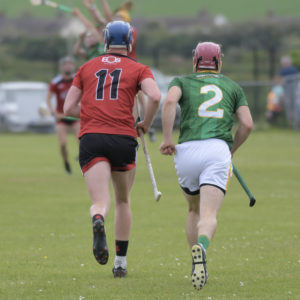 Paul Sheehan and Ger Murphy anticipate the loose ball coming their way (DvM-25)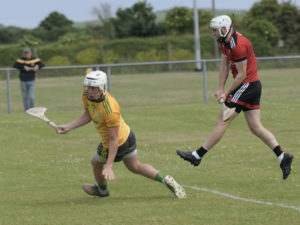 Hammered home, Eoghan Sands makes no mistake from close range (DvM-26)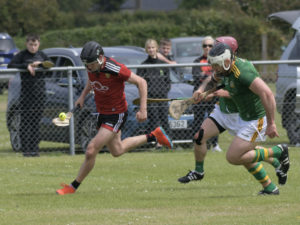 Daithai Sands on a solo run (DvM-27)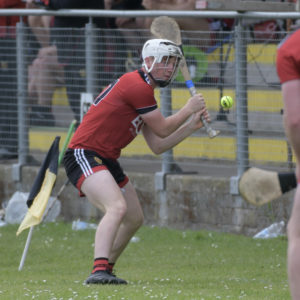 Phelim Savage plays an intricate pass (DvM-28)
Thanks to Down, all sponsors and spectators for supporting today's game and a mention of our Stewarts and Covid officers for making our environment a safe place to spectate today.