Introduced to hurling by his uncle John Mallon, as a boy of ten years of age, little did Noel Keith know that his exploits on the hurling field would bring him rich memories and well deserved rewards. A legend at the very least amongst the Club members, revered as one of the best hurling goalkeepers to pull on a jersey and showered with accolade after accolade over his playing career for Club and County, Noel Keith now enters the rarified air of the Down GAA Hall of Fame.
Noel started hurling at the tender age of ten up in George Bell's 'old field'. In those days, hurling wasn't played in his primary school but that was rectified when he entered secondary school. As the years passed, Noel found himself training with the senior squad and although benched in '76 for the Club's Ulster title as Terry Bell held the number one position, he savoured that success with relish and eventually capped that feeling when he played his part in the successful Ulster Club Championship squad of '92, which would be his second medal at Ulster Senior Club Championship level.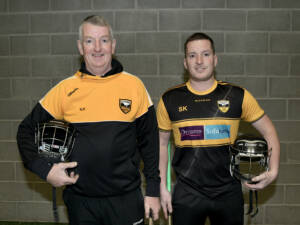 Noel and son Stephen pause for a photo in Ballycran's 3G facility
There isn't much in hurling that Noel hasn't achieved and when pressed for any regrets, losing to Munster in the Railway Cup by one point is a tough recall. For those of you that haven't had a chance to read the citation on his award, here we have it for you, word for word.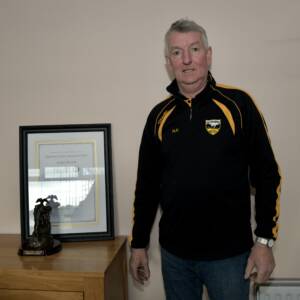 Noel proudly displays his Hall of Fame Awards now taking up a special place in his home
"The Hall of Fame Award acknowledges the outstanding contribution of an individual to GAA Games and the GAA in Down. For over 130 years, the Association in the county has been blessed with players, coaches, officers, and administrators of the highest calibre who have provided time, energy and commitment to he GAA at all levels.
This award is bestowed on Noel Keith for his outstanding service to hurling in Down and for his achievements as a player. He made his intercounty debut as goalkeeper in the red and black back in 1978, and was the number one for his county for 18 years. During that time, he was part of the most successful Down teams in hurling, winning Ulster Championship titles in 1992 and 1995. His exploits earned him a GAA All-Star nomination in 1993 and 1996. During the eighties and nineties, he he was also a regular on the interprovincial side and won a Railway Cup Shield medal in 1987. With Ballycran, he achieved numerous championship and league honours, including two Ulster Senior Club titles in 1976 and 1993. He has been a devoted member of his club on and off the field of play as a player, coach and volunteer."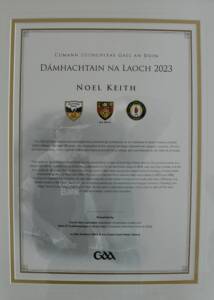 Editors note: The Wikipedia article on Ballycran has now been updated to reflect Noel as one of the Club's 'notable players'. You can read that here…
https://en.wikipedia.org/wiki/Ballycran
By michaelcorcoran
Mon 6th Mar