It was early in the evening when Joanne picked up the call and immediately apologised for any background noise as she was out walking Toby the dog around the shore. Stephen was geared up to do likewise but like all dove tailing tag teams, his plan for an assault on the roads around Kircubbin would have to wait until after 9pm. Anna was skipping hoops at the prospect of getting back to her part time job at the Golden Diner, James was out on the links with Granda Jim and Rory Corcoran as the current rules require an adult to be present on the course with juveniles, whilst Peter had seized the chance to have some Bro time on the Xbox. Primed with everyone's answers, it fell to Joanne to explain the family's lockdown experience along with Toby the dog.
Okay Joanne, what was the biggest challenge in the initial phase of lockdown and how have you managed to adjust to this?
"I think what readily comes to mind was adapting to home schooling. I've been working you see, not in my normal role as a community Dietician but as a volunteering care assistant to help the trust out in the care homes during this period. Stephen has been working from home due to his office complying with the restrictions and for the first four weeks, it all fell on his shoulders. Not only the home schooling, but also making lunches, dinners and managing the day-to-day stuff. Anna has finished her year at OLSPCK and so the home schooling affected James and Peter. It was great at the start but then you realise it isn't as motivating for the kids as proper schooling. But we eventually got there with the whole situation and now I'm back in my normal role doing assessments by telephone."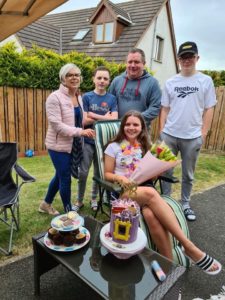 The Clarke family enjoying Anna's 18th BBQ birthday
What have you and Stephen missed the most during lockdown?
"I never thought I'd say this, but I miss running James to all his sporting activities! He had games lined up in his football commitments and looking forward to his hurling. With all that, I get the chance to have a chat on the sideline but that's all going to be sadly missed for now. I do know that Stephen has missed his regular Sunday outing around to John Gilmore's to meet up with his friends. It's been going for a while with established friends and misses the craic no doubt."
What are you both looking forward to as we contemplate the easing of lockdown?
"Oh definitely getting the kids back to school and some of our normality please. There'll be no family holiday to look forward to this year, but the whole experience has made me appreciate life more and you shouldn't take things for granted. Working in the care homes and seeing the effect of Covid-19 has had a lasting impact on me if I was being honest. I've looked forward to getting down to see my Dad in Monaghan and managed that recently, though observing the rules for everyone's sake. Stephen is looking forward to getting back to the office. It'll be a break from being a househusband!"
What activities have you all managed to do that you probably wouldn't have done without being in lockdown?
"Lots more walking to be honest. The dog gets his legs stretched plenty these days. Stephen has also started getting out for walks in the evening, which is good in many ways. During the early stages of lockdown we played lots of board games, cards and built a few jigsaws, some up to thousands of pieces. And then there was time for baking, yes cookie baking was popular and Peter was great in helping out with the dinners in the evening."
How do you think the kids have adapted to home schooling?
"Anna has finished anyway for the year so it didn't apply to her. The boys were keen at the beginning, I guess there's a novelty element but after a while discipline wanes. It was a big challenge to follow the plan to be honest."
What can you tell us about what the kids have missed the most during lockdown?
"Well Anna has probably missed her end of year leaving mass, which is a big part of the leaving process. She was geared up to take the exams and shocked with the impact that lockdown had on the school system and now she will get predicted grades. We'll stay positive that she'll get her first choice in Strathclyde to do Speech and Language Therapy. She was planning to go volunteering in America and holidaying in Croatia with a couple of friends followed Magaluf in Spain. The first two are cancelled and maybe the third will be as well. Anna was also looking forward to getting a few senior camogie games in before she headed off, again, unlikely that'll be up and running in time for her."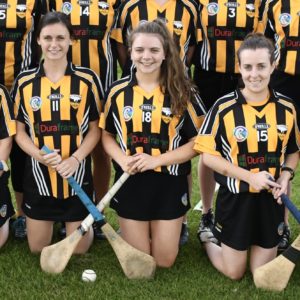 Anna, middle, hopes to get a few Senior camogie games in before heading off to University
"James has missed all his sporting activities. His football ventures in the NI tournament and games with Queens are not going to happen this year and up to now, there's been no hurling due to the GAA restrictions"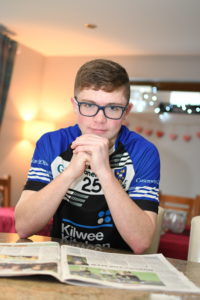 James taking time out recently to reflect on his All Star award
"Peter has missed his friends and was pleased with his Gold Marker activity before lockdown, so hoping to get back to that soon. He was looking forward to Féile again this year, but I'd say that's not happening either"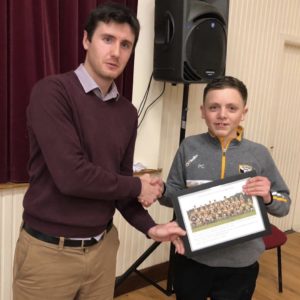 Peter receives a Féile 2019 souvenir photo from Senior Captain Padraig Flynn
What are the kids looking forward to after lockdown?
"That's fairly straightforward for Anna as she's looking forward to going to Uni but there's uncertainty around the arrangements and various engagements as you start your first year. James will be keen to get the sport going again and Peter is looking forward to visiting relations and getting out to the Park for his GoldMark volunteering stuff.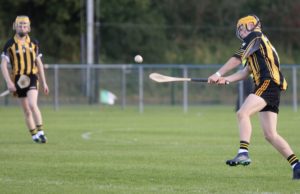 James, looking forward to the resumption of sport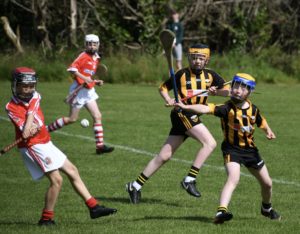 And Peter, middle, looking forward to getting back out to the Park
Friday night is 'take-away' night in the Clarke house, so we are glad to see the diner open now." [Joanne burst into laughter suggesting it could be a treat not just for the kids]
Finally Joanne, did the kids have a favourite part of being in lockdown?
"Yeah, that's easy, not getting up too early for school and having a relaxed atmosphere around the house as no one was going anywhere too quickly. There was less pressure and generally we done a lot more together and enjoyed it as much as we could. One more favourite part was having Anna's 18th BBQ Birthday in the garden due to observing the rules. She was able to have a few friends around and had a great day."
Thanks to the Clarke family for sharing their lockdown experience with us.